Details

Category: Safety
Published: Sunday, 27 October 2013 13:15
Written by Sam Hoskins
Hits: 18820
[Editor's Note: As you may be aware by now, Sam and Sandy Hoskins suffered a mishap on their way to the Field of Dreams Fly-in at the end of August. Sam is a high time Q-200 pilot, who has served as a great ambassador for our group as well as serving as a flight, safety, and build advisor to many of us.
After a fuel stop in Pennsylvania, Sam decided to use the extra 500 feet of runway afforded by the displaced threshold for RW17, for takeoff. Normally this decision would have given them an extra margin of safety, but in this case it resulted in a collision with a known hazard in the form of a large pool of water, at high speed, right at the end of the threshold.
We were all very bummed to hear about this incident at the fly-in, but we were all VERY grateful to learn that Sam and Sandy walked away. I am also grateful that experienced pilots like Sam, not only have the guts to share their triumphs and boo-boos with this ornery group, but also the wherewithal to start putting things back together so they can fly another day.
I am placing this story in the SAFETY section of the website, because there are certainly lessons to be learned here. You will never live long enough to make all of the mistakes yourself. So, let's take this opportunity to learn from those of others, and help in any way we can to get Sam "back up on that horse again!"]
Here We Go Again. . .
Reprinted from Sam's Blog: http://samhoskins.blogspot.com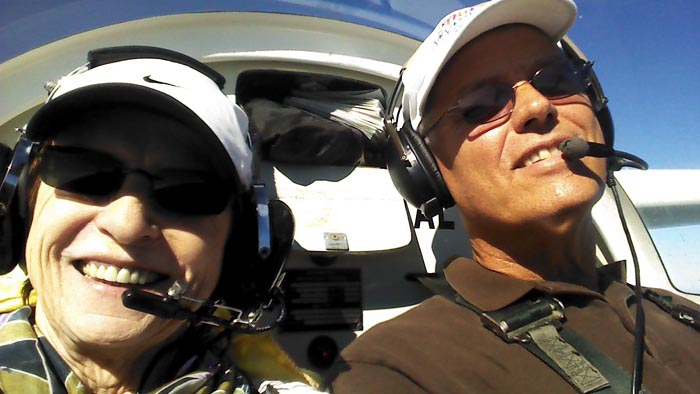 On our way to Orange, MA. Little did we know...
It was too good to be true. Plane was running great and Sandy agreed to accompany me to the Tandem Wing Field of Dreams event, held this year in Orange, MA. Our annual gathering of Quickie type aircraft. Orange was going to be a long trip, but I have never flown the Quickie in that part of the country before, so we were planning a little additional sightseeing.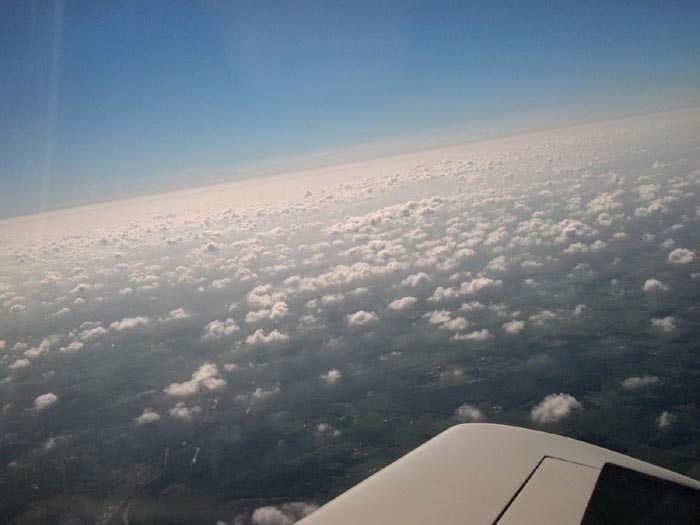 This is why we fly!
It was a nice day and the weather looked good for the whole route. Actually, my fuel injected Quickie Q-200 has enough fuel to make it non-stop, but we decided to take a break and land at the Zelienople Municipal Airport in Western Pennsylvania. Just try and pronounce that name.
When it was time to depart, I used Rwy 17. Since there were hills around and the light winds were shifting, I elected to use the displaced threshold, which is about 500 feet long. I put the pedal to the metal and accelerated normally. All of a sudden we veered to the right. WTF?!?! We went into the grass, across a connecting taxiway and down a shallow embankment.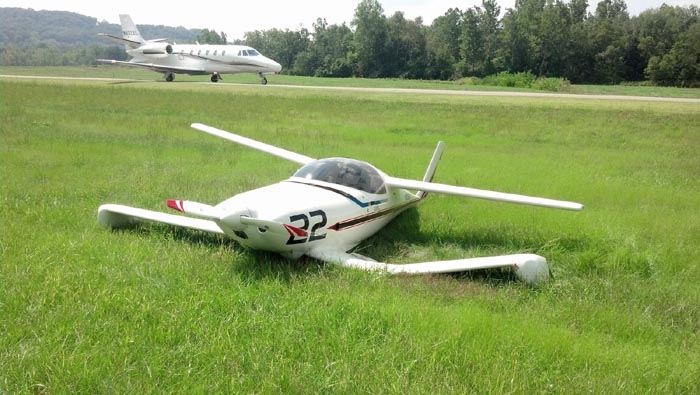 Taken perhaps five minutes after the incident.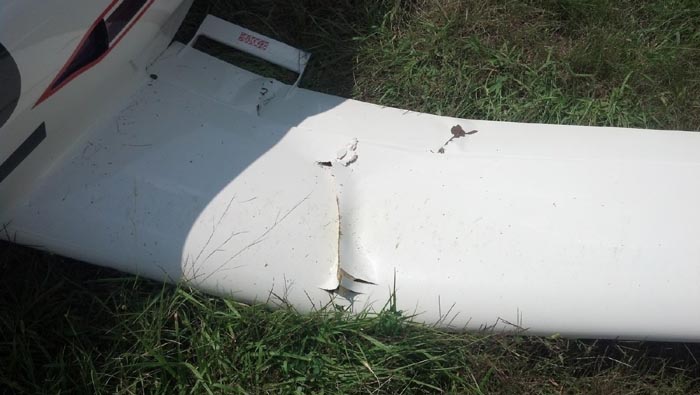 Duck tape won't fix this one.
We hit pretty hard and the left canard broke about 20" outboard of the fuselage, which in turn, caused a prop strike.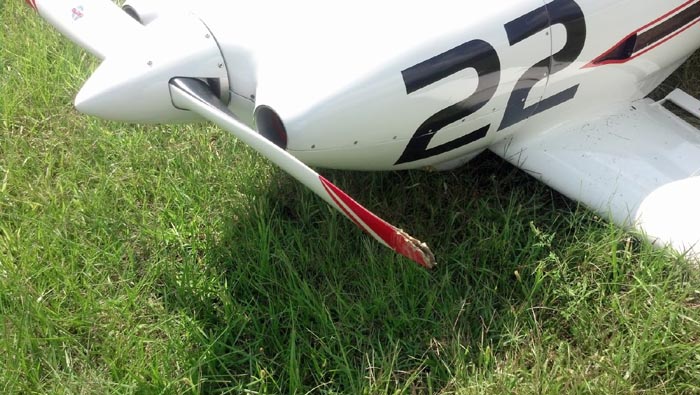 What fun is a runway excursion without a prop strike? This will require an engine tear-down and inspection. I only had 30 hours on that prop since I had it refinished. Rats!
We were uninjured.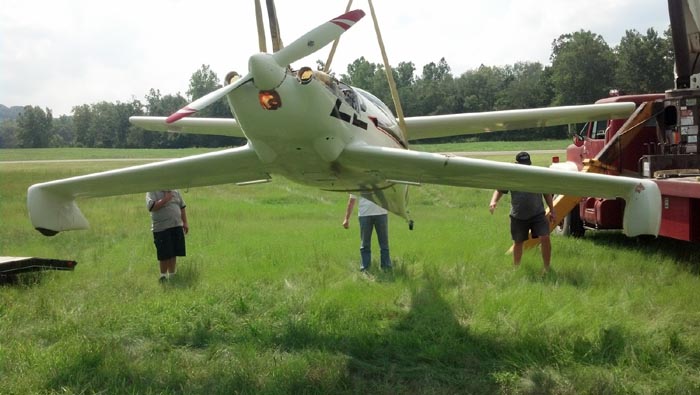 Fortunately, there just happened to be a crane on site.
Long story short, single-seat Quickie driver and racer Nathan Peck came to the rescue and hauled a trailer all the way from the St. Louis area to pick us up and drags us home. What a guy!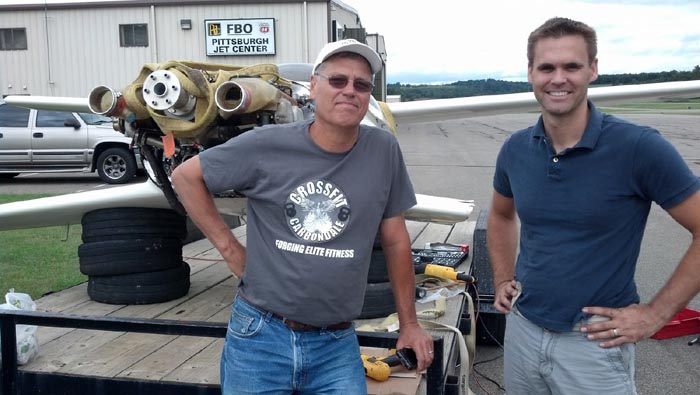 Our rescuer, Nathan Peck.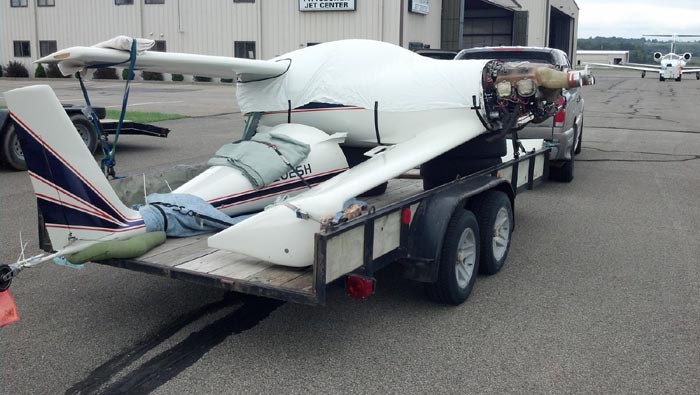 Ready for the long drive home.
Since this initial report, Sam has already begun rebuilding his plane.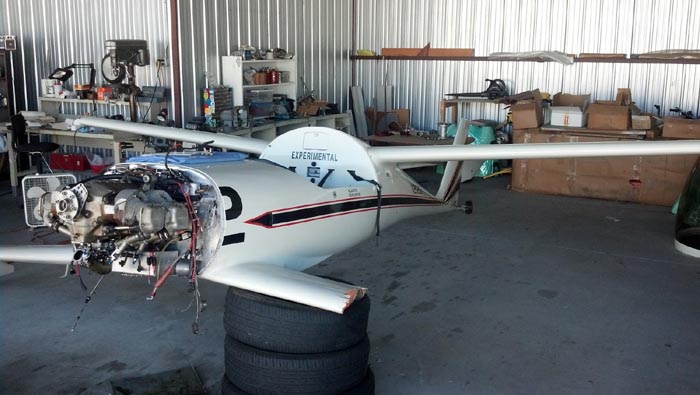 Amputee.
He was able to buy a virgin Q-200 kit locally. He plans to use some parts to rebuild (including the CF Spars) and sell off the rest.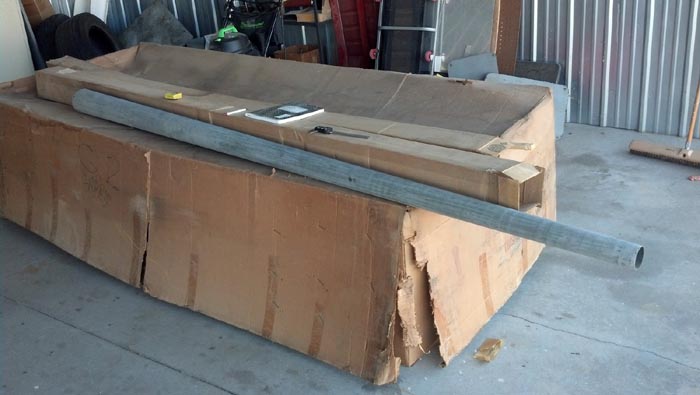 Virgin Q-200 Kit.
He put a dial indicator on the crankshaft flange and the runout was 0.001". The TCM spec was 0.000" - 0.005". So that was REALLY good news. The engine is likely fine, but he is having Bob Malechek do a teardown inspection just to be sure.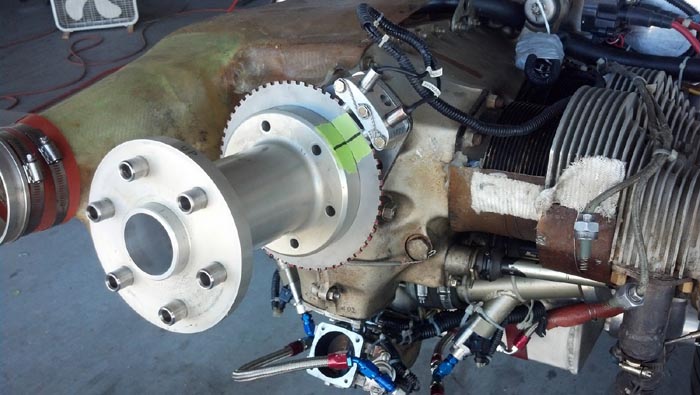 Continental O-200.
After seeing some photos of Sam's delaminated prop, Craig Catto (from Catto Props) said it was time for Sam to upgrade to his newer design, and that he would sponsor a new prop! Awesome!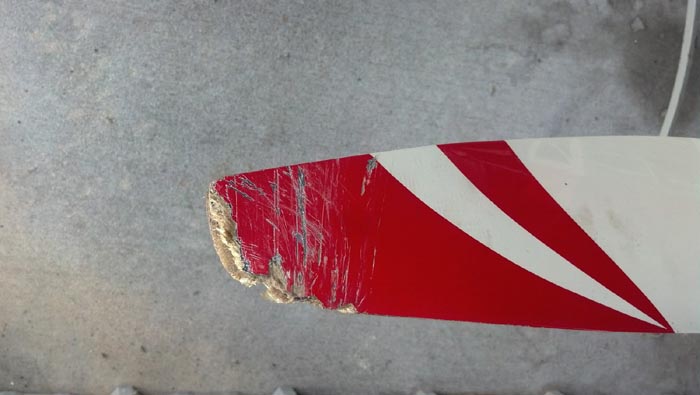 What you can't see in this photo is the 6" delamination.
For the most recent updates, be sure to check out Sam's Blog: http://samhoskins.blogspot.com
[Final Notes from our Father who art Jim Masal:
Since i have been around this Q stuff longer than almost all of you guys... and I have a good memory... I can tell you that as original QUICKTALK editor the most heartening times were when a builder/pilot had an accident then had the guts to tell us about it, usually with photos. We learned. A number of pilots did this... look through old Q-Talks to see.
I remember at least 2 guys, now dead, who resisted listening to experience talking. As a pre-web editor we didn't re-hash it ad infinitum. That was editing then... now we have the internet.
This is not Sam H's first rodeo. He has consistently and for long years shared his experiences with his successful and very high time aircraft. He's already doing it again. We will benefit. From all the accounts that I know he is a good pilot, a thoughtful man and a good teacher. He already knows the lesson he learned. Now he has a mess to clean up.
Three cheers for all you guys who IMMEDIATELY stepped up ready to help Sam get his aircraft back home. That has been another satisfying hallmark of the QBA over the years. I'm glad we still have it.
Somebody once wrote: AVIATION IS A HARD TEACHER... IT GIVES THE TEST FIRST AND THE LESSON AFTERWARD.
-Jim Masal]