Q-talk 89 - Sept/0ct 2001 - index
Details

Category: Q-Talk Index
Published: Wednesday, 23 December 2009 16:24
Written by Dave Richardson
Hits: 2580
Quickie Builders Association


Together we build better planes!

Sept./0ct. 2001
Issue Number 89
---
Since our last installment, we have been on an emotional roller coaster as a group, country and a global community. It is hard to imagine how anyone could be unaware or unaffected by the heinous attacks on the World Trade Center, Pentagon and the foiled hijack attempt that resulted in the planeload of people crashing in Pennsylvania. Our hearts and prayers go out to those who lost their lives, including the many trapped rescue workers. We also extend our deepest sympathies to the many thousands of families who now have voids in their lives due to these vicious attacks. We are, however, grateful for the fortunate people who somehow managed to escape death. The stories of heroism in this tragedy are heartwarming and they restore your faith in the American people. The "United" in United States has an even deeper meaning to all of us now.
J.J. Jaworski, the former airline pilot, who purchased Les Hildebrand's Q-200, was so moved by the tragedy that he decided to offer assistance by collecting rescue funds. He repainted the airplane with patriotic images and plotted a 25,000 mile flight plan. He successfully flew to airports throughout the 48 lower states. The last report showed that he collected nearly $300,000 for the relief fund. You can learn more by going to his website at www.FreedomFlight.net J.J., you are a good man.
Even our lowly QBA was indirectly affected by the events of September 11th. The bold move on the part of the FAA and NSA to ground all civilian aircraft threatened our annual fly-in event in Ottawa. Tension began to build with each successive day as only partial commercial and IFR flights were being permitted. With less than a week before the Ottawa deadline, the VFR system was being restored, with the exception of areas under Class B airspace, within the major metropolitan areas. The Class B restriction extended from the surface to infinity. It locked in close to 41,000 aircraft, including many Quickies. Thankfully, some of the Quickies that were located outside of the zones were able to fly to Ottawa. This resulted in a very good showing of aircraft. The weather could not have been better. The temperatures were in the 70's. Bob Nuckolls was unable to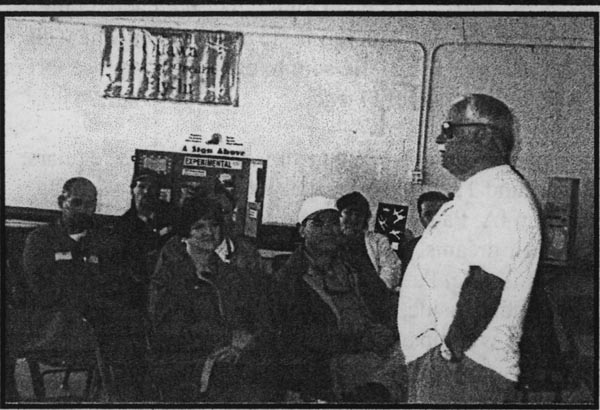 Jim Masai leading the Quickie Forum
attend due to stepped up testing at Bob's employer, Raytheon, on military gear.
Both Jerry Kennedy, in his Q2 and Fred Weibe. in his DFly Mk ILlimped in with cracks in their VW engine cases.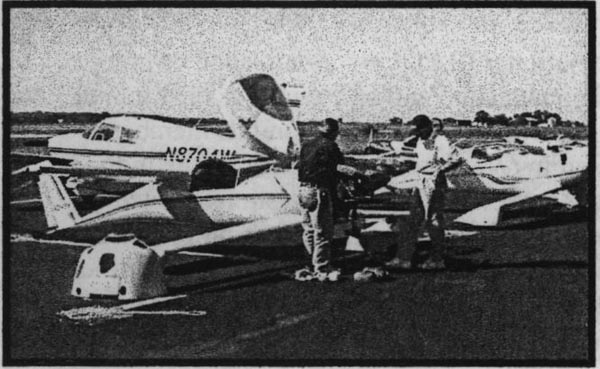 Jerry's crack was in a high pressure area of the case while Fred's was in a low pressure section. To add insult to injury, Jerry noticed fuel seeping through the top of his main fuel tank. Both pilots used JB Weld to try to patch their cases for the flight home. Although Fred arrived home successfully, Jerry only made it about 2/3rds of the way back to Sioux City. He had to stop 5 times to add oil along the route. He was forced to land about three miles from the Harland, IA airport when the oil pressure dropped to 0. Thankfully, he landed safely and planned to trailer the plane home.
Dave Dugas debuted his Q2 to the QBA members by flying his beautiful plane all the way from Massachusetts. He had a little help from his friend, Rodney Herzig, flying a Varieze. Rodney showed off his Pocket PC-GPS navigation combo with color display to the drooling crowd. This pair won awards for their planes. Dave was awarded Best of Show for Quickies and Rodney was given the coveted Greatest Deviation from Plans award. In route back to Massachusetts, Dave spent the night in Grove City, PA. The next morning, when he started his engine, he realized something was wrong. An exhaust valve was stuck open and he was not going anywhere. He just so happened to have a new set of heads at home and had them shipped into Grove City. He successfully installed them and made it home safely. In retrospect, Dave feels that re-torquing his head bolts much sooner than 150 hours may have prevented the problem.
The Livermore California duo of Bob Farnum and Jim Patillo wowed the crowd with their beautiful Q200's. Jim was pleased to show off the preventative repair he made on the crack found in his spar. His forum on the problem was well attended and appreciated. Be sure to check out Jim's report on this repair in this issue of Q-Talk.
Sewell flew his 300 hour Q200 from Arkansas and regulars, Paul Fisher and Terry Crouch, flew in their award winning aircraft from IA. Paul gave many rides to encourage builders to finish their dreams. He even gave Bob, who runs the food truck with his wife, Pat, a ride. Terry has yet to give his first ride. All kidding aside, these aircraft have a wealth of ideas between their wingtips. In fact, though I have seen Paul's plane many times, I picked up a new idea regarding the securing of seatbacks. He used angled fiberglass on the aft surface of the seatback on the inside perimeter of the seatback bulkhead to keep them from shifting. There is something elegant about a simple solution.
Three 0200 powered Dragonflys were flown in. The pilots were Mark Snow, Terry ?"Neil and Justin Mace. Mark sported new wheel pants originally designed for a RV6. The pants are a pressure recovery style that gave Mark a speed increase of about 5 mph. Three VW powered DFlys were also flown in by Johnson, Bourque and Read. Wayne Ul-vestad proudly displayed his Jabiru installation. It required him to mount the engine much farther away from the firewall to get proper CG. Nathan Peck's father also flew in his Long-EZ. It was evident by the attendance that the interest in canard style aircraft is still alive and well.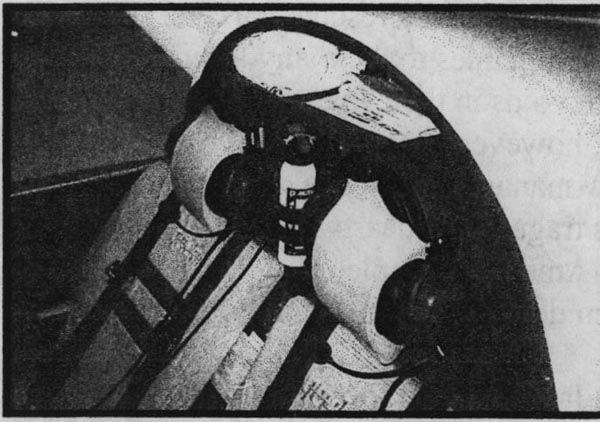 Other Quickie awards went to Bob Farnum for most improved and who flew the farthest, by only 50 yards over Jim Patillo. Jim Patillo was awarded the Best Interior for the very tastefully appointed gray and blue cockpit.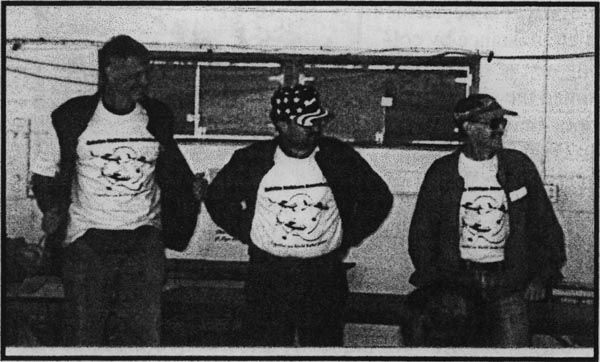 We want to thank those QBA members who supported our first QBA T-Shirt design. We are happy to say we have only one shirt left (XXL). We consider that a success. Many thanks to Jerry Marstall, Paul Fisher, and Terry Crouch for letting us use their planes as a pattern for our design. It is the first shirt we have seen that depicts the entire Q linage from the single place Quickie, to the Q2/Q200, to the Tri Q2/Tri Q200 in a formation flight. The design was derived from our goal to give all Quickie builders and pilots a voice or place in the QBA. We may produce a second printing of the shirt, possibly in a different color, in time for Sun 'n Fun.
Alan Thayor, wearing his traditional, gloriously green shorts, was airboss for five entrants in the performance run this year. A new data point was added; estimated takeoff roll. The speeds shown were from a standing start on a closed course of 60 statute miles.
| | | | |
| --- | --- | --- | --- |
| Pilot | Type | Speed | Takeoff Dist |
| Patillo | Q200 | 175.725 | 970 |
| Fisher | Q200 | 156.271 | 1235 |
| Johnson | DFM2 | 126.509 | 1110 |
| Dugas | Q2 | 120.337 | 1235 |
| Crouch | Q1 | 98.332 | 855 |
Doug Humble flew his Q200 for the first time this year. He was really looking forward to flying to Ottawa. Just a few days before the event, while taxiing to the runway, he noticed a distinct grabbing in one of his brakes. Rather than pushing a bad situation, Doug returned to his hanger. Yes, he was disappointed that he could not make the trip, but he recognized the fact that he was now facing maintenance work on his plane, not major repairs and possibly hospital time. Doug, we salute you for making this tough, but smart, decision.
The wives and significant others had their own top secret gathering at Ottawa. I am not sure what was discussed, but I do know that they practically threw me out after taking a photo of the group. There was a lot of laughter coming from that room. It could make a guy kind of nervous. Seriously, I am glad they could form a sort of sisterhood of their own.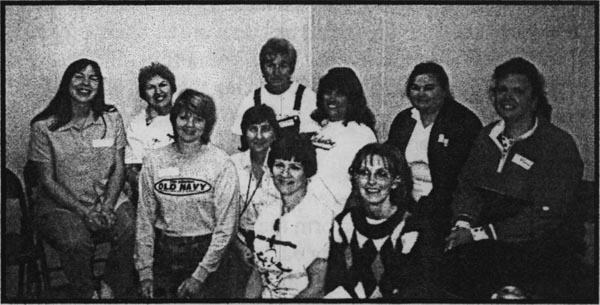 At the end of the awards dinner, Don and Debbie Stewart were thanked for their super human effort in coordinating the Ottawa event for the last four years, especially since they live in Arizona. Don, however, announced that he and Debbie were stepping down as organizers. He asked that every effort be made to continue the Ottawa experience. A noticeable hush fell over the crowd as they considered that Ottawa 2001 could be the last fly-in at that location unless someone would save the event.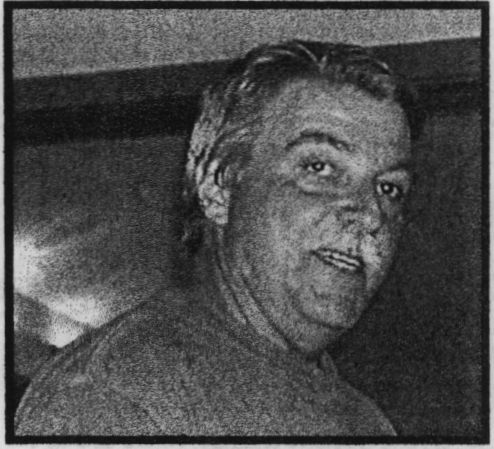 Spud will continue our traditional tandem wing event, but will welcome other canards or homebuilts, if they choose to attend. This would promote cross pollination of ideas. He plans to have a forum schedule that may include even more topics. A specific date has not been determined, but the third weekend in September could be promising. Look for specifics in future issues of Q-Talk. Thank you, Spud!
On a personal note, several Q buddies have asked about the status of my Tri-Q2. It is now sharing hanger space with a Cessna 182 in the Wayne County airport (BJJ) near Wooster Ohio. The 5100 foot facility is well suited for test flying with ample adjacent farmlands and minimal structures in the area. My hanger mate made an addition to our hanger that I will have to get used to somehow. The hanger door is raised and lowered by an electric motor. I know it will be a burden, but I will work through it. The only downside I have found is the one hour drive from our home to the airport. I have already felt the sting of needing parts left at home to finish a task. The engine and nose gear are reattached now and I can proceed with the final assembly. I am in "hog heaven." After the initial hours have been flown off, I may add my name to a waiting list at a closer airport.
These emotional times have been punctuated by many highs and lows, by good news and bad news. How we react to the recent news events is our choice. I am glad we were able to gather in Ottawa, to renew friendships and then return home safely. I am also pleased there will be another Ottawa fly-in next year. Many thanks to all of those who played a part in making this fly-in such a refreshing and energizing event. May God Bless America.
Dave
---
Articles from this issue:
FEATURED PILOT - Bruce Crain - by Dave Richardson - Stow OH
FLY-IN LIVERMORE - by Bob Farnam - Livermore, CA
Q Swap-A-Roo - by Dave Richardson - Stow OH
Patillo Armadillo Spar Fix - by Jim Patillo - San Francisco CA
Finishing - by John ten Have - Australia
Q-tips Builder Hints - by Tom Moore - Frisco TX
Tap Test & Repair - by Dave Richardson - Stow OH
Kurt's Corner - by Kurt Van Dyke - Coco FL
COOL TOOLS - Paint Masker - by Bud Starnes - Mt. Vernon IN
QBA on the Grow! - by Dave Richardson - Stow OH
---
A current QBA member may have one free ad per issue. It may be a maximum of five lines of type and will be edited to fit space available. Items advertised must be owned by the QBA member. The ad contact must be a member name. Ads will be run for two issues and then the ad must be resubmitted. [EDITOR'S NOTE: Please note that these ads may no longer be valid. They are included here only as part of the online archive.]
FOR SALE: TRI-Q200 Project. Structurally complete. Zero time 0-200 engine (log available). Some instruments and radios (new). 20K+invested. Asking $13,900. For photo/info/ log package contact Ted Fox, PO Box 23, Mansfield, OH 44901-0023. This email address is being protected from spambots. You need JavaScript enabled to view it.
FOR SALE: TRI-Q conversion kit, and straight LS-1 Canard, $1600.00. Sam Kittle This email address is being protected from spambots. You need JavaScript enabled to view it. 209-785-2931
FOR SALE: 0-200 engine with 44 hr SMOH, 10 hr on slick mags and harness, key start with new starter drive, baffling and oil cooler to fit on Q-200, gear drive 50 Amp alt, recent inspection. $5,500.00 OBO. 407-497-1090 (Day) or 407-321-4981 (Night). Located in Florida.
FOR SALE: Andair, 6" pneumatic tail wheel spare tires and tubes. $46 plus postage (from England), total for tire and tube. These wheels improve ground handling and are quieter. If interested, contact Chris Rayner: tel 00 44 13 67 82 02 31; e-mail This email address is being protected from spambots. You need JavaScript enabled to view it.
WANTED: Unused RAE resin and hardener to finish building Q1. One gallon w/hardener should be sufficient. A reasonable amount of crystalline sediment OK. Please respond to 520795-1491 or email This email address is being protected from spambots. You need JavaScript enabled to view it.
FOR SALE: Q2 includes 0 time Revmaster still in the box. Fuselage halves/firewall together. Latest canard jigs. Vertical fin and wheel pants done. Includes Q200 plans and carbon fiber spars, newsletters, epoxy pump. Contact Farris Wooton 573-751-6047 wk, 573-896-8400 hm or This email address is being protected from spambots. You need JavaScript enabled to view it.. state.mo.us $3,000.00
FOR SALE: Q1 project with all main flying surfaces and fuselage done. Other parts included but no engine. Excellent workmanship. Barbara Wilson, CA. 916-726-7456. $1,000.00 plus shipping and handling.
---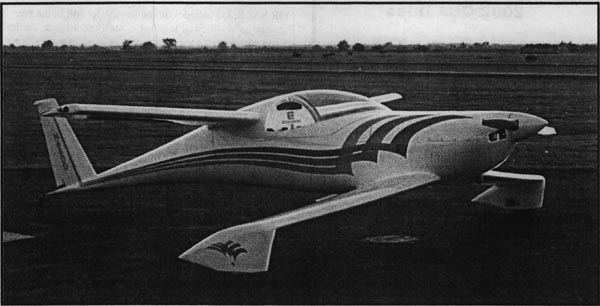 Dave Dugas' Q2 was awarded Best of Show at Ottawa 2001 and turned many heads with his elegant light gray accents. This was Dave's first trip to Ottawa from Massachusetts.
---
You can order a printed copy of Q-talk #89 by using the Q-talk Back Issue Order Page.