Q-talk 87 - May/Jun 2001 - index
Details

Category: Q-Talk Index
Published: Wednesday, 23 December 2009 16:24
Written by Dave Richardson
Hits: 2292
Quickie Builders Association


Together we build better planes!

May/Jun. 2001
Issue Number 87
---

For years Susie and I have said we enjoyed going to Sun 'n Fun and Oshkosh so we can be with a hundred thousand or so of our closest friends who don't think we are nuts for building an airplane. Where else can you strike up a conversation with a "stranger" and talk about flying or building without hearing about the other person's utter dread of flying? Don't you wish you had a nickel for every time you have heard a comment like "You're going to fly in something YOU built?" Believe it or not, our neighbor introduced us to his minister and tagged the introduction with "...and he's building his own airplane." The minister's glib response was. "Well, it's been nice knowing you."
You have to admit that pilots and builders are a unique group of people. I believe to be successful you have to be part grease monkey, part electrician, part artist, part visionary, part masochist, part skeptic, part optimist, part pessimist, part engineer, part bullheaded but mostly different. Different in the sense that outside your EAA & QBA friends, how many people do you know that would take on such a large, long-term project like building a Quickie? My guess is not many. When you couple such a long term project with fact that you are building a flying machine, there are many non-builders who think you are certifiable. Don't believe me? I learned recently that a flying QBA member originally got a deal on his Q2 kit because the wife of the first owner had her husband committed after he bought the kit! Spouses, who read this, please don't consider this reaction as a model for how to deal with your builder. Let's hope this gentleman had other issues as well.
Since you are attempting something most people haven't even considered, you can easily feel alone in achieving your dream. One of the most important tilings you can do to reach your goal is to develop a group of people around you who can support you while you work. You joined the Quickie Builders Association. That is a very good start. From there you need to establish a mentor relationship with someone to help you work through and conquer building problems. How do you find a mentor? One of the best ways is to participate in Quickie fly-ins around the country. In addition to the chance to examine flying Quickies, you are also given an opportunity to experience the various personality types within the group. For example, if you are considered an old, grumpy man by yourself and those around you, I'm sure there is someone else in the group who is equally as old and grumpy, like Jim Masai for instance. (Sony Jim, teasing) You get the idea. Just understand that YOU have to begin the process not the mentor. You have to find it in yourself to ask someone else for help, which can be difficult to do. Also understand that not everyone is ready or able to be a mentor. You may have to work with several people before you find a good fit. I can tell you from my experience that having a mentor has made a huge impact on my project. I am sure my ability to someday successfully get into the air has been improved as a direct result. I know I've saved hours and hours of work because I asked someone for help. You can too. I've said it before, butI'll say it again, "Together we build better planes."
---
Articles from this issue:
Matoon2 - by Dave Richardson
Featured Pilot - Terry Crouch - by Dave Richardson
Build a Simple Radio-Checker - by Steve Whiteside. Liberty, KS
Q-tips - Building Hints - by QBA
Cowl Flap - Magneto Mysteries Revealed - by Dave Richardson
Safety Alert - Cracked Carbon Spar - by Dave Richardson
Raise an Eyebrow and Lower Your Temperature - by Jerry Marstall, Ashevllle, NC
---
A current QBA member may have one free ad per issue. It may be a maximum of five lines of type and will be edited to fit space available. Items advertised must be owned by the QBA member. The ad contact must be a member name. Ads will be run for two issues and then the ad must be resubmitted. [EDITOR'S NOTE: Please note that these ads may no longer be valid. They are included here only as part of the online archive.]
FOR SALE: Q-2 98 TTAF and engine, 75 hp Revmaster, 25 STOH (new heads, cyls, pistons and rings), Ellison carb. Lg rudder, reflexor, belly bd, wheel align, and La Rue brake mod. Terra nav/com, art. horizon, turn ind., vert, compass. $9,900. James This email address is being protected from spambots. You need JavaScript enabled to view it. (253) 584-1182. Will deliver and train
FOR SALE: TRI-Q conversion kit, and straight LS1 Canard, $1600.00. Sam Kittle This email address is being protected from spambots. You need JavaScript enabled to view it. 209-785-2931
WANTED: Set of LS1 spars. Sam Kittle This email address is being protected from spambots. You need JavaScript enabled to view it. 209-785-2931
FOR SALE: 0-200 engine with 44 hr SMOH, 10 hr on slick mags and harness, key start with new starter drive, baffling and oil cooler to fit on Q-200, gear drive 50 Amp alt, recent inspection. $5,500.00 OBO. 407-497-1090 (Day) or 407-321-4981 (Night). Located in Florida.
FOR SALE: Andair, 6" pneumatic tail wheel spare tires and tubes. $46 plus postage (from England), total for tire and tube. These wheels improve ground handling and are quieter. If interested, contact Chris Rayner: tel 00 44 13 67 82 02 31; e-mail This email address is being protected from spambots. You need JavaScript enabled to view it.
FOR SALE: Tri-Q-200 (N44BJ). Cover of Q-Talk #69. 8 hrs into 40 hr fly-off, Q-200 w/748 hrs, new crank & bearings, 3 blade warp drive prop, Collins Microline, IFR, push to talk on 2 place intercom, flies great, $21,500. Call Jimmy at 956-546-4541 or Marvin at 956-381-2782 or This email address is being protected from spambots. You need JavaScript enabled to view it..
WANTED: Unused RAE resin and hardener to finish building Q1. One gallon w/hardener should be sufficient. A reasonable amount of crystalline sediment OK. Please respond to 520795-1491 or email This email address is being protected from spambots. You need JavaScript enabled to view it.
---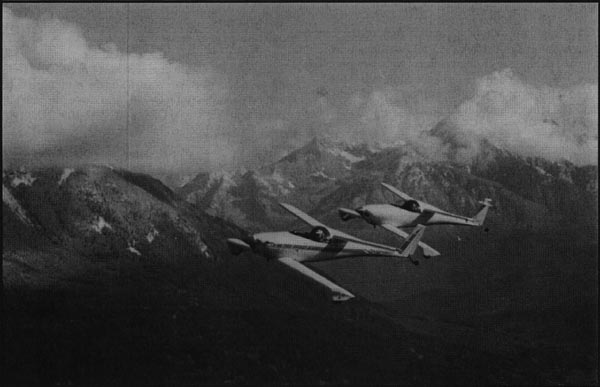 This beautiful formation flight is over the in the majestic mountains of British Columbia.
Steve Kulcycky, flying his yellow 1200+ hour Q2, is in the lead followed by ReneRobertson
in his white 300+ hour Q2.
---
You can order a printed copy of Q-talk #87 by using the Q-talk Back Issue Order Page.