Q-talk 86 - LETTERS
Details

Category: Q-Talk Articles
Published: Wednesday, 23 December 2009 16:24
Written by Dave Richardson
Hits: 2464
Jerry Kennedy, Sioux Falls, SO
Dear Dave,
I'm glad there are guys like you who are willing to take over a project like the QBA. I'm sure it is quite time consuming to put together the newsletter. I hope there will always be someone willing to continue with it.
I'm sony that I am so late with my dues. Also one of these days I may put together some material that you could use in the newsletter.
I enjoyed my time in Ottawa even though it was so cold. I sure hope to make it back this year also. I hope to make it to Oshkosh this year, too.
I've been having starter trouble with my Q2 so I pulled the engine to get at the starter. I'm going to freshen up the engine at the same time. I may try to put larger cylinders on the Revmaster. I will have to consult with Revmaster and Great Plains Aviation before I make the final decision. It's too cold to even go to the airport here this winter.
Henry Hurd, Belleville, IL
I am getting shafted by Ross Aero Engines in Tucson. The old man died in December 1999. The son "ran" the business for a while and now can't be found by phone or registered letter. I sent my Ross reduction gear to him in May 2000 to be modified and now can't get it back or contact him to make any arrangements. If no response or contact, I guess my Mazda engine is useless!
Kenneth Higdon, Tuscaloosa, AL.
I've picked up a Q-2 project. The tail cone, cockpit with canopy and vertical stabilizer are raw and not yet married. Coming up, 90% to go. I have a Subaru engine in a hundred pieces in oil bags. I'm thinking of TURBO installation and possibly going with the TRI-gear. The wings are not built yet.
Thanks to Larry Koutz, Valdosta GA for my flight at "Field of Dreams '99".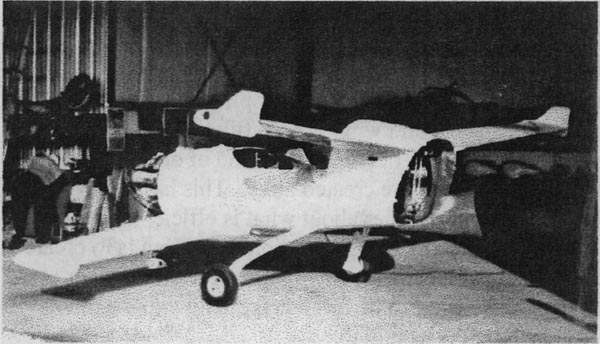 Gordon Hanson's Tri-Q2 of Glen Ellyn, IL getting close!
---
You can order a printed copy of Q-talk #86 by using the Q-talk Back Issue Order Page.