Me, My Dad, and the Cub!
Details

Category: Quickheads BLOG
Published: Friday, 03 October 2008 01:00
Written by Dan Yager
Hits: 2056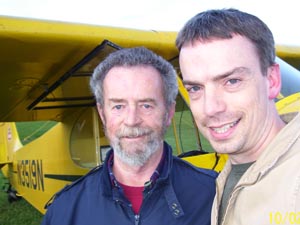 When I was a little kid my father got me interested in airplanes, mostly through his hobby of R/C models. Over the years I watched him build and fly several model planes, but my fondest memories are of the 1/4" scale clipped wing cub he built in the basement. Whenever we would visit him, my brother and I would stand in awe of that huge, beautifully decorated plane. My Dad is a craftsman as well as one hell of on R/C pilot, and his skills as a model builder were never to be outdone by his skills as a model pilot.
Well my skills as an R/C pilot never were that great until the advent of computer simulators, where I could crash hundreds of planes without fear of wasting hundreds of dollars with each crash! However, all through those formative years my interest in aviation and Piper Cubs in particular remained strong. I still love to hear my father recount the story of his first airplane flight in a Piper Cub when he was just 8 years old. Some old timer took him up for a short hop, from an airstrip that no longer exists near my hometown.
Fast forward 55 years and my father has just returned home from the hospital where they had diagnosed him with congestive heart failure and implanted a defibrillator in his chest. Needless to say, when he called the other day and asked if he could come out and watch me fly the Cub, I didn't hesitate! In fact, I was determined to get him in the plane with me. (Please don't tell his doctor!)
However, when I checked my logbook it had been over 90 days since I had made three landings in the cub. So when I got out to the field, I explained to my father that he'd have to be my official photographer while I did three flights and full stop landings on the field.
(. . .to be continued)