Q1 Plans Chapter 20 Page 20-1
Details

Category: Quickie Plans
Published: Wednesday, 28 May 2008 01:00
Written by Jun Su
Hits: 1636
LARGE WHEEL PANT CONSTRUCTION
Chapter 20 covers the making and installation of the optional large diameter wheel pants and tires as well as the necessary modifications to the tailwheel assembly.
As such, Chapter 20 replaces Chapter 11, Appendix Sheets 5 & 6, and modifies Page 8-5. Therefore, the above pages should not be used for any construction information unless specifically referred to by this Chapter 20.
In this section, you will make one left wheel pant and one right wheel pant.
The wheel pants are composite structural shapes that must carry all landing gear loads into the canard. Therefore, they are made much stronger than the ordinary cosmetic type wheel pants found on many homebuilts. There is some carving required, but after having finished the fuselage, you will find that easy.
Begin by making two each LG10 LG11, nd LG12. LG11 and LG12 are made from the orange foam. The LG10 cores are made from the blue foam. Mark one set Left and one set Right to avoid confusion.
The following procedure will be used to make the left wheel pant. However, the right wheel pant is just a mirror image so that the same basic instructions will cover it also. You will probably find it easier to do both of them at the same time.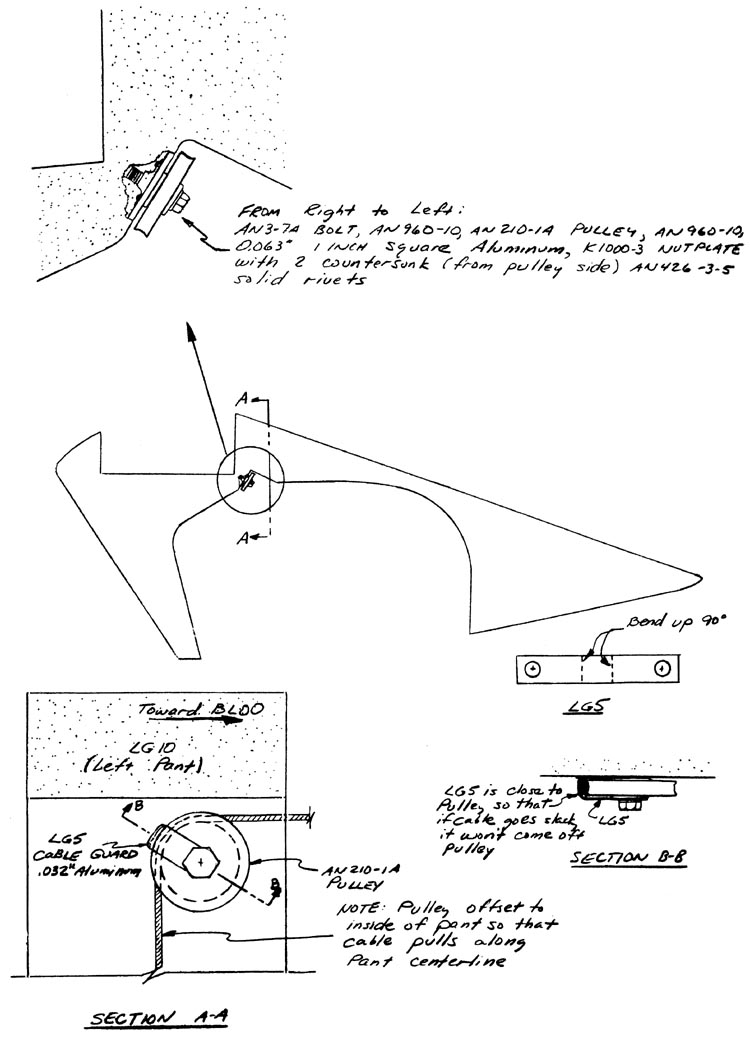 Use a piece of O.O63", thick aluminum one inch square, drill a hole for an AN3 bolt in the center, and then rivet a nutplate to the aluminum so that the bolt can pass through the aluminum into the nutplate. Assemble the pulley combination as shown. Next, trial fit the assembly in the LG10 core, removing foam so that the aluminum will fit flush with the LG10 face. When satisfied, remove the pulley and bolt, protect the nutplate hole with silicone, and mount the aluminum/nutplate assembly to LG10 with flox.