FAA Records Request
Details

Category: Quickheads BLOG
Published: Friday, 04 April 2008 12:28
Written by Dan Yager
Hits: 4797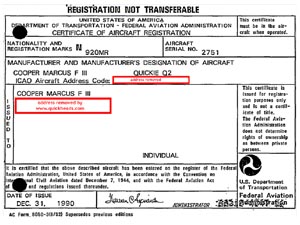 In an effort to track down the history of the airplane in my garage I decided to dig a little further at the FAA. They have a link on their website that will allow anyone interested to view the records they have on any given registered airplane.
Once on the site you simply type in the N-number of the airplane and check how you'd like to have the records delivered, whether you want the records certified, and whether you represent a government entity. When you check out, you'll be shown the amount that you'll eventually have to pay, but you don't have to pay until you actually receive the records. (That doesn't sound like the Government I know.)

Since I'm a self proclaimed computer geek, I chose to have the records delivered on CD, and it was delivered yesterday via the USPS. When I opened the package and put the CD in my computer, it had PDF files that showed airworhtiness, registration, and suspense. Apparently, the "Suspense" file shows anything that requires further documentation.
In the suspense file, there were two items. An aircraft registration card, that Marcus Cooper had signed over to "Kirk Enterprises" on the back, and a letter to Kirk Enterprises stating that additional documentation was needed to complete the transfer of ownership. One of the documents requested was, of course, the "Aircraft Bill of Sale."
When I looked in the "Registration file, where the Bill of Sale would normally be located, it wasn't there. This brings to five, the number of people who transferred ownership of the airplane without this important document.
In the other documents, included on the CD there were several telephone numbers and addresses for both "Kirk Enterprises" and Marcus Cooper. I'll use this information to continue the hunt for either one of these parties, and let everyone know how I make out.
If you'd like to request information from the FAA on any registered aircraft in their database please visit the online records request area of there website by clicking the link below:
http://162.58.35.241/e.gov/ND/airrecordsND.asp