Q-talk 27 - May/Jun 1991 - index
Details

Category: Q-Talk Index
Published: Sunday, 30 June 1991 07:11
Written by Jim Masal
Hits: 2358
MAY/JUN null
ISSUE NUMBER 27

---

QUICKIE BUILDERS ASSOCIATION

---
SUN 'N FUN
by Jim Masal

This year I was spared the unbounded joy of a 24 hour, straight through road trip to Lakeland, Florida's Sun 'N Fun airshow. I took one of American's Aluminum Tubes to Miami where I picked up a car to ferry back to Dallas with an intermediate stop you-know-where.
When I arrived on station Saturday afternoon, a number of privileged characters were already there to greet me (privileged by virtue of their own diligent efforts to have flown to the show in their own handiwork ... the ONLY way to go with style.) In conversations and letters, I had been getting the feeling that this would be a good QBA showing. And so it proved to be. Here's a rundown on the guys who had their beauties anchored in the Sun 'N Fun grass:
| | | | | | | | | |
| --- | --- | --- | --- | --- | --- | --- | --- | --- |
| OWNER | TYPE | ST. | N-NMBR | E.WT. | ENG/HP | CRUZ | TT | BUILT |
| Harris | Q-200 | CO | N275CH | 632 | 0-200 | 195 | 440 | '87 |
| Whetsten | TQ-2 | MO | N83PW | 742 | RevMod | 130 | 400+ | '83 |
| Pike | TQ200 | FL | N425PC | 710 | 0-200 | 190 | 78 | '88 |
| Doyle | TQC85 | IL | N56DW | 692 | C-85 | 165 | 230 | '88 |
| Groff | TQ200 | NJ | N87JG | 732 | 0-200 | 185 | 194 | '87 |
| Pratt | Q-200 | FL | N2192D | 640 | 0-200 | 190 | 47 | '85 |
| Koutz | Q-200 | GA | N39LK | 678 | 0-200 | 185 | 70 | '90 |
| Angel | Q-200 | RI | N687EA | 700 | 0-200 | 170 | 120 | '88 |
| Dwyer | Q-200 | FL | N3QP | 640 | 0-200 | 190 | 560 | '85 |
Each one of these planes is an interesting story in and of itself. For example, 5PC and 6DW started life as taildraggers, 5CH was almost abandoned after it was flipped over in a taxi accident, 3QP has more time over the Atlantic Ocean than many Q's have total time, 3PW was initially finished to a high gloss (at least I thought so) but was taken out of service for a year to be totally RE-finished because its builder team wasn't quite satisfied with their level of perfection. Imagine!
Well, heck, might as well go into some of these planes in detail.
N275CH by Charlie Harris. Charlie flew in from the Denver area with his buddy Carl. They waved as they passed over Malechek's hangar just north of Dallas. None of us were there. If you'll drag out QUICKTALK 26 of Mar/Apr 1986, you'll see a charming Mr. Harris posing beside 2 yrs. and 1400 hrs. of his workmanship. The next photo shows his baby after the 3rd hour of high-speed taxi testing ... flipped over and damaged. Thanks to an encouraging girlfriend, he was persuaded to resurrect the beast into the fine 200 hr. ship he flies today. Charlie had his plane entered in the Sun 100 Race (used to be Sun 60 but they bumped it up a tad for this year). This race is a triangular course that starts from a standing start, proceeds south to a dinky ass, nowhere road intersection with a crane beside it, turns west at that point to a humongous power station turning north to the field in a high-speed sprint. It's a pedal to the metal high-speed, timed race with no complicated rules. Show what cha' got and don't cut any pylons. On Monday Charlie went out to fly the course and identify the turn points (pylons). I was delighted he asked me to go along. We pushed out, launched and did a nice fast pass in the pattern before heading out on the course. And Charlie likes to really rack it around in the turns! We were boiling on past the admiring crowd somewhere over 200 mph, but then we were diving too. Out on the first leg, we generally agreed that the cartographers captured a pretty good likeness of the area on the sectional chart. After "too long" passed, we came to the discovery that we blew on past the "crane" turn point by 6-8 miles without realizing it. 4 experienced eyes were looking too - what a slap in the face. Sigh******

That demonstrated the wisdom of checking out the course beforehand! On the way back in, Charlie let me handle the plane some and he cranked his 0-200 up and showed me a little over 200 in level flight. Nice. But still, someone later reminded me on the ground, it was only IAS and who knew how the indicator was calibrated (always there are skeptics!). I was snarled in traffic on race day and didn't see Charlie get off, but I DID see the results: 201 mph and from a standing start! That should quiet the skeptics. Something I almost DIDN'T see was Charlie's secret race mod ... something he calls a tongue. Yep. Chas stuck about a six-inch piece of Aeroduct hose into his carb intake to bring the mouth of the intake close to the back of the prop. Then, if you synchronize the prop blade just right, you'll get a pulse of pressure just when the intake opens up. He sez his racing friends say it gives you a little more oooomph. Hmmmmmm. What most ... impresses me about this plane's performance is that it is not a "perfect" knock your eyes out, stunning beauty like some I've seen. Yet it performs as good as any (and HAS taken a trophy or two for workmanship).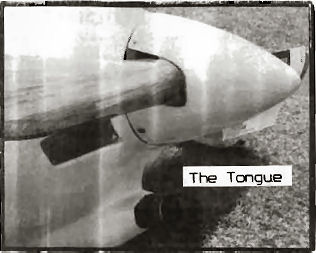 Charlie, Carl, my buddy Ken and I attended the award dinner that evening at the Red Barn Steakhouse in Lakeland. This is a rousing affair as it's a couple hundred pilots and race fans that are enthusiastically kidding, roasting and cheering each other. It's a race for fun; every racer gets a trophy. Charlie won his class. The Lancair IV won overall as the first plane ever to crack the 300 mph barrier and the most efficient racer was a BD-5 with a 60 horse, water cooled Rotax which clocked something over 180 mph ... 3 mph per horse! Yikes! Johnny Murphy, a prolific and nearly supersonic composite builder, flew his copy of the cute little single place Lightning Bug that some of you saw at OSH last year. It looks like a screamer, but Johnny had a fuel line come apart and had to put it down in an occupied pasture. Fortunately the big cows all got out of the way ... but one little guy was not so fast. Johnny walked away unhurt, the plane was destroyed and we ate the cow steaks that evening (or so they tried to tell us). This awards dinner is a treat. If you can make it sometime, do. You don't have to be a race participant or buy a ticket.
N687EA by Al Angel. This rascal flew in from Rhode Island. Hell, I didn't even know there WAS a Rhode Island (isn't that somewhere in Canada??). And who on earth allowed anyone to build a plane there if there was such a place! Al did a fine job and topped it off in a nice powder blue finish. Now lookit, if we had planes from RI, CO, IL, MO, then anybody couldn't made it in this year.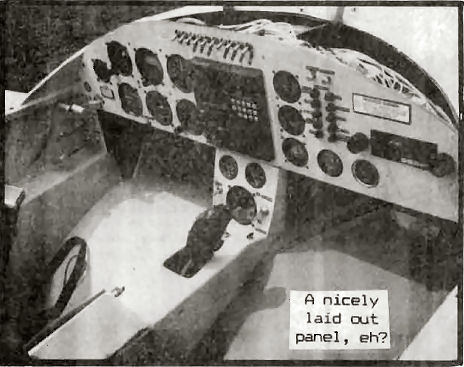 N219D by Larry Pratt et al. Most interesting what Larry has had done to this one. Right off one notices the landing lights in each of the wheelpants. Their Sanford tower confuses it for a MUCH bigger plane when it makes an evening approach. I questioned bulb longevity what with all the landing shock on the canard but was told that the bulb was mounted with the element vertical vs. horizontal and that this dampens the harmful vibrations. Under the hood this plane has an 0-200 replacing the Revmaster and it is mounted on a carefully crafted swing-away engine mount. I had known of this long ago but wanted to hear that some time was put on it. It has been very successful ... and convenient ... thus far.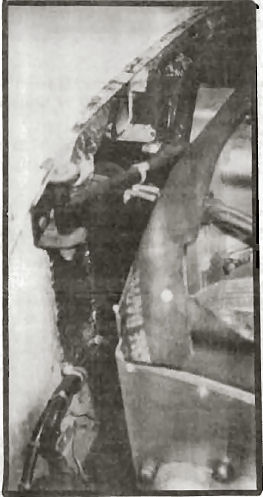 Pratt's Swing Mount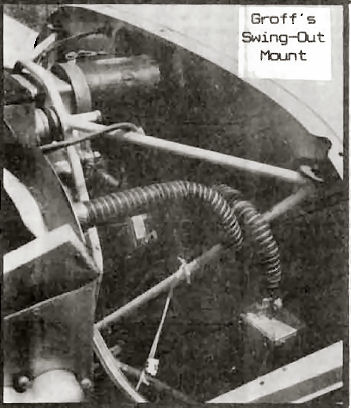 John Groff is running a similar mount successfully.
N87JG by John Groff. John must be having a great time refining and perfecting his plane. Besides the swing-away mount, he's having a successful experience with fiberglass baffling in the engine department. I don't know who started all this (Ron Whetsten, N83PW was the first I heard of), but there is now a lot of fiberglass baffling going on in Q-craft. But back to the swing-away mounts, these guys sure cut away a big firewall hold to do this. Gives me the willies wondering how this affects loads traversing that area. You guys accommodating that somehow?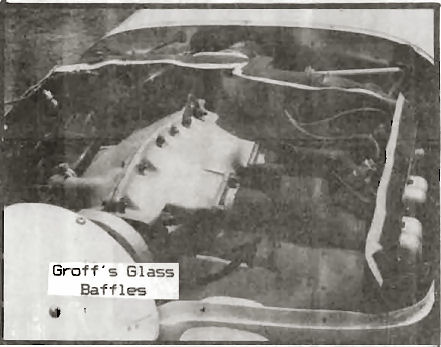 N3QP by Mike Dwyer. This is the Phantom of the Airshow. Mike lives in the nearby Tampa-St. Pete area so he comes in for a few minutes, looks around then leaves again. Or so it seems since guys report talking to him when I didn't even see him there. Dwyer's the guy who keeps teasing the Bermuda Triangle with his frequent Bahamas commutes. Mike likes to fly his long trips high (12-14 thousand) and says its rare atmosphere caused him to develop a carbon track in his Bendix mag. He recommends checking and cleaning at 500 hrs. He recently checked his pivot bushings and found little to no wear as others are finding. He keeps his well greased. Mike's plane has 1/4" fuel lines and he has had a problem with a Facit fuel pump keeping his header full, as the pump got older. He noticed that at full power above 3,000' his engine would start cutting out but would run OK below 3,000'. A new pump is just an Auto Parts Store away.
N39LK by Larry Koutz. Now THIS is going to be an interesting plane to follow. It generated some VERY animated discussion during one of our forums, and here's why. Larry bought this Q-200 already started. He didn't like all the manipulations at the butt end of the Q to get the tail up for the correct ground angle of attack. Larry had a more complicated solution: cut out a crescent shaped section of the tailcone at the forward end and tilt the entire cone down. Sounds like a nightmare to me, but he did it. Next he gave considerable thought to the sparrow strainers and decided that if their function was to provide a down force to the elevator, they would be much more effective if they were in the free air stream above the elevator. So, he turned his side brackets around and got the strainers up higher.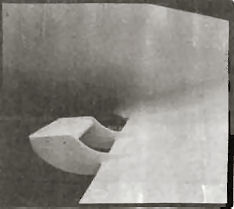 Here's the Koutz Sparrow Strainers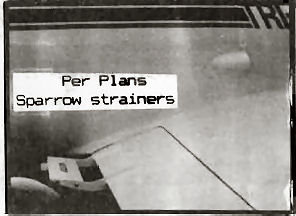 And now the conundrum: He ain't happy with his performance. Why is it somewhat less than expected? Is the fuselage tilt causing drag? Are the wings flying at the wrong angle of attack/incidence? Is the engine tilted? Are the sparrow strainers doing something goofy? And another thing, Koutz wasn't happy with the fact that you could feel a hump along the canard at the spar location. I went out on the flightline to feel this and sure enough, there it was. Then someone called, "Jim, C'mere, feel Charlie's canard, it has the same hump." And so it did. And if Charlie can get his bird up to 200 mph with a bump in the canard, none of you other guys need to lose a lot of sleep if you discover the same thing on yours.
PART II - Sun 'N Fun - Next Issue

Other Articles In This Issue
---
You can order a PDF or printed copy of Q-talk #27 by using the Q-talk Back Issue Order Page.