Q-talk 40 - Jul/Aug 1993 - index
Details

Category: Q-Talk Index
Published: Tuesday, 31 August 1993 07:11
Written by Jim Masal
Hits: 2281
JUL/AUG 1993
ISSUE NUMBER 40

---

QUICKIE BUILDERS ASSOCIATION

---
OSHKOSH
by Jim Masal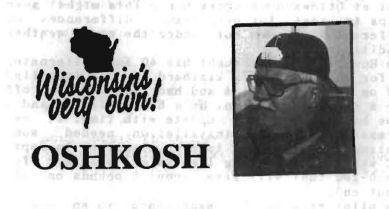 We'll I'll be a sap-suckin' pig if the Fox River Valley didn't do it again .... put on some really fine WX for the Oshkosh show. With all the rain and flooding in the Midwest this summer, I expected some problems, but it was cool, mild and, except for a 20-minute shower early one afternoon, it was dry. Lots of pilots reported clear sailing all the way in and most of the Q guys were in position early. (Now for those that got into position too early, like before Tuesday night for instance, there was a helluva cranky storm that hit then and had a few tents and airplanes going ass over teakettle).
Spud Spornitz, Grand Poobah of the Dragonflyers, heard some of us bellyaching about roping off the Q-birds in our forum last year. He showed up with a mile of nylon rope, sticks with eyelets and, nicest of all, green and white street signs for the corners of our pen proclaiming "Q-200 Lane/Tandem Wing Rd/Dragonfly St." This was really nice, was raved over by all and did a great job of protecting the planes. The downside to all Spud's enthusiastic effort was that only one Dragonfly showed up. Maybe they are saving up for our bash in Ottawa. Anyway, the following Q's were safely roped in:
| | | | | | | | |
| --- | --- | --- | --- | --- | --- | --- | --- |
| NAME | N-NUM | TYPE | ENG. | BILT | TT | EWT | CRUZ |
| Gillespie | N85BJ | Q-2 | REV 70 | '86 | 478 | 630 | 145 |
| Smith | N124AT | Q-2 | REV 64 | '86 | 290 | 592 | 148 |
| Cowles | N84RC | Q200 | O-200 | '85 | 1300 | 630 | 197 |
| Fisher | N17PF | Q200 | O-200 | '90 | 270 | 758 | 170 |
| Hoskins | N202SH | Q200 | O-200 | '86 | 620 | 640 | 170 |
| Jewett | N2AM | Q200 | O-200 | '89 | 470 | 680 | 170 |
| Last | N488RW | Q200 | O-200 | '88 | 260 | 700 | 180 |
| Shapley | N618RJ | Q200 | O-200 | '87 | 350 | 675 | 180 |
| Swing | N1711Q | Q200 | O-200 | '82 | 620 | 640 | 175 |
| Doyle | N56DW | TQ200 | O-200 | '88 | 440 | 700 | 180 |
| Varga | N888TQ | TQ200 | O-200 | '91 | 92 | 720 | 150 |
| Kisthard | N29DF | TQ200 | O-200 | '88 | 460 | 740 | 170 |
If you are one who has flat feet, crowdophobia or other reasons to avoid Oshkosh during early August you would have made a wise move this year. My sense is that the body count was down a bit but showplanes and vendors were crowding a lot more real estate. You could wear out a good pair of sneakers just to get from the tower to the ultralight area! The EAA hasn't been sleeping though and there are the constant, incremental changes everywhere. There are more tractor-powered shuttles running along the flightline road to help you take a load off. And the road is wider to accommodate the heavy vehicle/pedestrian flow. Seems like either more or better placement of Porta-Potties too (a reason to think the body count was down was that I didn't ever have to wait very long to pee!).
QBA ACTION: My potential work conflict was stalled so I was in place for our first event which was the combined D-fly/Q banquet at Butch's Anchor Inn. 84 folks signed up. The food was served home-style and, as expected, quite good. As with all banquets though, you only get to socialize with about 8 people. Then, some snafu put us into a large room along with another small group. That made any kind of a "program" difficult, but we were able to award a bunch of door prizes courtesy of Steve Bennett and his Great Plains Aircraft. Steve really is a credit to sport aviation and you guys with VW based engines ought to use him as a technical and aftermarket parts source. He know his KA KA.
My final analysis of the banquet is that if your focus is information exchange AND a little socializing, a banquet isn't the way to do it. I think we've had the right idea all along. A banquet is more for entertainment. Maybe we could figure out how to do a strolling banquet (all tables, no chairs).
Lacking a forum of our own, I saw a number of QBAers sprinkled amongst the audience at Spud's Dragonfly forum. That was nice to see.
We did, however, have two mini forums on the porches of the Homebuilder's HQ out on the flightline. Both times we had about 20 folks. It was of interest to me that the Monday a.m. session had about 18 pilots. That got us into more operational and maintenance discussion than building the beasts.
There was much ado about props this year. Most interesting story was Dave Smith's: About any hour out of the Bay area eastbound he noted a slight vibration change in his Q-2. At his first fuel stop he found that his prop spit out a nut at the hub, which put a crack in the wood blade on its way out. He fixed it with 5-Minute epoxy, replaced a couple of bolts and arrived uneventfully at Oshkosh. While there, he bought an Ivoprop, which did well in a couple of local test flights before his departure. It's not the electrically controllable one. Dave was satisfied with it and I hope he'll give us a report on his trip back home. Jim Doyle has been operating a Warp Drive 3-blader for the past 40 hours and he is satisfied. He finds it to be as good or better than his wooden prop, is no worry in rain and was especially surprised by how smooth running it is. All that aside, Jim says, "It's sexy". His is a 3-blader and it has nickel leading edges. His Warp sells for about $850, it has the tapered blades he likes best and the company guarantees satisfaction. Another positive is that individual blades can be replaced at less cost should you prang one.
Other props getting a good mention were Sterba's, which is reasonably priced at about $350 and has a good delivery time of around 2 weeks. The Warnke prop seems to be the most favored prop for the Q-200's. Cost is about $600 and delivery is abysmal, up to 6 months.
This may not be practical, but it was suggested that at Ottawa some agreeable pilots might swap props to test for performance differences on different airframes but under the same weather conditions.
The Honcho of B&C brought his 40-amp alternator by for show and tell. Kisthard had one installed out on the flightline and had the cowling off for a close inspection. He's happy with it and I hope he'll give us an update with time. It was stressed that the installation needed some cooling air via blast tube or elsewhere. In Sept. B&C will be delivering lightweight starters for the O-200 that will save about 6 pounds on the front end.
One pilot related his experience in an engine out glide and suggested that the pattern be flown 6-700' higher than normal because he lost lots of altitude in his base and final turns.
Varga told us he bent his Tri's nose gear on a landing away from home. No problem, he went to a local plumbing shop and got a long piece of pipe and best the thing back ... only it took the strength of 4 guys to do it. Cold bending is the recommended way to save the part if it's possible.
Shapley showed up again with his small battery operated fan (looks like a computer fan), which fits the opening of his oil inspection door. He pops this in after shutdown to dissipate engine heat, which he believes has cooked his mags before.
Russell Cowles was back at OSHKOSH again and proudly reporting 1300 hours total time on his prize winning Q-200. He's been as far south as Mexico City (where I think he met his wife). The plane doesn't look worn either.
Gillespie's Q-2 was a real sight arrester with its bright yellow paint trimmed very tastefully in green. He complains of cracks in the Revmaster main bearing areas due to Revmaster taking out a lot of beef in those areas. Gillespie went to a local VW speed shop in Idaho, talked it over with those guys and got himself new heads with harder seats and mid-size valves. He also figured out a way to lube the impulse coupler on his Bendix mags from the outside and without dismounting the engine. Bob would advise builders, for the sake of tire wear, to align axles with a load in the cockpit approximating your expected typical flight weight. He's happy with the plane.
These are just a few of hundreds of tips flying about the week. This is the reason we endure the crowds.
MISC. COMMENTS: For the first year ever I failed to have a dorm room reserved. 10 days before arrival I called the EAA housing hotline and easily got a room with a family just a mile from the airport. It sounded like the EAA had plenty of listings at that late date too. The Kloehn family was very gracious and interesting to be with in off-airport time and gave me some time to recharge my brain by talking something other than airplanes constantly. If some of you get in a fix for housing next year, don't fail to consider staying with a resident.
Aside from all the foregoing, there is not much more striking that can be said about Oshkosh by a guy who's been there 20 times. The aerobatics are beyond fantastic by now (in fact I think they're done with mirrors, not humans), more and more Warbirds are being resurrected and you could overload several brain circuits just deciding which forum of (12 per hour) you should go to. But, let me see, I was impressed by the sight of 5 of the 6 flying P-47's left in the world. Also by Kermit Weeks' enormous Sunderland flying boat, which harkens back to the days of the Pan Am Clippers. In fact I was able to find its moorage on Lake Winnebago by the Pioneer Inn. I walked out on a jetty near sunset and saw it in a picture-perfect setting. I forgot my camera. But I have that vision in my mind's eye right now. Wish you were there.
See you in Ottawa soon.

Other Articles In This Issue
---
You can order a PDF or printed copy of Q-talk #40 by using the Q-talk Back Issue Order Page.