Q-talk 38 - Mar/Apr 1993 - index
Details

Category: Q-Talk Index
Published: Friday, 30 April 1993 07:11
Written by Jim Masal
Hits: 1887
MAR/APR 1993
ISSUE NUMBER 38

---

QUICKIE BUILDERS ASSOCIATION

---
SUN 'n FUN
by Jim Masal
Once in a while I hold this April issue off so as to be first with a report on Sun 'N Fun. I like the possibility that I might be first with a "scoop" of some kind. Shoot, it didn't happen (or if it did, I missed it.)
Lots of interesting things went on though, and we got a lot of Q-Talking done. This show continues to get slightly bigger and better each year. Actually, I like the size just as it is right now. There are plenty of planes, vendors, a full schedule of forums, nicely attended workshops and all without the elbow-to-elbow hot-breath-down-your-neckband crowds of some days at Oshkosh.
I was hunting for some flashy new designs fresh out of somebody's skunkwerks, but no dice. Close, but no cigar, was from Express Design, Inc., the new manufacturer of the Wheeler Express, which had a reconfigured demonstrator boasting 6-person seating, a 12 cubic foot cargo pod, and a 540 hp Lyc. Good gracious sakes alive, homebuilts may be taking another step up (at least in some promoters mind anyway)! (And happily for a very nice design, 4 customer built Wheeler Expresses dressed up the flightline). Getting rapt attention on the flightline was the Fighter Escort Wings' mini-P-51 sporting an aluminum block Buick V-8 under the hood. It is more damn difficult than you would expect to scale down a full size airplane and make it look as good as the original. For example, you can't scale down the pilot so often the cockpit bubble gets out of proportion or you have a normal pilot in a teeny tiny cockpit area. FEW did a fine job of blending these details and getting good performance out of a John Roncz designed scale wing. The crowd loved it.
A lot of attention was also lavished on the Berkut (200 hp, 240+ mph) parked down on the EZ lot of the flightline with the E-Racer, Cozys, and assorted other permutations of Rutan's early design efforts. The 'Bearkut' resembles a sleeked down Long EZ notable for its torpedo-like fuselage and gas-strutted, independent opening canopies for pilot and passenger.
This was the year that the RV's particularly the 6's sprouted like spring weeds. They've been in garages for around 5 years or so and it's about time for them to be coming out in the abundance reserved up until now only for the EZ's. If you like working with antique material (alumneeium (?)), I forget what they call it), you'll love these airplanes. I went to their forum out of curiosity where I heard that several thousand sets of plans had been sold, 300 or so complete kits had been shipped in '92 and that some 750 had been completed and flown. I forget the exact numbers as my mind was boggled by the mass of interest in this antique construction material. Nostalgia seems in full bloom everywhere.
Q-birds made a respectable showing. Everybody was aided by the fact that arrival weather was very nice throughout the Midwest and lots of the East. Several guys from MO and IL area experienced 20 mph tailwinds the whole way to Florida, and landed with big smiles on their faces. It wasn't the best showing of Q's at SNF, but here are the nine that made it for '93:
| | | | | | | | | |
| --- | --- | --- | --- | --- | --- | --- | --- | --- |
| OWNER | STATE | N# | TYPE | ENG/HP | TT | E.WT. | CRUZ | BILT |
| Brown | FL | N181MB | Q2 | REV 75 | 60 | 618 | 150 | '90 |
| France | FL | N1007Y | Q2 | REV 75 | 200 | 600 | 150 | '85 |
| Whetsten | MO | N83PW | TQ2 | VW 64 | ? | 720 | 130 | '83 |
| Noble | AR | N827Q | TQ200 | O-200 | ? | ? | ? | ? |
| Pike | FL | N425PC | TQ200 | O-200 | 80 | 700 | 160 | '80 |
| Doyle | IL | N56DW | TQC85 | C-85 | 408 | 700 | 180 | ? |
| Pratt | FL | N2192D | Q200 | O-200 | 74 | 753 | 190 | '89 |
| Dwyer | FL | N3QP | Q200 | O-200 | 400 | 640 | 190 | '85 |
| Fisher | IL | N17PF | Q200 | O-200 | ? | 758 | 170 | '90 |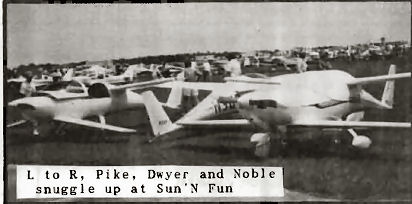 QBA ACTION: We had 2 forums scheduled this year. The first was the lead off for the show in forum tent 1 at 9 am Sunday. About 40 folks decided to rise and shine. As usual, I had each guy introduce himself and give an update on his aircraft. As usual, that provoked a lot of highly interesting discussion and even resulted in some swapped/sold excess parts. This first forum was 2 hours long but it seemed to go by like a flash with the interesting conversations. Much discussion centered on whether or not to use the Revmaster engines on projects not yet engined. At least 3 successful Revmaster operators argued convincingly that the MAJOR problem in using this engine is a builder who does not baffle it to run cool. Once it is cooled properly, other problems go away. Remember now, this wasn't conjecture, but the advice of successful operators. These guys felt that it was not necessary to incur the expense of purchasing a Continental engine. One of these guys was Ron Whetsten who has been getting around to lots of airshows in his since '83. There was some feeling that 500 hrs. is about all you'll get out of the engine though.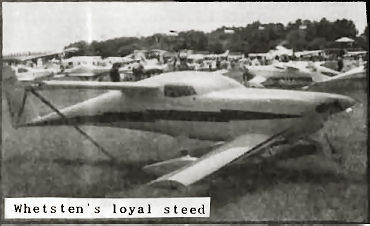 Another hot topic was plumbing the fuel system. There was strong advice to spend a few extra bucks to use metal aircraft fuel fittings and bendable 3003 aluminum tubing to have a tight and easier to repair system. Another tip was to use type 3 halogen lights, which are less susceptible to vibration damage. For those in dire need of a belly board, one builder used one from the stock Velocity kit. Another pilot fabricated a forward opening board of aluminum and mounted it slightly aft of standard. He said this avoids the pitch up on deployment.
Our second forum was Tues. at 9 and just to show you how opinion-sensitive homebuilding is, this time we had a "downer" discussion about Revmaster power. And so it goes ... Much as you might like, nobody is going to hold your hand, pat you on the head, make the decision for you and guarantee that it will be all right. That's what being a big kid is all about!
ALMOST fun was when somebody on the speaker's perch asked Dick Pratt if he'd talk about his Q-200 over the PA system while his test pilot flew it around the flyby pattern. The Aircraft Showcase period they called it, and they mentioned that a Q had never been in it. Dick waves his plane bye-bye then asked me to accompany him to the speaker's stand. Well, Dick said all he had to say while waiting for the plane to flash by ... and no plane. The mike passed to me 'n I said all I could say (and you know I can talk) ... an no plane. It was like coitus interruptus on the speaker stand. Turns out the Q-200 was held up at the runway threshold and nobody ever released him. Sheeeeesh. Our chance in the sun and some yokel blew it for us!
OTHER SUN 'N FUN TIDBITS: The pedal-to-the-metal Sun 100 Race was won by the flying egg called the Questair Venture, clocked at a new event record of 308.20 mph (on 280 hp)! Of 46 entrants, nobody went less than135 mph and that was a BD-5B on 64 ponies. 34 entrants went over 190 mph. Fast company, these homebuilts. The Lancair IV prototype is not allowed to compete so it established its own record. Using a 60-gallon aux tank and running above 20,000 ft., it was flown from Los Angeles to Lakeland, 2235 miles, in 6 hrs and 2 minutes for an average speed of 370.56 mph. The winds were kind too.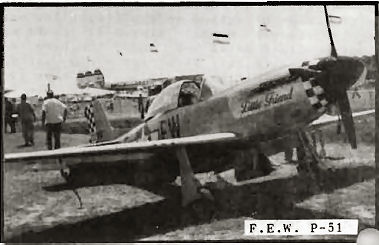 The big draw this year was a one-time performance of the Thunderbirds who are always thrilling no matter how often seen. Delmar Benjamin strutted the Gee Bee's stuff several times and the cavorting of a Glassair III still impresses. The SAC (TWA) Connie was there for inspection as was an originally outfitted Martin 4-0-4 in Eastern Airlines livery (and a stew with a period uniform).
I stayed until Thursday morning this year and boy, am I glad. Wednesday evening was spectacular. Imagine a night airshow. Not a new concept, but wow was this one good. 3 acts streaking through the night sky with wing tips spewing twin comet trails from which periodic roman candle balls and exploding clusters shot. Then there was the couple doing a wing-walk act with a 450 Stearman lit all over with spotlights. If there were UFO reports emanating from the rural residents of Lakeland, I don't wonder.
It was another good show and another enjoyable "reunion" with the many of you I enjoy and look forward to seeing.
Other Articles In This Issue
---
You can order a PDF or printed copy of Q-talk #38 by using the Q-talk Back Issue Order Page.