Q-talk 35 - Sep/Oct 1992 - index
Details

Category: Q-Talk Index
Published: Saturday, 31 October 1992 06:11
Written by Jim Masal
Hits: 1901
SEP/OCT 1992
ISSUE NUMBER 35

---

QUICKIE BUILDERS ASSOCIATION

---
QBA/DFLY FLY-IN - OTTAWA '92
by Jim Masal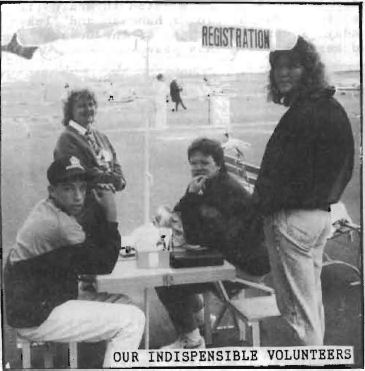 I was making a satisfied drive home on Sunday evening Sept. 20 when I heard the DJ on my favorite radio station do the hourly weather report: "Well, folks, I don't know where that cold front is that we promised you this weekend, but it's 94 out there right now." "Ask me, " I though, "I know EXACTLY where it is."
The Friday evening of our joint QBA/Dfly Fly-In, that rapidly moving cold front decided to stop and catch its breath in central Oklahoma then slowly back up into eastern Kansas by Saturday night. The center of a low formed smack dab over Kansas City. In Ottawa, KS, 55 miles to the southwest, a crowd of Q-bird and Dragonfly pilots were resolutely pacing a wet airport ramp trying to squeeze out a few last drops of joy under a gloomy overcast.
Their smiling faces and cheerful chattering didn't do much to mask the concern they had over where they might be spending their next few hours and how soon the adventure would start.
It had been a mind boggling weekend. Nobody had ever seen this many Dragonflys in one location. More single Quickies were here than had been seen in Oshkosh in 10 years. Q2/Q200's on the ground came close to equaling an Oshkosh record. Take a look at what most of you missed:
| | | | | | | | | |
| --- | --- | --- | --- | --- | --- | --- | --- | --- |
| OWNER | ST. | TYPE | N-NMBR | ENG/HP | E.WT | CRUZ | TT | BILT |
| Fisher | IL | Q-200 | N17PF | O-200 | 758 | 170 | 202 | '90 |
| Malechek | TX | Q-200 | N870BM | O-200 | 659 | 200 | 642 | '87 |
| Koutz | GA | Q-200 | N39LK | O-200 | 675 | 160 | 180 | '90 |
| Hoskins | IL | Q-200 | N202SH | O-200 | 640 | 175 | 560 | '86 |
| Harris | CO | Q-200 | N275CH | O-200 | 630 | 190 | 712 | '88 |
| Jewett | KY | Q-200 | N2AM | O-200 | 676 | 170 | 420 | '89 |
| McConahy | OK | Q-2 | N6558M | REV65 | 560 | 120 | 92 | '91 |
| Lowder | IA | Q-2 | N7148H | REV75 | 605 | 155 | 355 | '86 |
| Doyle | IL | TRI-Q | N56DW | C-85 | 700 | 165 | 362 | '89 |
| Whetsten | MO | TRI-Q | N83PW | REVT64 | 742 | 130 | 600 | '83 |
| Halloran | MN | TRI-Q | N4832L | REVT75 | 690 | 125 | 130 | '86 |
| Finley | MT | QUICKIE | N926W | RTX503 | 300 | 120 | 118 | '91 |
| Bounds | NE | QUICKIE | N41RB | RTX503 | 340 | 130 | 168 | '90 |
| Hardy | CO | QUICKIE | N7NH | RTX503 | 340 | 120 | 140 | '83 |
| Barber | Al | QUICKIE | N7148H | RTX583 | 360 | 142 | 170 | '90 |
Add some 11 Dragonflys to this roster for a total of 26 aircraft in attendance. More were coming too, but the weather got too dicey for late arrivals.
Wow, double WOW and Yikes too! Was this ever fun.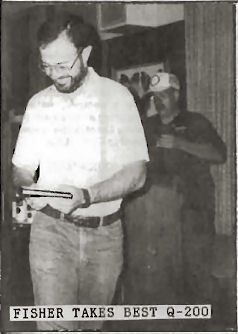 Without minimizing the magnificence of Oshkosh or Sun 'N Fun, this gig in Ottawa was a very fine opportunity to get in some concentrated time talking, flying and viewing our special brand of aircraft. The program went pretty much as scheduled until "consumer" demand allowed it to vaporize around 5 pm Saturday. I was pleased that the first 5 planes out of the chute at the first fly-by/ride session early Saturday morning were Q's ... 3 of them Quickies. This was then followed by separate forums for us and the Dragonflys guys with a joint session featuring Volkswagen engine guru and President of Great Plains Aircraft, Steve Bennett. Between times I caught a cozy clump of our guys stretched out in the grass next to the planes having a real sociable, impromptu bull session about things aeronautical. That made a nice picture of what you missed. And it was pleasant weather for that sort of thing too. Later Saturday we had another fly/ride period, which included a photo mission. We rented a clean-windowed Cherokee and offered aerial photos of airplanes each going by in trail. It was while involved in this activity that I missed what must have been the thrilling arrival of Chris Barber (Captain Nitro) in his Rotax 583 powered (some 90 hp) single Quickie. I was told he made a fast pass then came in for what appeared to be a landing when, just at the point of touchdown, he firewalled it and climbed almost straight up at some 2,000 feet per minute. Breathtaking! ... and it sounded a lot like a German WWII buzz bomb.
And then there were the, how shall I call it, the incidents. We earlier had a short discussion of our quirky ground handling during which Q-2 driver Dave McConahy mentioned he'd never had anything even remotely like a ground loop happen. His fortune was about to change. That afternoon during a landing his bird suddenly veered off the runway and into the grass. He may have only gotten a couple of scuffmarks but more importantly he became a "true believer". That and another incident was enough to keep the Dragonflys from trading in their ships for Q-200's. At the Saturday morning fly by period, all 3 Quickies launched with Hardy leading off. He got airborne, his Rotax started surging and he wisely set it back down. He momentarily glanced down to shut off the engine and that was enough to set him off the runway and into a runway light. The prop went and the left wheelpant got hammered. Trailer time. And finally, after a night of good rainfall, Bounds went out to his plane to find that the trailing edge of his beautiful PAC prop had somehow curled, and blistered some paint off. He did some precautionary runups and felt it would be safe enough for the trip home. The same Sunday morning, Finley found a ton of water in his tank. He elected to drain it, air dry it overnight in a hangar and leave on Monday. I don't think any of the Dragonfly guys had any incidents this year.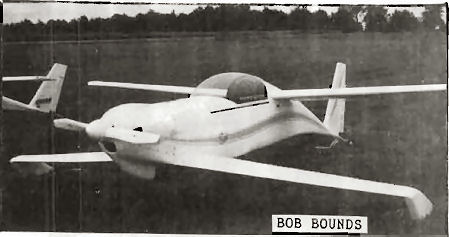 The Saturday night banquet at Ottawa University was a real treat. Plenty of good food, laughter, awards and fellowship in nice surroundings. The first award was the most interesting, I think. Bear with me, it takes a little tellin'.
A couple weeks before our event, Spud enthusiastically called to say he had 20 pilots pre-registered who'd committed to bring their airplanes. Bit much, I thought, based on my vast personal experience. I humored him, and being a realist I told him that if he got even 15 planes to actually show up I would kiss his hiney in the middle of a Kansas City freeway at a time of his choosing. The picture herein taken on our banquet stage speaks for itself (I never specified the position of his pants! We had 15 planes parked by the time we went to bed on Friday for gosh sakes!). I could tell from the roar of the crowd that this was a popular banquet event. It was followed by a dozen or so door prizes, numerous casual and snide remarks and by some further awards. Of note of us was Best Q2/200: Paul Fisher (who also garnered a Workmanship award at this past Oshkosh), Best Quickie: Howard Hardy (just barely edging out Bob Bounds beauty), Best Q2/200 Interior: Ron Whetsten, Highest Timer: Charlie Harris and Longest Distance Flown to the Event: Jon Finley, some 900 miles in his Rotax Quickie from Helena, Montana (does this guy have big brass ones or what?). We finished with a resolution to do this again ... only better.
A drizzle started during the banquet and I drove back to the airport Sunday accompanied by crashing thunder and lightening. It subsided into a gloomy overcast into which backdrop Captain Nitro decided to launch and fling his Quickie around in a 10-minute display of brute power and noise.
By about 2 pm some pilots got tired of pacing the glistening tarmac and pestering flight service for a favorable weather report. Besides, some light spots were appearing on the horizon. This time the feds were correct in their gloomy reports. Fisher got stuck overnight heading northeast. Malechek and I took off with Larry Koutz and headed south. Things improved in that direction so Larry peeled off near Tulsa to streak for home in Georgia. He got stuck overnight in Tennessee. We had a bumpy ride under lots of buildups but got home before the storms hit behind us. Charlie Harris should get the Good Samaritan award. He loaded up Hardy who left his broken Quickie behind and then flew throttled back 40 mph to ride herd on Bob Bounds' Quickie, helping him through some bad weather around Topeka to the northeast and into the clear inside Nebraska. A few guys decided to hold in position and enjoy the K.C. area another day. Everybody was careful and got home safely.
This affair was a good one. The planning was good, the promotion was good and most of all the support of those who got there was good. It takes a little act of faith in Spud and I for someone to pack up the plane or car and come to a first-time event that could very well be a bust. I thank all of you who were there for that confidence in us. And now that it was a success, I hope all of you who were hesitant to take the chance will make that trip next year knowing that Spud and I can make good on the promise to do even better.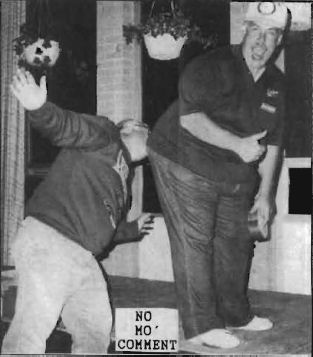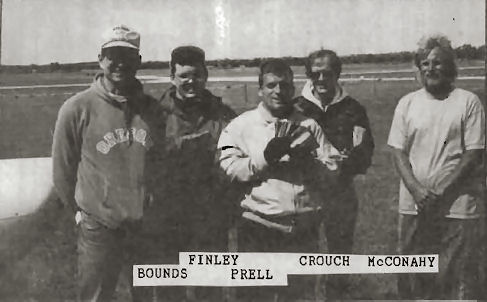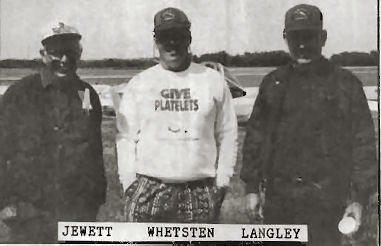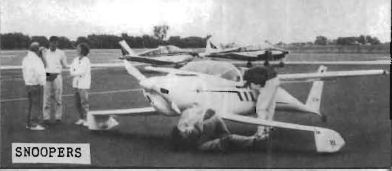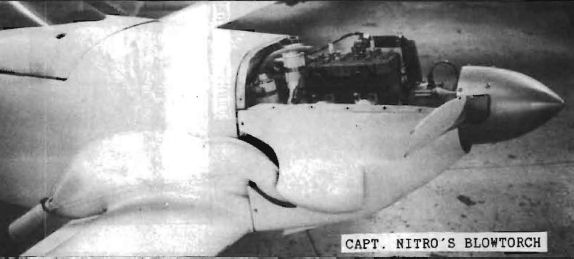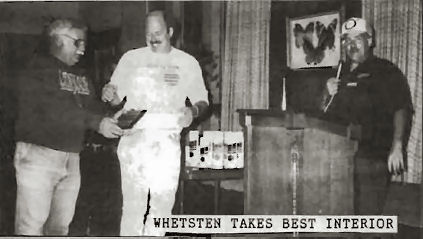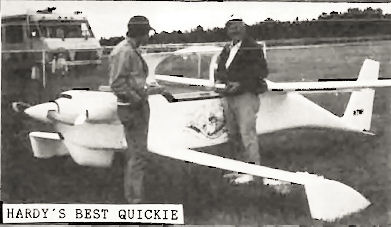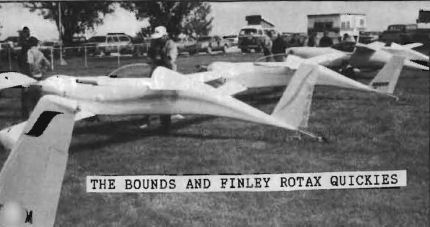 Other Articles In This Issue
---
You can order a PDF or printed copy of Q-talk #35 by using the Q-talk Back Issue Order Page.