Q-talk 22 - Jul/Aug 1990 - index
Details

Category: Q-Talk Index
Published: Friday, 31 August 1990 07:11
Written by Jim Masal
Hits: 1864
JUL/AUG 1990
ISSUE NUMBER 22

---

QUICKIE BUILDERS ASSOCIATION

---
OSHKOSH '90 REPORT
by Jim Masal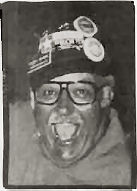 An Oshkomaniac in unabashed full bloom!
Well nobody had the heat to complain about this year, but you can blame Mutha Nature for putting the kinks and twists into the Oshkosh opening weekend. The Friday opening was great at first, degenerating to murky and overcast for Saturday then frank and outright rain on Sunday. Any show plane not in position by Friday morning had to straggle in through the scud or just stay home. I'm sure some just stayed home.
But then things got great. Monday morning dawned wonderfully clear followed by a PERFECT Tuesday that was so cool, crisp and bright as to remind you of fall. It was well worth waiting for.
What with the Aviation Consumer article that came out in June documenting (finally) Paul Poberezny's $276,269 annual salary (1988 IRS records) and benefits package (on the backs of a largely volunteer work force), and other "interesting" financial wheeling and dealings, I thought there would be some fascinating undercurrents of controversy at Oshkosh this year. But, nope, everybody had a pent-up desire to see airplanes and the focus was strictly on this annual showcase.
The Oshkosh and Milwaukee newspapers do a very good job of EAA promotion during their daily convention coverage, and this year they got a good dollop of blood and guts too. Over Wyoming, the much awaited second Wheeler Express prototype went down in what was at first thought to be weather but now looks more like low level aerobatic horsing around (according to a report in Western Flyer recently), 3 dead.
Two planes bumped over Lake Winnebago sending one (rumored, a White Lightning) to a splashdown. Rumor, one dead. Late a T-18 and a Cessna 170 had a surprise join-up. The Thorp dead sticked into a field while the Cessna limped back to Wittman. Then there was the vintage Amelia Earhart era Lockheed Electra flying "frisky" turns in the fly-by pattern (male pilot and three 99's aboard). Showtime was over when he slammed it in just short of the runway on landing. All alive and fortunately banged up less than the aircraft. And, finally I heard that during the Thursday airshow a performing biplane came out of a loop just a tad short on altitude and smacked it in for the crowd.
The papers love to feature all this gore and I suppose that if a plane went down in Ecuador and the pilot had on an EAA t-shirt they'd probably tie it somehow to the EAA convention. Maybe the ol' family car isn't such dangerous transportation after all.
And speaking of ground vehicles, did anybody else notice how dangerous it was for pedestrians on the convention grounds this year? Besides the now familiar topless VW's for EAA VIP's, there was a Chicago traffic jam full of sightseeing trams, golf carts, John Deere tractors of every description, Buick's, catering trucks, poop sucker trucks (actually, I had an "s" word in mind here), scooters, sheriffs, gas trucks and probably more I can't think of now. Anybody with any kind of "Power and Majesty" at all seems to feel put out if they have to walk anymore. What's more, a lot of them acted like the paying strollers oughta just get the hell out of the way. Pardon me, Mr. Poberezny, can you put up some traffic signals next year? Inside the flight line and the flymarket seemed to be the only safe havens.
This was the year of the Tri-Q as can be seen from the following roster of attending Q's (as of Tuesday evening, after which I left):
| | | | | | | | | |
| --- | --- | --- | --- | --- | --- | --- | --- | --- |
| OWNER | TYPE | ST. | N-NUMBR | E/WT. | ENG/HP | CRUZ | TT | BUILT |
| Homsley | Q-1 | AR | N170Q | 330 | RTX503 | 125 | 200 | '86 |
| Oberdorf | Q-200 | WI | N8242K | 660 | 0-200 | 165 | 154 | '86 |
| Last | Q-200 | VA | N488RW | 700 | 0-200 | 180 | 110 | '88 |
| Malechek | Q-200 | TX | N870BM | 659 | 0-200 | 200 | 480 | '86 |
| Jewett | Q-200 | KY | N2AM | 683 | 0-200 | 190 | 184 | '89 |
| Harris | Q-200 | CO | N275CH | 632 | 0-200 | 185 | ? | '87 |
| Grazier | Q-2 | WA | N73QQ | 698 | TREV75 | 165 | 167 | '86 |
| Yocum | TRI-Q | IA | N585SY | 637 | REV75 | 150 | 260 | '83 |
| Groff | TRI-Q | NJ | N87JG | 732 | 0-200 | 185 | 146 | '88 |
| Padios | TRI-Q | CA | N2XQ | 720 | 0-200 | 180 | 374 | '86 |
| Zimmerman | TRI-Q | IA | N89RZ | 681 | 0-200 | 170 | 40+ | '90 |
| Butler | TRI-Q | IL | N83HS | 700 | 0-200 | 145 | 251 | '83 |
QBA ACTION
BACK PORCH meetings on Sunday and Monday afternoons were well attended (20-25 folks) and lively. So lively in fact, that when I got caught in the rain walking back from Church on Sunday and didn't get to the field in time, the session started just fine without me. Even took 5 minutes to notice when I finally walked up. Now THAT's self-help. It tells me that we are really getting comfortable with each other. On Sunday we had the best seats in the house when it started to rain and we were surrounded on our back porch shelter. What great scheduling by your editor, eh!!!
The WINE 'N CHEESE party held on the second floor of the Reeve Student Union this time was also another success. Some 54 builders, wives and/or etc. showed up for another enjoyable evening of hangar stories and harass the editor. We had another dress rehearsal of the Buskey/Howell screenplay. This time the scenario was that of a country hayseed intent on buildin' him 'n arplane. Great yukks. Thank yew guys. And again thanks to Lyle Harrison who did the legwork to set up the place and victuals.
Our FORUM at 7 p.m. on Saturday night was held before a tentful of about 200 people. Not all of these were "the faithful", indicating that there is still a lot of building and plenty of interest in Q-craft going on. I've mentioned before the periodic exposure we're getting in KITPLANES Magazine.
To get more mileage out of our forums, I have the Oshkosh pilots identify themselves, then all builders who are flying or have flown, then all in the audience who have been "published" in Q-TALK. I'm pleased with the amount of hands that go up in all these categories. These introductions also help us to know each other so we can get more personal discussions going on the flightline or on the phone after we get home.
Every year on the flightline there is lots of talk about "next year", and sometimes it is. For '90, Greg Zimmerman had his promise fulfilled, arriving with 42 hours on the bird. Not long ago Greg had his plane on a trailer when a friend with a Q-2 broke a canard in a ground handling accident. That did it ... Greg decided on the Tri-Q change then and there. He's a happy man. During his first flights he felt the sparrow strainers were biting too much air so he called Scott Swing who suggested cutting pie shaped notches in the strainer brackets, bending the strainer down and 5-Minuting it in place followed by a quick flight to see the effect. After he got it to fly right, a glass cloth layup made it permanent.
We talked about first flight and two items were mentioned. QBAer Sam Hoskins' pre-first-flight checklist was felt to be very good. Also, the FAA was giving out their new Amateur-Built Aircraft Flight Testing Handbook like hotcakes over in the FAA building on the grounds. AC-90-89 (Advisory Circular) is available for $5.00 elsewhere, I understand.
Bob Malechek, with over 450 hours, commented on some items he's been working on. He had an odd "tuck" flying. He decided it was the sparrow strainer so he cut the brackets and remounted them with bolts so he could change the angle. Bob built 10" strainers after noticing the 4 inchers on Sheehan's prototype one year (plans call for 12"). Anyway, he kept fiddling with his strainers until now he's mounted a gently V-bent aluminum plate to the top of the airfoil shape (increasing the area too) and his tuck is gone. I'll have to get a photo cause it's hard to explain. Anyway, pay attention to strainer location.
Malechek has also fiddled a long time with his brakes. He's had noisy brakes, uneven wear, and inconsistent braking. He's tried hard pucks, which are quieter and last longer but are not as effective under hard braking as soft pucks. He has individual hand brakes, which he likes and lately has been riding with cast iron rotors 1/4" thick. These seem to dissipate heat and don't gall up. He's also drilled holes in the rotor to eliminate the galling. I recall long ago hearing Gary LeGare saying all his Canadian builders used Rosenhan's brakes. Anybody with more to add here?
Hank Hurd came up for a brief update on his conversion to a Lou Ross 1/2 Mazda RX-7. He's making good progress and is all the way down to the radiator installation now. It's been a creative and financial challenge.
About this time, somebody mentioned that a Franklin 235 engine fits right on to an 0-200 mount and that Sheehan was putting a Franklin in his prototype. THAT name having been brought up, I mentioned a rumor that Sheehan was no longer in Mojave but is reportedly in TX or AR. Padios said his base is always in Mojave, but that he is often out for months at a time consulting. Since Oshkosh, he has reportedly turned up at Hooks airport in Houston where he is working in association with a company producing an all composite, 4-place pusher.
John Groff explained his change from a C-85 to an 0-200 this year. He's moved the engine 5 inches forward and now has a fuel tank in the baggage area. With only 15 hours on the 0-200, he wasn't ready to make any comparisons yet to the C-85. He was inspired by the fiberglass baffling done by Ron Whetsten on his VW and so he's made some for his 0-200. So far, so good, and we hope to hear more about this from John as he gains experience. On yeah, John did further cosmetic surgery on his original Revmaster cowling and it now fits the 0-200 nicely.
We were happy to have Larry Fitzgerald of Fitzgerald Composites in Bristol, WI (414-857-7500) in the audience. Larry added several worthwhile points from years of experience working with all kinds of composite materials (he fabricates parts or whole airplanes for builders). Larry highly recommended Andy Marshall's $30 book on composites. Marshall is a widely known aerospace consultant and his book has been advertised in Sport Aviation. I went to one of the forums he used to put on around the country and the guy really knows his stuff and how to get it across.
OTHER SHOW MEMORIES
Maybe they didn't have him on radar, but the Stealth Fighter didn't sneak up on us Oshkosh aviators. There he was at 6,000 feet making NOISE. Very considerately he loitered up there for about 20 minutes while the stampeding hordes got their cameras to the flightline. Then he made a couple of high speed, low passes that would make your heart a-twitter...THEN...he set it down right on the numbers just like he took FULL advantage of those flight lessons we paid for. Very gratifying. THEN...some locals got carted off to jail trying to throw some ashes on it to protest military spending. I hope they're over in the Middle East trying to make the same trick work on Iraq's Hussein!
Another impressive visitor was a nicely restored Lockheed Super G Constellation. It was painted TWA livery but labeled SAC for Save-A-Connie. It looked very regal and nostalgic in its low flybys.
Much was made beforehand about this being the anniversary year of the Battle of Britain. It's true that there was a Hurricane, Spit and Mosquito there and wonderfully restored, but other than flybys there wasn't anything special done to show them off. Or did I miss something?
On the other hand, the high speed passes of a privately owner MiG 32 would certainly set your vital organs vibrating. (I wish I had Mike Conlin sitting right beside me while I'm writing this section because I'll forget details that won't have escaped him for one second).
On the sportplane scene, the two neatest ones I saw were the new 4-place Lancair which was attracting lots of attention and the Nick Jones Lightning Bug, a slick single place that looked like a racier version of a Starlite.
And finally let me note that QBAers Q-planes are on a real winning streak. Malechek just got a plaque as an Outstanding Workmanship winner for his Q-200. That's the 3rd year in a row that a Q has taken an EAA award. I hope several of you are out there right now giving it the ol' elbow grease to have yours ready to take a '91 award and continue this fine tradition. Harrrumph! Obsolete design my foot!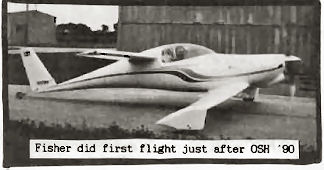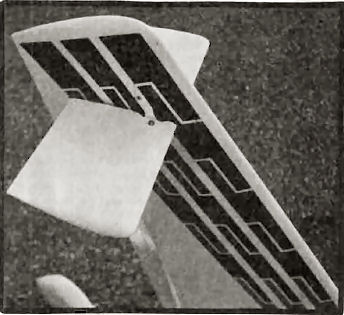 BACK ISSUES - QUICKTALK AND Q-TALK - All 30 issues of QUICKTALK are still available for $2.00 each ($2.50 Overseas). All 18 back issues of Q-TALK are available for $3.00 each. Eight years of tips, ideas, pilot reports and history at your fingertips. Complete your collection or use it as an extra bonus if you decide to sell your project!!!
QBA BUILDER ROSTER - At the end of each year our roster is as fat as it gets. Still available for $5.00, the QBA member roster contains nearly 400 names, addresses and phone numbers of fellow Q-builders. Now is the time to have a list of contacts to further discuss an idea or flight report that you read about in Q-TALK. $5.00.
Other Articles In This Issue
---
You can order a PDF or printed copy of Q-talk #22 by using the Q-talk Back Issue Order Page.