Q-talk 10 - Jul/Aug 1988 - index
Details

Category: Q-Talk Index
Published: Wednesday, 31 August 1988 07:11
Written by Jim Masal
Hits: 1795
JUL/AUG 1988
ISSUE NUMBER 10

---

QUICKIE BUILDERS ASSOCIATION

---
Introduction
by Jim Masal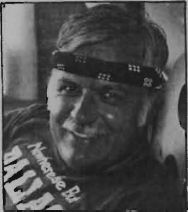 J. P. Stroud and I were on the phone recently scratching our heads in dismay, wondering why some of you guys with some nifty ideas and beautiful airplanes just WILL NOT be coaxed into sharing your tricks, good ideas or helpful information. For a selfish person there just is no hope at all of his participation, so I'd like instead to appeal to some of you who may be so humble or camera-shy that you fear public notice. Look, this is just a dinky ol' homespun, piddly-ant newsletter. It doesn't get scrutinized line by line by anyone of national prominence, isn't filed by the Library of Congress and will disappear from the face of the earth in the next decade with hardly anyone noticing. It only started because I was a dumb builder with a new kit and I didn't see any resource to help me make this particular plane a success except for expensive and reportedly unsatisfying calls to the company. Among some 400 readers, are guys still as untutored, dumb and anxious as I was then. Your name or photo in this bimonthly rag will not make you famous, or recognized on the street (or even at Oshkosh), or take away your "just plain ol' Joe" status. 400 of us, just like you, only want HELP...the help of an idea or the morale boost from seeing another guy just like us who has finished his plane and will tell us about it. It is not an ego trip.
Look at it this way. When you're out on the highway and you see a woman broke down on the side of the road struggling with a flat tire, what do you do? Do you keep truckin' saying "...she'll probably figure it out, I gotta keep going...someone else will help sooner or later." Or...do you stop. Do you help her on her way too, expecting no fee except the satisfaction of doing an appreciated good deed? Some of us QBAers are broken down on the sport plane highway. Do a good deed. You won't get famous, I promise.
QBA AT OSHKOSH!
QBA FORUM - One more edition of the QBA Oshkosh builder's forum will be held as is traditional on the first Saturday (July 30th) starting at 8 pm. Don't forget to BRING PICTURES. As our ranks thin down with the passing years we have the opportunity to form up into smaller groups for a more personal exchange.
WINE AND CHEESE PARTY RESURRECTED - Lyle Harrison wouldn't let the idea die. He has done the tedious legwork and will host and sponsor this party on Sunday evening, July 31st, from 7-12 pm. Lyle invites us all to be his guests at the Wisconsin Room of the Reeve Memorial Student Union on the U of W Oshkosh campus.
Unless you're on a diet, you may want to get a bite to eat at one of the joints near the U. before you walk on over. City busses that say "UW Dorms" at the EAA entrance gate will get you within a very short walk of the party and back to the field later for an unbeatable price. For those with cars, here's a map. If you get lost, go up to the front desk in any of the dorms and the students will give you directions. It ain't difficult.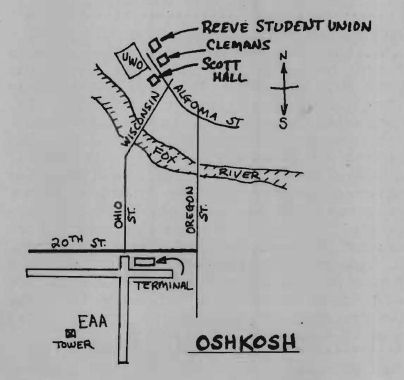 HOMEBUILDER'S CORNER MEETINGS - Held on the back porch of this flight line building, these informal, small get-togethers have gotten rave reviews. Stop by the CORNER and ask when the QBA meetings are scheduled. I haven't gotten firm times yet.
Other Articles In This Issue
---
You can order a PDF or printed copy of Q-talk #10 by using the Q-talk Back Issue Order Page.