QUICKIE NEWSLETTER 7 page 6
Details

Category: QAC Newsletters
Published: Thursday, 13 July 2006 01:07
Written by Quickie Aircraft Corporation
Hits: 3209
.....Doug has done a very thorough job of investigating the cause of the incident and believes that it was due solely to the substitution of a gell—cell battery for the QAC approved motorcycle battery. Although cautioned by QAC to check the manufacturers recommendations on charging rate and compatiblity with Onan charging system, Doug has confirmed that the battery shorted out and would not take a charge. using the recommended battery, we at QAC have never had an ignition problem in almost 500 hours. QAC also believes that the engine may have been running for some time on the permanent magnet alternator directly supplying the ignition system; only when the throttle was reduced to idle was the output enough to permit the engine to not idle.
.....For additional protection from this type of incident, redundancy could be added by incorporating a motorcycle battery eliminator unit into the circuit. This would allow, at the flip of a switch., for the ignition to run directly off of the alternator. This arrangement would provide a setup similar to a magneto;as long as the engine is turninq over, the iqnition system would function.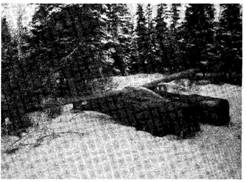 We wondered why the guy in Alaska bought TWO Quickies! (Actually, these two Quickies belong to Pete Turner & Kurt Miller up in Kenai Alaska)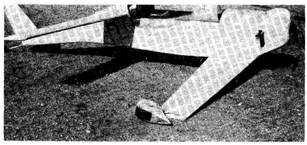 One Quickie builder modified his rudder pedals from the plans. Result? minor wheel pant damage following a ground loop. Builder has since returned to plans-built configuration. (aircraft was flying again in one week)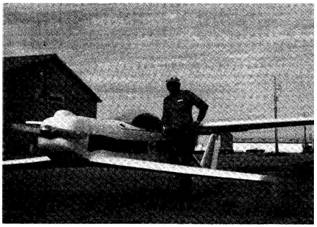 Donald Zane who watched Robert Mcfarland build a Quickie, gave us this picture of his PA—25 restoration project. He reports that he spent longer on what you see here, then Bob spent on his entire Quickie
Garry LeGare and his big tire "Tundra Quickie. The revised tires and wheels pants will be available as an option beginning 1 February, 1980. That package is but one of many that QAC is making available, including a 22 h.p. engine kit, Kevlar engine mount, and communications antenna kit.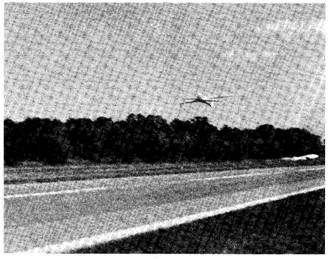 These two pictures of Tom Blythes Quickie show both the first flight takeoff on 21 October, 1979 and formation flying with a Swift. Tom says, We now have over 3 hours of flight time; a delight to fly and very stable in rough air. Thanks for designing a nice little airplane that I can Afford to fly.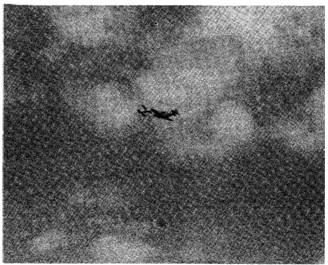 6