QUICKIE NEWSLETTER 6 page 2
Details

Category: QAC Newsletters
Published: Friday, 23 June 2006 00:06
Written by Quickie Aircraft Corporation
Hits: 3524
OSHKOSH 1979
.....We once again flew N77Q to the Experimental Aircraft Association's Oshkosh, Wisconsin flyin. Besides ourselves, two other Quickie pilots brought their aircraft to Oshkosh: Garry LeGare from British Columbia, Canada, and Delbert Whitehead from Indiana.
.....Delbert flew his Quickie non-stop from his home to Oshkosh, a distance of over 330 miles in less than 3 hours.
.....We had the opportunity several times during the week to demonstrate 77Q before the crowd. On Tuesday, Garry and Gene performed a dual demonstration flight. It was apparent to all that Garrys Quickie had superior performance to 77Q. Garry had previously accomplished an airspeed calibration and many speed points. From this data, we have established that his sea level maximum speed is 137 m.p.h. Later, he told us that he had measured his takeoff distance in Canada and found the following: at 5,700 foot density altitude and 467 lb gross weight, the average distance for three takeoff runs was 767 feet. This is over 400 feet less than the Quickie Pilot's Manual data indicates.
.....Garry also disclosed that he had turned down an offer of $12,000 for his aircraft
.....Our trip to Oshkosh with N77Q was wade interesting this year by a persistent fuel contamination problem that mysteriously appeared at Tucumcari, New Mexico. The previous day we had flown Mojave to Winslow and Winslow to Tucumcari, a distance of almost 900 miles.
.....The contamination plagued us for most of the rest of the trip to Oshkosh. It had us pulling our hair out by the time we arrived in Wisconsin. Hindsight being always 20—20, it is easy now to look back and determine what we should have done differently.
.....The contamination is believed to be due to a bad batch of fuel at Winslow. The fuel filter, which had over 400 hours on it, was allowing contaminates to pass through it unfiltered into the carburetor. The result was an intermittent engine sagging. Since the filter remained 'clean' during inspection, and since no dirt could be found in the fuel system (the particles would eventually pass through the carburetor, into the engine, and then out the exhaust), the intermittent problem had us baffled.
.....We finally located the culprit when we found a particle on the needle valve in the carburetor. Once we changed filters, and flushed the system out, we had no further problems for the remainder of the week at Oshkosh and for the return trip to Mojave.
.....The moral is to replace fuel filters every 200 hours whether they need it or not! It should be noted that the contamination problem did not precipitate any emergency landings even though the engine sagged 100 to 200 r.p.m.; it just caused much head scratching and looking.
.....The trip home was not without drama either. There were thunderstorms in Wisconsin, fog in Iowa, and headwinds of 40-60 knots from Kansas City to Albuquerque. The trip included a 7,500 foot density altitude takeoff from Truth or Consequences, New Mexico.
.....Looking back at Oshkosh nearly two months later, we feel justifiably proud of the accomplishments: in less than a year, seven Quickies were built and flown successfully, one with over 84 hours on it; the builders are seeing better performance than our pilot's manual indicates; and they like their Quickies.
SAFE-T-POX AVAILABLE
.....Final testing on the low toxicity Safe-T-Pox epoxy system has been completed, and it is being phased into the Quickie Kit production.
.....We have yet to find even one person who could not use this epoxy. This sampling included many individuals who are sensitized to ordinary epoxy systems; in all cases, they have been able to use Safe-T-Pox with no problems. This has already resulted in several aircraft sales.
.....We are confident that Safe-T-Pox represents a significant breakthrough in epoxy systems, and that its use in the Quickie Aircraft Kit will essentially eliminate epoxy sensitivity problems during construction.
.....Existing Quickie builders may, of course, purchase Safe-T-Pox if needed.
.....Information on the use of Safe-T-Pox is included with the epoxy but a few commenta are in order. First, the mix ratio by weight is 100 to 43. Therefore, the scale shown on page 3-2 of the Quickie Construction Plans will have to be modified (see Builder Tips). Second, the 3-M Glass Bubbles must be used instead of the ordinary Q-Cel Quartz Microspheres. Third, the properties of Safe-T-Pox are such that it can replace both the fast and the slow RAP epoxy. Therefore, only one hardner is used.
SALES AND DELIVERIES
.....Quickie sales are currently over the 300 mark. Delivery is running 4-5 weeks from the receipt of the order.
.....QAC has been working hard over the last few months to complete all backorders for existing sales.
.....Some of the items that had been in short supply include tires, seatbelts, altimeters, engine instruments, prop extensions, and miscellaneous hardware. Some of these components are specially produced for QAC in quantities of 100-200 units at a time. The delays by the manufacturers in delivering these batches has caused the shortages. Current delivery schedules call for most of these items to be in-house during October. Once received by us, we will expedite shipment to the customer.
.....QAC has a large inventory of most of the prefabricated components.
.....We currently have about 35 engines in stock. We have been advised that Onan has effected a significant price increase throughout their engine line. Therefore, those of you who have been holding off purchasing a Quickie engine should consider buying one while we still have them in stock at the old price. The increase in price when the current engine supply is exhausted is likely to be in the neighborhood of $100.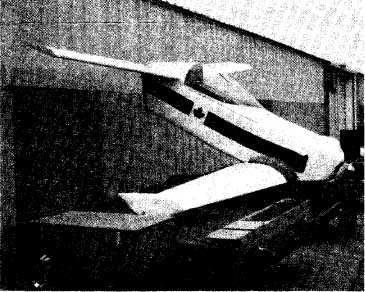 Garry LeGare'S Quickie on the trailer
QUICKIE GRASS AIRPORT PERFORMANCE
.....One of the most frequent questions we hear at QAC concerns the capability of the Quickie to be operated on grass airstrips.
.....We have operated N77Q from grass several times with no particular problems. Gerry LeGare has had similar success with his Quickie. However, since most of the airfields in Canada are grass, he felt that improvement in that area would be welcome. Therefore, we have been working with him over the past two months on a wheel pant configuration that allows an increase in tire diameter of nearly 50% along with an improved set of brakes.
.....Just prior to closing date on this newsletter, Garry made first flight on the new wheel pants. He is enthusiastic over the improvement in both ground handling and takeoff & landing performance. He compares the big tire Quickie favorably to taildraggers like the Cessna 140, Fly-baby, Volksplane, and Pietenpol.
2