QUICKIE NEWSLETTER 5 page 1
Details

Category: QAC Newsletters
Published: Friday, 23 June 2006 00:06
Written by Quickie Aircraft Corporation
Hits: 3277
QUICKIE NEWSLETTER

No. 5

July 1979

Published quarterly (Jan, Apr, Jly, Oct) by

Quickie Aircraft Corporation
Post Office Box 786
Mojave, CA 93501
805-824-4313

Newsletter Subscription (1 yr.)*
Information Package (2nd edition)*
Pilot's Manual*
Quickie Construction Plans**

$6.00
$6.00
$8.00
$150.00

*Add $1.00 for Air Mail overseas(U.S. funds)
**TO be used with Quickie Aircraft Kit. Also, purchasers of the plans are entitled to a $150.00 discount on the purchase price of a Quickie Aircraft Kit. California residents should add 6% state sales tax.

.....Quickie Aircraft Corporation is located on the east end of the flight line at the Mojave airport, Mojave, California, which is approximately 80 miles north of Los Angeles. You are welcome to come by to see N77Q, the Quickie prototype, to ask questions, or to bring in parts of your Quickie for inspection. The building number is 68.
.....We are normally open from 9 to 5 on Tuesday thru Saturday, but you should call first if you are coming from far away, since we occasionally must close the office to attend a flyin, conduct business, etc.
..... Tom or Gene will be available to answer general inquiries from 1:00 to 5:00 on Tuesday and Thursday, and from 9:00 to 5:00 on Saturday. We would prefer that builders call us with questions at these same times. All times are PST.
..... Weather permitting, each Saturday at 10:00 we will give a flight demonstration with the Quickie.
.....When writing to QAC, always send a stamped self-addressed envelope along if a reply is necessary.

SUMMARY OF ACTIVITIES
.....The last three months have, been extremely busy at Quickie Aircraft Corporation.
.....Several Quickies built by homebuilders have made first flights in the past two months. All have reported performance superior to N77Q, our Quickie prototype.
.....We have been working very hard to clean up our backlog of orders. To expedite future shipments, we have acquired in excess of $100,000 in inventory.
.....Sixteen Quickie Construction Seminars have been completed across the United States over the past two months.
.....N77Q has made visits to flyin. in Chino and Watsonville, California.
QUICKIES FLYING
.....Since Newsletter 4, several Quickies have made first flights.
.....The first Quickie built by a homebuilder was flown on 2 April, 1979. The builder was Lee Herron of New Jersey. Construction took only 111 days and Lee reports that his bird is 7 m.p.h. faster than our prototype - 134 m.p.h. After initial testing, Lee reports that takeoff distance at gross weight is around 450 feet.
.....The second Quickie to fly was constructed by Delbert Whitehead from Indiana. Gene made a trip to Indiana to fly Delbert's Quickie. He confirms the superior performance compared to our prototype, as well as confirming how fun Quickies are to fly.
.....Gerry LeGare, the Canadian Quickie Distributor, made his first flight in June. Gerry has a good frame of reference for his aircraft's performance as he flew our Quickie last fall. Gerry's initial comment to us when he phoned with the news of first flight was, "... my Quickie has much better performance than yours.' He report, that takeoff distance is less than 500 feet. Tom Jewett made a visit to look at Gerry's aircraft and report that the detail work is excellent; while there, Gerry showed Tom how he could disassemble the aircraft for trailering in 6 minutes with only a screwdriver!
.....All Quickie pilots have reported that their aircraft trimmed out well on first flight. Phone calls have been punctuated by comeents like 'fantastic', 'incredible', and 'unbelievable'.
FLASH! FLASH!...As we were on the way to the printer with this newsletter, we learned that J. V. Murphy of Cape Canaveral, FL has made the first flight of his Quickie.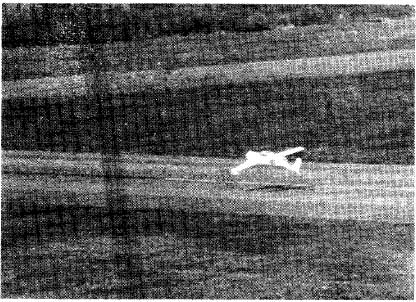 Lee Herron makes first flight, 21 April, l97 Essex County Airport; Fairfield, NJ.
Delbert Whitehead and his Quickie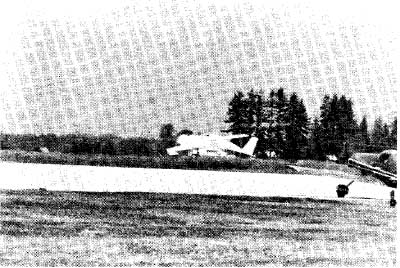 Garry LeGare at takeoff on the first flight of his Quickie. (Garry operates out of a 2,000 foot long airport)
1