Q-talk 77 - Sep/Oct 1999 - index
Details

Category: Q-Talk Index
Published: Sunday, 31 October 1999 06:11
Written by Tom Moore
Hits: 1857
SEP/OCT 1999
ISSUE NUMBER 77

---

QUICKIE BUILDERS ASSOCIATION

---
OttaWOW 99
by Tom Moore
Well, the first thing you can say about this year's Ottawa blast is that it was a lot cooler than last year. The weather around Ottawa seemed to cooperate and the outdoor activities (flying) were not affected. As normal, there was weather in other places that hindered guys from flying into the event, but still, we had a good turnout and good time.
It has always amazed me how I could feel so much enthusiasm in one day at Ottawa compared to being at the bigger airshows for multiple days. I first noticed this when the QBA started getting together at Springfield, Missouri. When leaving Springfield for the first time, my motivation level was at a much higher level that when leaving Oshkosh the previous year. Springfield was on a much smaller scale back then, compared to Ottawa now. We only had a few planes fly in, but there were five planes based on the field that were always present and guaranteed to be there. The hospitality shown us from the local Springfield Quickie group was tremendous. The schedule was the same, show up Friday afternoon and leave Sunday morning, but there were no forums or banquets. The key item that makes the difference from the big shows is 100% total saturation of Q birds and Q builders from sunup to sunset. And when you include Friday afternoon and Sunday morning you get two full days of hard core, supercharged Quickie narcotics injected into your bloodstream. And it gives you one heck of a boost in your mental attitude to take home with you. But don't worry folks, I've been doing this for years and I'm not hooked yet, I can quit anytime. :-)
This year's Ottawa was no exception. We had a good turnout of planes and people. And even though the planes are the focus of our attention, it's the people that we have been meeting year after year that really helps make this a special trip. That is the real key difference between Ottawa and Oshkosh, the people. You can stand around and look at the planes all day long at OSH, but most of the time there is nobody around. That's the nice thing about Ottawa, Kansas, there's no place else to go. When you get on the field, you are stuck, much to everyone's delight.
On Saturday morning the forums got underway. Bob Nuckols presented his information on electrical systems. There was a forum on VW engines by Steve Bennett and there was also info presented on the Corvair engine. PolyFiber was there for the first time talking on their primer and finishing systems.
Saturday afternoon Jon Finley organized the Performance Evaluation again. Some of the guys have started using the shortened term for the Performance Evaluation and just called it "THE RACE". Whatever term you use, the results were very interesting. Bob Malechek set a new course record. From a STANDING START, Bob averaged 204 mph on the 65-mile course. A BIG THANKS go out to Jon and the crew that helped him, Terry Sickler, Alan Thayer, Gene Knapp and Paul Fisher.
During the evening dinner banquet, several planes and pilots were presented with awards after being judged for different accomplishments.
Terry Crouch - BEST PLANE
Tom Moore - BEST INTERIOR
Les Hildebrand - SHORTEST DISTANCE
Bob Malechek - HIGH TIME
Tom Moore - MOST IMPROVED
Jerry Marstall - BEST INNOVATION
Bruce Crain - MOST RIDES
Paul Fisher had some QBA embroidered badges made up for those pilots that flew their Q birds to Ottawa. Paul also had hour badges made up to give credit to those flyers who were logging hours on their planes and had attained certain hour accomplishments. The three goal levels were 500, 750 and 1000. We had two pilots present that received an hour badge. Paul had exceeded the 750 hour mark and Bob Malechek had over 1000 hours on his bird.
By Saturday evening word was out that the weather was looking a little bleak for those guys that had to head east. By the time I got to the airport Sunday morning most of the traffic going east had departed for an early try at getting home. I heard from most everyone via the Internet and it looks like only Larry Koutz got stuck. He was 100 miles from his home base when he had to set it down and spend the night. He made it into Valdosta, GA the next day.
Plans are already underway for next years Ottawa bash. If you haven't been there yet, try and make plans for it. I can assure you, you will enjoy it.
Keep building, it's worth it!!

| | | | | | | |
| --- | --- | --- | --- | --- | --- | --- |
| PILOT | STATE | N# | ACFT | ENG | E.WT | TT |
| Bruce Crain | OK | 96BJ | Q-200 | O-200 | 704 | 150 |
| Terry Crouch | IA | 14TC | Q-1 | ONAN | 340 | 415 |
| Tom Currie | FL | 6628K | Q-200 | O-200 | 734 | 850 |
| Paul Fisher | IA | 17PF | Q-200 | O-200 | 730 | 760 |
| Mark Greenwood | TN | 625IM | TRIQ-200 | O-200 | 660 | 130 |
| Bill Hicks | TX | 8242K | Q-200 | O-200 | 675 | 700 |
| Les Hildebrand | KS/FL | 93PL | Q-200 | O-200 | 730 | 450 |
| Larry Koutz | GA | 39LK | Q-200 | O-200 | 690 | 450 |
| Bob Malechek | TX | 870BM | Q-200 | O-200 | 659 | 1030 |
| Jerry Marstall | NC | 222RR | TRIQ-2 | REV | 667 | 105 |
| Tom Moore | TX | 321TM | Q-200 | O-200 | 695 | 225 |
| Paul Spackman | WY | 131PS | Q-2 | REV | 585 | 130 |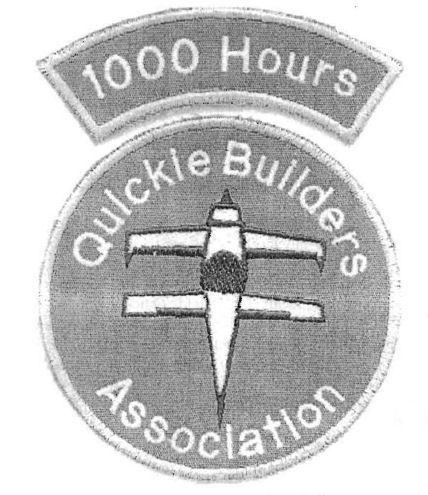 Other Articles In This Issue
---
You can order a PDF or printed copy of Q-talk #77 by using the Q-talk Back Issue Order Page.