QUICKIE NEWSLETTER 5 page 2
Details

Category: QAC Newsletters
Published: Friday, 23 June 2006 00:06
Written by Quickie Aircraft Corporation
Hits: 3596

.....The empty weights reported by our builders have been consistent with our 240-245 lb figure for a basic, no frills Quickie. Both LeGare and Herron have radios, antennas, upholstery, and the trailerable feature. These items add about 10-15 pounds per aircraft. Lee's aircraft weighs 255 lb empty and Garry's is 262 lb. (Garry has a very smooth surface finish and a fire extinguisher)
.....Likewise, building times have also been consistent with our 400-450 manhour figures f or a basic, no frills aircraft. Herron and LeGare, even with their extra options, completed their Quickies in 500-525 manhours.
.....Problems so far have been of a relatively minor type. We have helped to troubleshoot an electrical system problem involving a faulty component, and assisted on an engine vibratiom problem that turned out to be an improperly installed engine mount.
.....Several other Quickies are enterring the flight stage as this is written, and the coming summer months should see many more.
.....The improved homebuilder performance being seen now is the result of QAC being conservative in all pilot's manual data. After all, one year ago you probably had trouble believing that data, didn't you?
QUICKIE CONSTRUCTION SEMINARS
.....We have completed 16 Quickie Construction Seminars in the last two months. We are very pleased at the great interest displayed around the country in sandwich composite construction.
.....The average attendance has been approximately 100 people, of which three to five are current Quickie builders. We have been fortunate that many of our builders have brought parts of their projects for display at these seminars. This has resulted not only in people being able to examine up close a homnebuilt Quickie, but also in us being able to examine the quality of typical homebuilder workmanship. In general, the latter has been excellent.
.....We have no further seminars scheduled at this time, but we would expect to have another one in Mojave, CA around Thanksgiving. We will keep you informed through this newsletter.
.....We would like to thank all of the individuals who helped to make the seminars possible, in particular Bob Schreiber of Bellevue, Washington, who stepped in at the last moment to orgnize a seminar in Washington.
OSHKOSK 1979
.....We will, of course, be attending the 1979 Experimental Aircraft Association's Flyin at Oshkosh, Wisconsin on 28 July through 4 August.
.....Our booth number is N-7. We have a Forum scheduled for 31 July at 3:00. We will, of course, be flying 77Q when the opportunity presents itself.
.....It is to early to say, as this newsletter is being written, how many homebuilt Quickies will be at Oshkosh this year. We expect the number to be between three and seven. It will depend to a large extent on how many Quickie pilots finish their early flight testing and arrange to make the long trip to Wisconsin.
FIRST CANADIAN QUICKIE FLIES
.....The first Canadian Quickie has been built and flown by Mr. Garry LeGare, the Quickie Canadian Distributor.
.....Garry, who has flown our prototype N77Q, reports that his Quickie easily outperforms N77Q in takeoff, climb, and speed.
.....He intends to take the aircraft around Canada this sumser to demonstrate it at the various airshows and aviation meetings. He also plans to attend Oshko,h for the first few days of the show.
.....For further information on the Canadian Tour, or for information on building Quickie in Canada, please contact:
Mr. Garry LeGare
Leg-Air
18992 32nd Ave.
Surrey B.C.
Canada
(604) 576-6638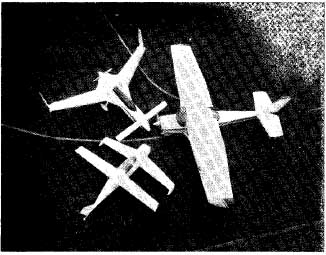 The Lee Herron Menagerie
UPDATE REPORT ON N77Q
.....N77Q, the Quickie prototype, now has over 330 hours of flying time. Total operating costs, including gas, oil, maintenance, and insurance are $3.20 per hour. Airframe and engine maintenance has been confined to replacing the main tires once and the plugs and oil regularly.
.....N77Q has made recent visits to the Chino and Watsonville, California flyins.
GUIDE FOR QUICKIE PILOTS
.....We have prepared an "Initial Flight Tenting of Your Quickie" guide. This pubIicaton is intended to bridge the time period between coupletion of your Quickie and the conclusion of your initial first flights. It has been sent free to all Quickie builders.
.....Topics covered include weight & balance, inspections, procedures, and recommendations for first flight.
QUICKIE SALES AND DELIVERIES
.....We have been working very hard over the last three months to clean up backorders and to acquire a substantial inventory of the prefabricated components.
.....Several items that were in short supply over the last three months, such as the UNI, wheels, and altimeters, have been coming in at a much faster pace. Our goal is to have all current backorders cleared out by late July.
.....Most of the prefabricated parts are now in stock at QAC as part of our over $100,000 inventory of Quickie components.
.....Additionally, we currently have in stock approximately 30 engines beyond the nunber of current orders. As a result, we have returned to a first-come first-served basis for engine deliveries. By 10 July, we expect to have shipped out engines to all Quickie Customers who have paid for an engine.
.....Basically, our goal is to have the backlog on the Quickie Aircraft Kit at less than three weeks by 1 August. The prefabricated components and engines will be in stock for immediate delivery at that time. The only unknown is the number of orders that will result from Oshkosh 1979, which
2