QUICKIE NEWSLETTER 5 page 4
Details

Category: QAC Newsletters
Published: Friday, 23 June 2006 00:06
Written by Quickie Aircraft Corporation
Hits: 3301
COMPOSITE MATERIALS INTRODUCTORY KIT
CAN I BUILD A COMPOSITE AIRCRAFT?
WILL I ENJOY WORKING WITH GLASS & FOAM?
IS MY WORKMANSHIP ADEQUATE TO BUILD A QUICKIE?
WHAT ARE THE TECHNIQUES USED IN THE QUICKIE CONSTRUCTION?

.....There is now available an introductory kit to answer these questions for you. The kit consists of a book and sample materials, or the book can be purchased separately. The book, "Moldless Composite Sandwich Homebuilt Aircraft Construction", consists of 26, llxl7 pages (equal to 52 pages) describing how the material is applied, education on the materials, tools required, inspection and repair methods. Sample materials include: epoxy, microspheres, f lox, peel ply, wire for hotwire saw, etc.
.....The book is $14.50, and is available free us.
.....The kit (book and materials) is $45.50 and is also available from us. California residents please add 6% sales tax.

QUICKIE CONSTRUCTION PLANS
.....At the 1978 Oshkosh, Wisconsin flyin, we had several sets of Quickie Construction Plans available for visitors to examine. In addition, individuals are welcome to visit our Mojave, California facility and study the plans there.
.....However, many visitors at Oshkosh wanted the opportunity to examine the Quickie Construction Plans at length in the privacy of their own homes. This is understandable and we have decided upon the following arrangement to facillitate this: The Quickie Construction Plans are available for $150. Purchasers of the plans will be entitled to a $150, discount on the purchase price of the Quickie Aircraft Kit. These plans are identical to what an individual would use to build a Quickie from our Quickie Aircraft Kit.

| | | |
| --- | --- | --- |
| Chapt | Title | Pages |
| 1... | Description/Introduction | 4... |
| 2... | Bill of Materials/Sources | 1... |
| 3... | Composite Materials Education | 23... |
| 4... | Miscellaneous Parts | 7... |
| 5... | Hot Wiring | 4... |
| 6... | Ailerons and Elevators | 2... |
| 7... | Building the Fuselage | 14... |
| 8... | Vertical Fin and Rudder | 5... |
| 9... | Building the Main Wing | 14... |
| 10... | Building the Canard | 13... |
| 11... | Wheel Pants/Wheels/Brakes | 9... |
| 12... | Fuel System | 3... |
| 13... | Mounting the Wing and Canard | 3... |
| 14... | Fuselage Details | 6... |
| 15... | Canopy | 8... |
| 16... | Instruments and Pitot-Static | 1... |
| 17... | Engine Installation | 2*.. |
| 18... | Electrical System | 1... |
| 19... | Finishing/Painting Large | 7... |
| Appen. | Large Drawings | 6... |
| | | |
| * | The remaining pages of the Engine Installation section are included only with the Quickie Engine Package. | |
.....Quickie Aircraft Corporation supports individuals building Quickies from our kits.
.....California residents buying the plans should add 6% state sales tax.
QUICKIE POSTER
.....We have available a 15" x 21" full color poster of the Quickie suitable for framing. It is basically a reprint of the centerfold picture from the October, 1978 issue of Sport Aviation magazine. We wish to extend our gratitude to Jack Cox for allowing us to reprint it.
.....The picture was taken the same day that we arrived at Oshkosh, 1978, which was two days before the flyin started. As a result, the grass is still green, and no other aircraft can be seen, even though two days later there were over 1500 aircraft there!
.....Copies of the poster are available to any interested party for $5.00, including shipping and handling. California residents please add 6% tax.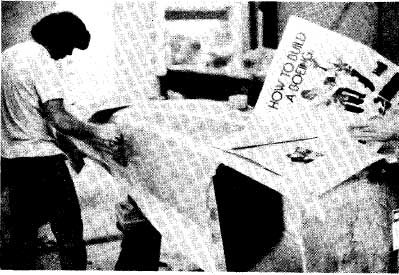 We always make use of the latest technical publication when designing and building Aircraft!
QUICKIE FIRST FLIGHT PHILOSOPHY
.....Every Quickie builder has received a copy of the "Initial Flight Testing of Your Quickie" publication.
.....In addition, we would like to caution builders who are beginning the flight phase to make use of our knowledge and services to solve any bugs that crop up. For example, if something doesn't work the way you think that it should, call us and ask about it. If you have checked and rechecked to verify an installation is as per the plans, and you still don't think that it is right, call us before launching off and changing 10 different items. It is so much easier when you adopt a planned, professional approach to problem solving rather than the helter-skelter approach. As an example, one builder cut off the external counterbalance on the prop flange because he decided on his own that it wasn't necessary. If he had called first, we could have told him that the counterbalance is very important to vibration control, and that it required three months of development on our part to optimize.
.....Finally, by communicating to us the results of your flying, we can help others who are nearing that stage to safely fly their Quickies. Also, our knowledge and experience can help to 'fine-tune' your aircraft's performance. As an example of the latter, Lee Berron found that one change made on our recomeendation resulted in a 50% reduction in takeoff distance,
NEW FAI CLASS?
.....Quickie Aircraft Corporation has petitioned the National Aeronautics Association (NAA), which is the U.S. arm of the FAI for international record certification, to create a new international weight class of 250 kg. (550 lb) The current minimum weight class goes from 0-1102 lb. We think that it is time to encourage development of lightweight, efficient aircraft. In the past, a very good way to accomplish this goal has been through competition in various categories (e.g. speed, distance, altitude)
.....The matter will be taken up during the next international meeting. In the meantime, the NAA has promised to consider the matter of a 0-550 pound U.S. class in the near future.
4