QUICKIE NEWSLETTER 4 page 1
Details

Category: QAC Newsletters
Published: Friday, 23 June 2006 00:06
Written by Quickie Aircraft Corporation
Hits: 3509
QUICKIE NEWSLETTER

No. 4

April 1979

Published quarterly (Jan, Apr, Jly, Oct) by

Quickie Aircraft Corporation
Post Office Box 786
Mojave, CA 93501
805-824-4313

Newsletter Subscription (1 yr.)*
Information Package (2nd edition)*
Pilot's Manual*
Quickie Construction Plans**

$6.00
$6.00
$8.00
$150.00

*Add $1.00 for Air Mail overseas(U.S. funds)
**TO be used with Quickie Aircraft Kit. Also, purchasers of the plans are entitled to a $150.00 discount on the purchase price of a Quickie Aircraft Kit. California residents should add 6% state sales tax.

.....Quickie Aircraft Corporation is located on the east end of the flight line at the Mojave airport, Mojave, California, which is approximately 80 miles north of Los Angeles. You are welcome to come by to see N77Q, the Quickie prototype, to ask questions, or to bring in parts of your Quickie for inspection. The building number is 68.
.....We are normally open from 9 to 5 on Tuesday thru Saturday, but you should call first if you are coming from far away, since we occasionally must close the office to attend a flyin, conduct business, etc.
..... Tom or Gene will be available to answer general inquiries from 1:00 to 5:00 on Tuesday and Thursday, and from 9:00 to 5:00 on Saturday. We would prefer that builders call us with questions at these same times. All times are PST.
..... Weather permitting, each Saturday at 10:00 we will give a flight demonstration with the Quickie.
.....When writing to QAC, always send a stamped self-addressed envelope along if a reply is necessary.

CONSTRUCTION SEMINAR SCHEDULE
.....This newsletter has been delayed a week in order that we might complete our scheduling for the construction seminars that we would like to do this spring around the country.
.....The purpose of the tour is twofold: first, to provide information on the Quickie program to all interested people, and second, to educate people in the proper techniques and quality control procedures to be used with the construction of the Quickie; so come prepared with questions, example of your workmanship, etc.
.....What follows is a tentative schedule through June 1979 with the date, location, and person to contact for further information:
Saturday, May 5, 1979

Atlanta, Georgia

CONTACT:

John T. Griffin, Jr
420 Northland Road
Mableton, Ga. 30059

Sunday, May 6, 1979

Dallas, Texas

CONTACT:

Charles Penry
4238 Crest Haven
Dallas, Tx. 75209

Friday, May 11, 1979

Washington, D.C.

CONTACT:

William H. Meserle
15216 Manor Lake Drive
Rockville, MD. 20853

Friday, May 11, 1979

Salt Lake City, Utah

CONTACT:

Jerry Turner
7281 South Highland Drive
Salt Lake City, Utah 84121

Saturday, May 12, 1979

Denver, Colorado

CONTACT:

Rich Idler
2659 Gray Street
Wheatridge, Co. 80214

Saturday, May 19, 1979

Eugene, Oregon

CONTACT:

Alfred A. Rise
600 Cherry Dr. #7
Eugene, Or. 97401

Sunday, May 20, 1979

Seattle, Washington

CONTACT:

David G. Woodcock
12614 S.E. 62nd Street
Bellevue, Wa. 98006


Sunday, May 27, 1979

Phoenix, Arizona

CONTACT:

Don Santee
4510 N. 13th Avenue
Phoenix, Az. 85013

Wednesday, June 13, 1979

St. Louis, Missouri


CONTACT:

Howard Henderson
444 Bryan
Kirkwood, Mo. 63122

Saturday, June 16, 1979

Wichita, Kansas

CONTACT:

Jim Wiebe
933 S. Ash
Newton, Ks. 67114

Monday, June 18, 1979

Kansas City, Kansas

CONTACT:

Warren Curd
11201 #. 74th St.
Raytown, Mo. 64133

Wednesday, June 20, 1979

Minneapolis, Minnesota

CONTACT:

Burleigh Peterson
12801 April Lane
Minneapolis, Mn. 55343

Saturday, June 23, 1979

Dayton, Ohio

CONTACT:

John Dyke
2840 Old Yellow Springs Road
Fairborn, Ohio 45324
.....As this is being written, we are still trying to finalize seminars in Florida, Milwaukee, and perhaps New Jersey. Contact us for further information.
.....Because of the tight scheduling, as well as the fact that Gene and Tom will be going in different directions sometimes, we have decided not to bring N77Q along. In its place, we will bring color slides and a good 16MM color movie film.
.....N77Q will fly to, and be on display at, the Chino, CA Airshow on April 28/29.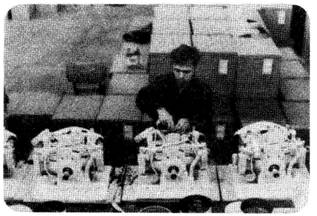 Tom busily modifying an engine. In addition to the engines visible on the table, everyone of the boxes behind him contains an engine.
1