Q-talk 60 - Nov/Dec 1996 - index
Details

Category: Q-Talk Index
Published: Tuesday, 31 December 1996 06:11
Written by Tom Moore
Hits: 1837
NOV/DEC 1996
ISSUE NUMBER 60

---

QUICKIE BUILDERS ASSOCIATION

---
NEW YEAR, NEW THINGS, OLD ADMONITIONS
by Jim Masal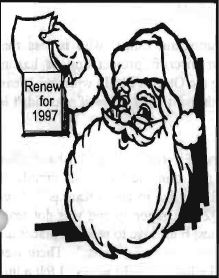 Happy Holidays all you rascals! May the year of '97 find you happily and safely flying the wings off of your airplane.
OK, enough idle chitchat. Back to bidness as we say in Texas. This is your last Q-TALK for 1996. Be sure to treat yourself to the Christmas gift that lasts all year by dropping your renewal check in the mail RIGHT NOW. Do it before you max out all your credit cards.
And while you're licking an envelope and stamp, you should get the best bang for your buck by including a builder tip or an experience with your plane that taught you a lesson or helped you to improve the plane in some way. I know your brains have not yet been squeezed dry of information but I ALSO know your motivation needs a kick-start to share it. Over the years I have been told more than once that there would be a lot of dead Quickie projects if it weren't for me keeping this newsletter alive. True enough, but I couldn't keep this newsletter alive if a few hunnert of you guys didn't take a half hour or so of your time to scribble down a drawing or a tip or an experience. It takes a lot of people sharing a tiny piece of the load that gets great jobs done. That happens here in a small way just as it does to produce things like Oshkosh or Sun 'n Fun.
And on the production side of Q-TALK, most of you know that my sidekick, Tom Moore, has been taking on a lot of the grunt work this year in producing Q-TALK. At the same time he has been working diligently on his Q-200 and is closing in on the finish line... it could be just a few more months. You see a new address for Q-TALK renewals and correspondence. This is a move to transition me from primary editor back to airplane builder. This transition has not been an easy one and I have made a goodly share of flub-ups in transferring data over to Tom (even though we live only 20 miles apart). Things should go smoother after the first of the year, but be aware that Tom is hanging out with his tongue down to his knees salivating over the builder tips you will be filling his mailbox with. Don't give him an ulcer by failing to do so (or find yourself with an exceptionally thin newsletter).
In the meantime, this fall I have collected all my airplane junk from my garage and a co-habitated T-hangar and stashed it into the 3,000 sq. ft. hangar I built on Eagles Nest Estates about 30 min. south of downtown Dallas. They sure fill up fast. Along with assorted flotsam and jetsam I have a Pipe Colt, my Quickie an unfinished Q-2 as well as a wrecked Q-2. Some wag friend of mine was sassy enough to name the place Mojave, Texas. I am furiously organizing all the (crap) stuff and building an array of workbenches. As soon as I build a pee-er, I'll invite you all down.
And that reminds me that I have already hosted my first fly-in at my hangar last May. What a nice payoff for hundreds of hours of dragging 20' steel tubes around and swaying 15' high in the hot summer sun with a stick welder in my hand wondering if the dark cloud heading my way was gonna try grounding itself to the pole I was on. It happened by accident.
Mark Hawkins came up from S. Texas so I could show him some Quickies. Before I took him to mine at my hangar, we went to another airport to visit Rick Markle who is building a gorgeous Dragonfly and has acquired a Dolphin. I wrote about this last May. After we snooped at both to our heart's content, Rick made a call then we drove the 50 miles S.E. to my hangar. Rick's call was to a fellow Dragonflyer. Shortly after we arrived at my hangar and I opened it up, in flew a girl in a C-150, which taxied over to my property. "Huh?" I thought. Then came a Dragonfly and the next thing I knew 10 kids and neighbors showed up (they don't like to miss anything). In short order I looked around and realized I was showing my Quickie to somebody in the hangar. Hawkins was having an engine forum with two guys at the trunk of his car (which held an auto engine he planned for his Quickie), and a small crowd was admiring the Dragonfly. Wow! If this is what can happen to a sportplane builder living on an airport/home development, then bring on early retirement so I can start on the home!
Depending on when this gets to Tom for printing, I hope you have or had wonderful holidays. Thank you for yet another year of your cooperation, comments, compliments and forbearance. I enjoy socializing with you either by mail or in person at our air show gatherings.
Other Articles In This Issue
---
You can order a PDF or printed copy of Q-talk #60 by using the Q-talk Back Issue Order Page.