Q-talk 147 - Under Active Construction
Details

Category: Q-Talk Articles
Published: Wednesday, 29 June 2011 11:53
Written by Dan Yager
Hits: 4891
by Dan Yager
There is a great deal of Q construction going on in garages all around the world! Below is a sample of the updates I've received since the last newsletter just two months ago! Keep at it fellas!
---
Update from Reg Clarke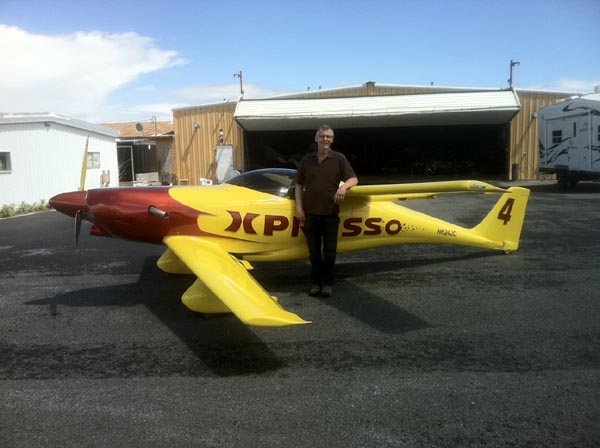 Hello Dan,
I hope everything is well with you.I just finished taxing and took a few pictures getting close to fast taxi and test flying.
Taxis great. That tail wheel very easy to manage on taxi up to 45 knots.
Not signed off yet.
Reg. N624JC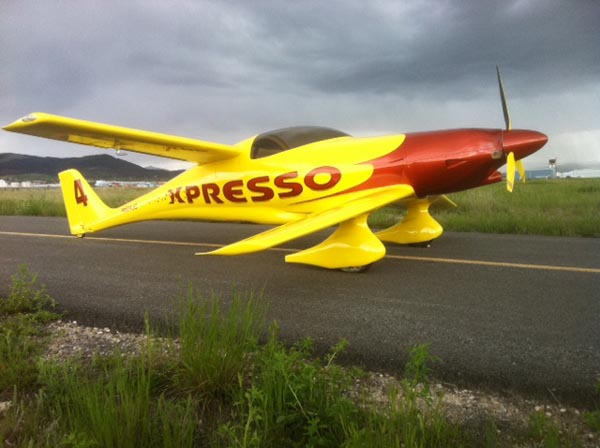 [Editor's Note: Reg - Your plane looks like it's going 200 mph just sitting on the ground. Keep us posted on your early flight tests! Great work!]
---
Update from Lance Hooley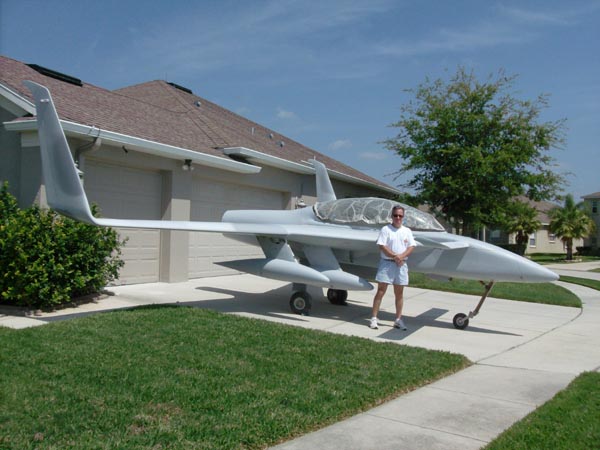 Hey Dan,
The pictures attached are of my current project which should fly in July....this year. Looks like a Long Eze....it aint.
Blended winglets, wider and longer than a long in the fuselage, stands taller, EFIS front and rear, GE58 jet engine. Planned 310 knots true burning 31 gph. Range....1850nm or your bladder....which ever occurs first.
Also.....I do have a Q200 kit to start later this year. I built a Q1 back in 84. I want to go back to dragging my tail.
Lance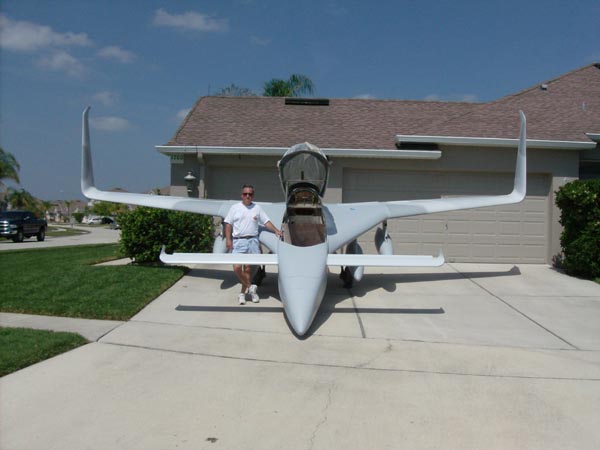 [Editor's Note: Lance - This is an impressive bird you have here! Not quite as fuel efficient as the Q's, but holy cow, 310 knots! Sheesh! I guess you have some places to get in a BIG hurry! Awesome! Clearly you HAVE NOT been dragging your tail!]
---
Update from Kevin Sheely
Recent photos attached.
Kevin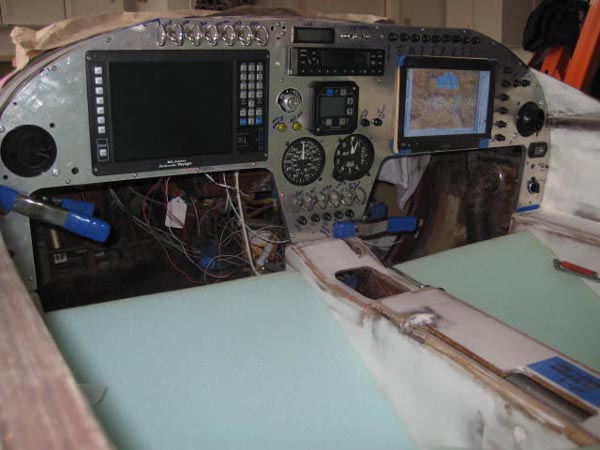 [Editor's Note: Kevin is short on words, but big on progress with his project! I told Kevin that his panel made the centerfold of the newsletter! (He seemed excited.) Very nice work!]
---
Update from Martin Skiby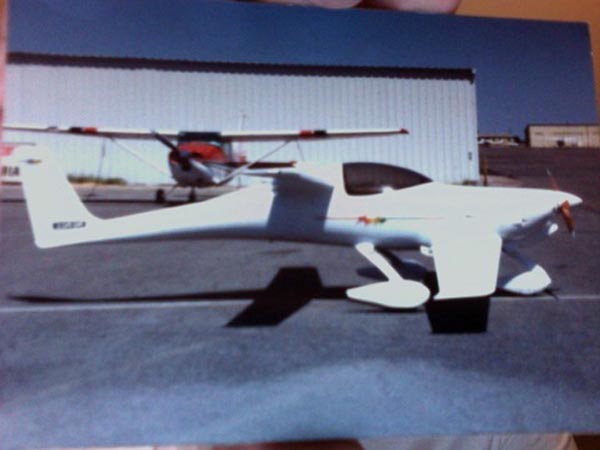 I purchased back my tri-Q that we built in 1985. It was built as a tail wheel bird and competed in the CAFE 400 back in the day. I converted to Tri-Q in the early 90s and loved that plane. I sold it and moved to other projects in 96.
It was destroyed in a hanger accident when a door fell on it during a huricane in FL. Well after this many years I found the salvage in Boston and was able to make a deal to get it home. It arrived on Wednesday and my son and I are already looking it over. The tail was torn completely off with all the damage that comes with and the left main wing was broken about 6 inches out from the fuselage. You can lift the entire plane with that wing, but any down force and it folds toward the ground having delaminated from the foam on the underside.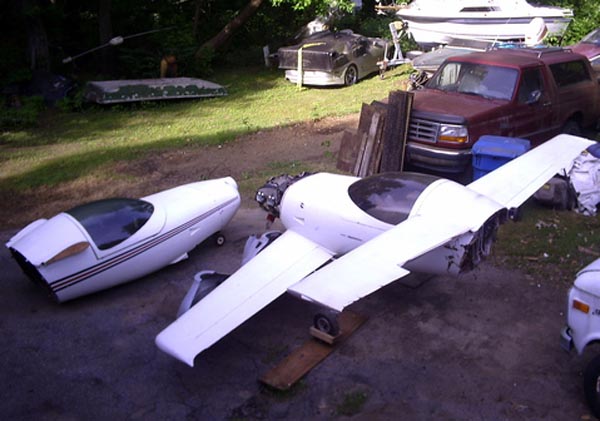 Also the engine needed to be removed for the transport so the guy I purchased it from had a great time cutting all the wires and hoses off at the firewall. GEEZE!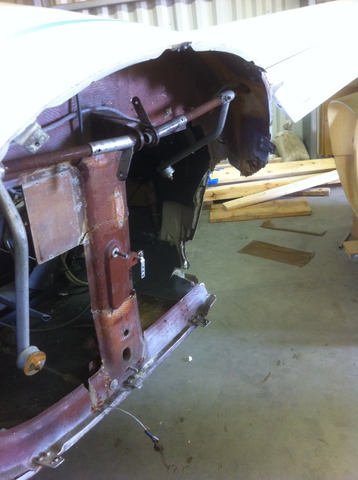 Anyway it is in Bakersfield and I would love to have any one come by that wants to see it and lend some advise. Basicly I will replace everything aft of the seatback bulkhead. All structure forward of that was not damaged.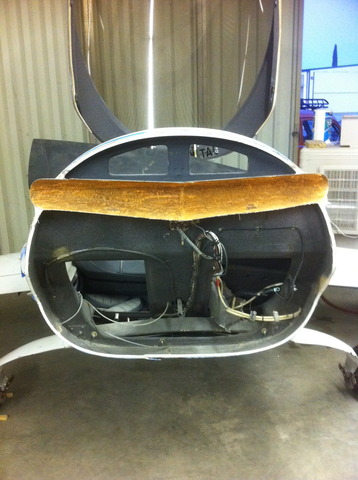 Just wanted to let folks know what was happening in Bakersfield.Thanks all for participating in this group. It would have been very nice to have a venue like this back when we were first building.
[Editor's Note: Martin and his son, are making some very impressive progress on their two Q projects! We've talked via e-mail a couple of times, but I think I was actually slowing them down! Thanks for keeping us all posted on the Q-list! We look forward to seeing you both flying soon.]
---
Update from Rick Hole
Scott Swing and I worked on N1711Q today. The new instrument panel is inplace and mostly connected to the airframe systems. It is getting excitingto have it so nearly ready. We're waiting for CHT probes but may not holdup engine start just for that little detail.
Rick
---
Update from Paul Spackman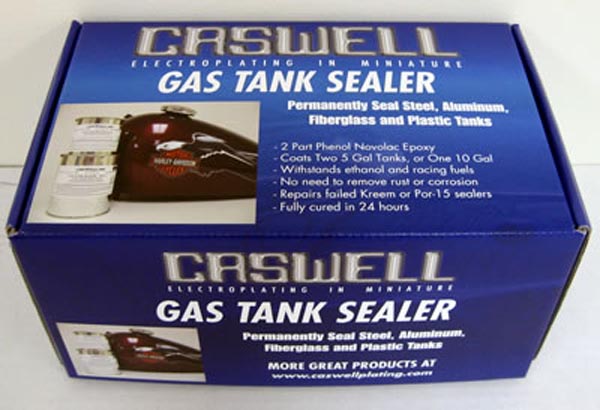 After doing some research into sealing my new tanks (I'm building a newlow and slow plane) against alcohol I found the Phenol Novolac Epoxy tobe the best bet for polyester fuel tanks used in the older kits. VinylEster Resin is a better choice for new tanks. Doing somesearching I found this product.
http://www.caswellplating.com/aids/epoxygas.htm
I have used the product to seal my new tanks to guard against accidental alcohol in the fuel (I try not to use ethanol contaminated fuels in anything) or if in the future these fuels are forced upon us. This product can be used in tanks that are installed but more work would be required. I used the one quart kit to do both tanks but you can see through the tank and see that the tank is getting coated properly. For our in service Quickies this would require cutting into the tank and painting on the PNE on the existing tank.
A test of the product is underway in my own shop and it will be a year or so before I make a report but the product is well documented in industry.
Paul Spackman
[Editor's Note: Paul - this is an area of concern for all of us. Please keep us posted on your test results!]