Q-talk 136 - July/Aug 2009 - index
Details

Category: Q-Talk Index
Published: Wednesday, 23 December 2009 16:24
Written by Doug Humble
Hits: 3094
Quickie Builders Association


Together we build better planes!

July/Aug. 2009
Issue Number 136
---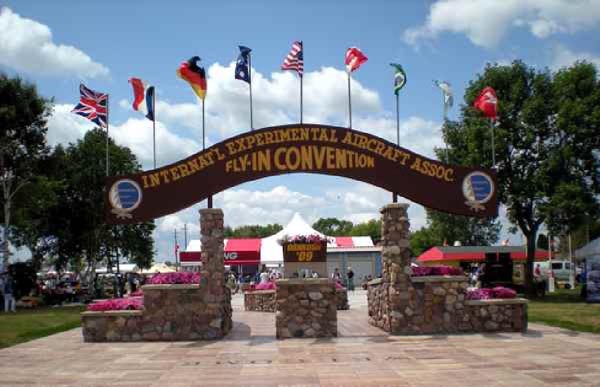 AirVenture 2009
Big, Wonderful and Wet.
If you weren't sleeping in a tent and didn't have children who thought they might melt if they got wet, well then the last descriptive can be thrown out. The weather (rain) was totally my fault. I brought my wife and daughter a long this year with my son Dylan. The last two years I brought Dylan and was wanting him to have a good experience and we had little rain to deal with. So, I knew bringing my wife and daughter and asking for good weather again was impossible.
But this event was BIG in many ways. That Airbus A380 was big! Maybe even huge! But it came in handy for me when I was near it during one of the many down pours that occurred this year and I found out that those big wings would shelter me from the rain quite nicely. While I was dodging the rain drops, I struck up a conversation with another guy also avoiding the rain. I commented on the long line waiting to go take a peak at the inside of this behemoth. I asked this stranger "Don't you think it just looks like a big airliner inside?" He responded that it didn't even have that to look at, as this particular bird was only a test bed with instruments on board. With all that AirVenture had to offer this year, it baffles me why you would wait nearly an hour to take a peak inside this thing. From the outside this plane was impressive. The people in the control tower were certainly at eye level with the top of the vertical fin and may have had to look up at it. Big! Very Big.
The shear numbers of people were Big. The official numbers showed an increase of 12% from 2008. I have never seen campers south of Cedar Street in Camp Scholler. This year the campers went all the way to the south exit gate at Ripple Road! I took my son south of Cedar to let him ride our scooter on Sunday and on Tuesday we had to cross Stits ST to continue his scooter training. EAA said that over 41,000 people camped during the show. That's a BIG turn out.
EAA also estimated 15,000 people showed up to see comedian Jeff Dunham on Saturday night at Theater in the Woods. That's a BIG turn out.
There were even Big changes to the site layout. The front gate was moved; the Fly Market was moved; the Aeromart was moved. Some of the exhibitors were in new locations. So this year you had to use your site map once in a while. IMHO, I think the changes were for the better.
One thing that didn't change - you could still get a crappy hamburger, chips and a small drink for $7.50. A specially discounted meal if you showed your EAA membership card! Gee, thanks!
Monday afternoon, this guy flaunting outdated side burns flew his strange looking, double fuselage, plane into AirVenture. I'm not sure what all the fuss was about, but the airplane did get many gawkers. I wonder if this was this guy's first time at the Big Show? (See photo on page 3)
The crowd on Monday evening for the Doobie Brothers was packed as well. I think the biggest cheer of the night however, went to the Ford exec introducing the Doobies, when he stated that Ford hadn't taken government money and had no intention of doing so. As a speaker, it is always good to know your crowd. I felt I was among friends!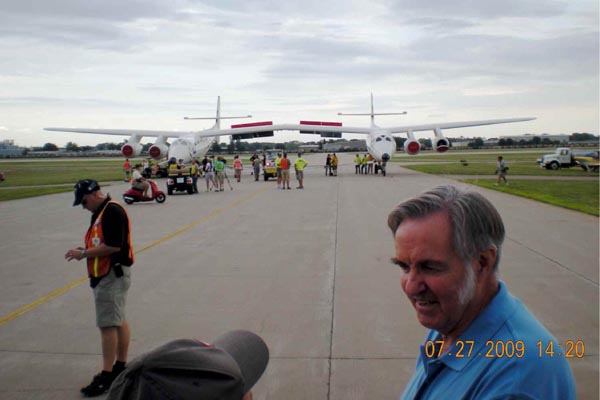 Now don't get me wrong, there was sunshine during the week. Wednesday saw enough sun that I could keep my promise to get a helicopter ride for my daughter. Once again, an old Quickie builder, Mike Brown was our pilot.
We had our Quickie Type Club meeting on Thursday morning and the Homebuilders HQ patio shelter worked great again for our small group of 20 plus who showed up. Thank goodness for the roof over the patio as it was raining during our meeting. I figured out how to get us some coffee and donuts, so the group was in a better mood this year. The donuts are made on site so they were warm! See what you missed?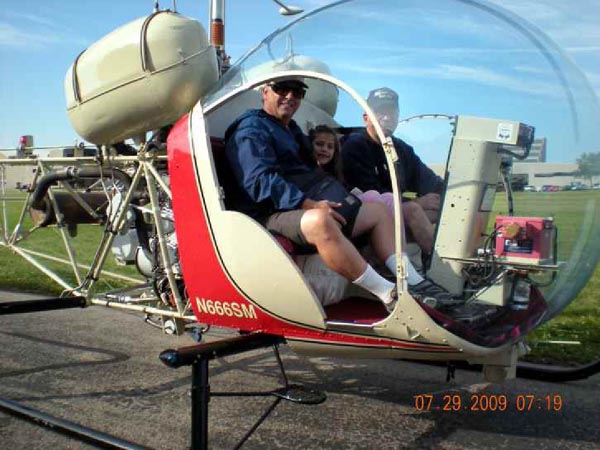 The surprise of the meeting came when a friendly, bearded gentleman showed up late and asked who was adopting their airframe to accept an electric engine. To say the least the patio was quiet. He made a couple of "green" comments about our engines and asked what he thought was a rhetorical question, "Who in here uses their Quickie to travel cross country anyway?" The room exploded with "I do's". I almost told this friendly gentleman that he had the wrong forum and that the Quickie "Performance" forum was later that day. I quickly changed the subject (as any good moderator would when the crowd was getting hostile) and this gentleman was no longer a factor.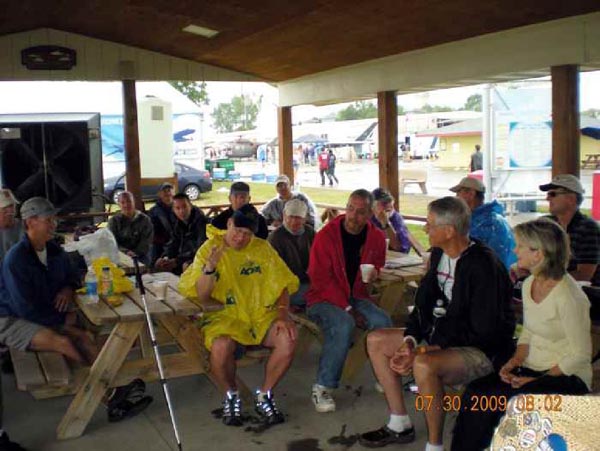 I saw the Dragonfly of Greg Bruns in the homebuilt camping area and I ran into Jeff Letempt who said he had flown his Dragonfly in as well. Bruce Crain was the only person to have flown his Quickie to AirVenture this year and he had this to say about being the only one to have done so;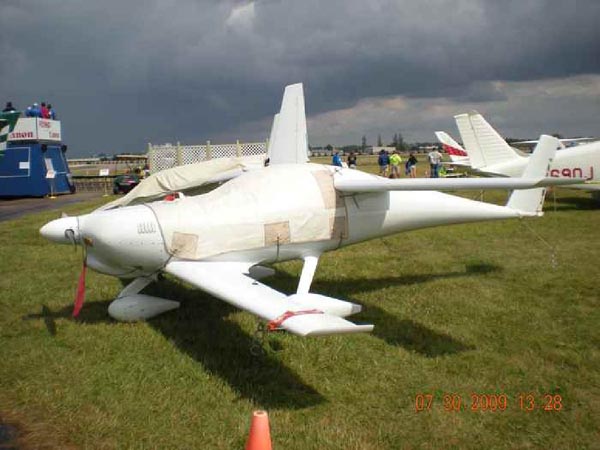 "Hey, I was the only Quickie at Oshkosh this year! Maybe we need to make T-shirts for the Quickie pilots that fly into Oshkosh. It could read "Not Skeerd (scared), I flew my Quickie to Oshkosh"! The weather was very nice albeit a bit wet
at times. My hanger mate and I were a "flight of two" all the way to Oshkosh and back home. Due to the cooler weather, we never felt any turbulence plus the cool makes for a comfortable cockpit. It was a bit cold coming out of Oshkosh at 45 degrees F (6500' MSL), but "Honey Lamb's" new cockpit heater felt really nice. Especially on my toes! The forum was fun with lots of folks showing up.
Over all it was a most enjoyable Oshkosh! Years ago we drove to Oshkosh and it took us 24 hours. In my Quickie it is only 4 1/2hrs in the air with a half hour fuel stop. So the effort is well worth it to finish the project!
Get 'em done and make the trip, dag' gum it!"
Well, that sounds like a challenge guys!
Sam Hoskins missed the big show for the first time in umpteen years. He said if he could not get his Quickie there, he wasn't going to be there either. I bet we see Sam there next year!
For me, this year's AirVenture was about family. I had my wife & both kids with me. My brother and sister-in-law were there for a couple of days. And it was also good to see members of my Quickie family again as well.
---
Articles from this issue:
Emergency Kit Discussion Continued - by Brian M. Martinez
Origination of the term Aviator - by Mike Brown
Q1 Interest Making a Come Back? - by Doug Humble
West Coast Tandem Wing Fly-in Brief Report - by Alan Thayer
Runway 27 Left - Dave Carlson - by Doug Humble
QBA on the grow! - by Doug Humble
Where was Sam hiding? - by Doug Humble

---
A current QBA member may have one free ad per issue. It may be a maximum of five lines of type and will be edited to fit space available. Items advertised must be owned by the QBA member. The ad contact must be a member name. Ads will be run for two issues and then the ad must be resubmitted. [EDITOR'S NOTE: Please note that these ads may no longer be valid. They are included here only as part of the online archive.]
For Sale: Tri-Q2 Selling due to age. Revmaster 65 HP engine. Never flown but is ready for taxi testing. Located in Aurora, IL. $10,000 OBO. Call Gordon Hanson 630-545-2107.
For Sale: LoPresti style cowl for Q200 and streamlined wheel pants for Tri-Q. Contact Earnest Martin at This email address is being protected from spambots. You need JavaScript enabled to view it. or phone 828-230-5378
For Sale: Q2 with LSI (project) Too busy with family matters to put my Q back in the air, so I have decided to sell her. While this was a flying airplane, I am selling this as a project without an engine. I had a hard landing in Sept. of 2005 and wrinkled the top skin on the passenger side canard. This has been repaired and is in primer. This airplane has the following features: LS1 canard; wing tip lenses covering 3 position strobes and lights; three panel belly board; reflexor; dual sticks; dual finger brakes and forward mounted instrument panel for improved knee room. Instruments that come with it include Westach 4 in one engine monitor, airspeed indicator, altimeter, rate of climb, electric turn coordinator, compass, engine tach.; manifold pressure, (No Comm. radio), Narco transponder, & an intercom. Good flying bird for someone to put back in the air. Can be converted to a Q200. Photos available. Asking $6900. Call Doug Humble at 402-2509075 or email me at: This email address is being protected from spambots. You need JavaScript enabled to view it.
For Sale: I reformatted the large Appendix Sheets for the Q-2 plans and they are now available for immediate download on my website as PDF files. Simply go to www.quickheads.com and visit the "Stuff For Sale" link.
For Sale: Unstarted Q200 kit with O 200A engine
This is an unstarted kit with the exception of the hot wired foam cores still protected in the original foam billets. Includes original fabricated pieces, wheels, tires/tubes, brakes, cables, & assoc. hardware, etc. in original packaging & shipping boxes. Also included is a set of CF spars for the LS1 canard. The engine has 786 SMOH, comes complete with its engine log & is in a pickled state with preservation oil & dehydrator plugs. Builder's manual, Q200 mods, templates & many newsletters. Just add a prop & instruments of your choice to complete the package. Am now in final stages of completing a Velocity and have no time to tackle the Q200. Selling Price: $7500.00 Located in Ontario Canada Call: 613-692-8285 or Email: This email address is being protected from spambots. You need JavaScript enabled to view it.
See more ads at: http://www.quickheads.com/forsale.html
---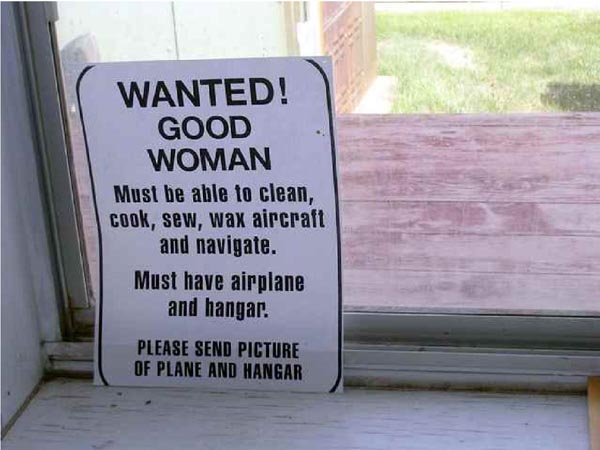 This about sums it up!
---
You can order a printed copy of Q-talk #136 by using the Q-talk Back Issue Order Page.