Q-talk 135 - May/June 2009 - index
Details

Category: Q-Talk Index
Published: Wednesday, 23 December 2009 16:24
Written by Doug Humble
Hits: 2434
Quickie Builders Association


Together we build better planes!

May/June 2009
Issue Number 135
---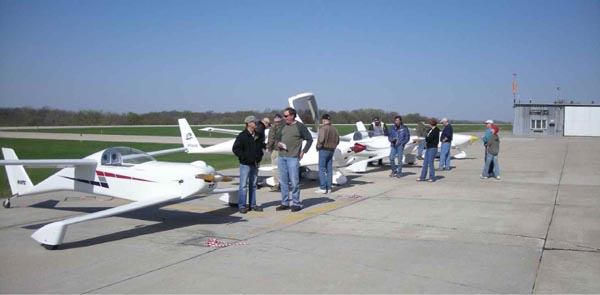 Spring Fling 2009
It was May 1st and I was excited about leaving work early on a Friday afternoon to attend the annual Tandem Wing "Spring Fling", hosted this year by Kevin Boddicker. The problem was, as I walked out of the building, it was pouring down rain! Not a great start, but at least I was out of work! By the time I got to the airport, it was just sprinkling and it looked better towards the Northwest (towards Decorah). I fired up and headed off and the weather, as predicted, got better all the way! It was a little lonely since my Q-200 was all alone on the ramp for much of the afternoon, but that would change by Saturday morning.
Friday evening we sat around the airport and swapped stories with the local airport bums (including one state trooper). After we figured everyone had arrived for the evening we went into town for some great burgers. My only concern was a rather large woman (both tall and wide) that was wearing a blue sweatshirt with large letters that said "Decorah Wrestling". I'm not quite sure what she was advertising, but I was a visitor in town, so I figured it wouldbe best for me to keep my mouth shut and eat my dinner!
Saturday morning, we had four Q's, a Tiger Moth, a Citabra, an Emerude, a SkyMaster, and other associated planes on the ramp. I even heard on the radio while I was in the pattern "What's going on in Decorah today?" Apparently the locals aren't used to that much radio traffic at the normal quiet Decorah!
The one thing we didn't get was any Dragonflies. There were several Dragonfly builders sharing pictures of their projects and swapping experiences. I'm very curious why Dragonflies don't seem to make it to these events any more.
But we did get Terry Crouch in his award winning Q1, Kevin Boddicker in his beautiful Tri-Q200 with a newly re-built wheelpant (apparently the old wheelpant was a runway light magnet), and my 19 year old Q-200. Bob Clark came in with his Tri-Q200 and it looked brand new. Apparently he had rebuilt his engine, built a cooling plenum, added an Earnest Martin cowling, and repainted it. All since the fly-in at Beatrice last fall! Wow he works fast! Some people take years to do that much work... but I won't mention Sam's name! ;-)
There was also a parachute group in town for the day giving tandem jumps. Nobody in our group signed up, but we did notice when they arrived the jump plane emptied its passengers before it landed. As they were preparing to return to their home base, they explained to us that "pilots hate to jump, and jumpers hate to land". Apparently, even on cross country flights, these guys would rather jump than land with the airplane! They guys are just as weird as we are!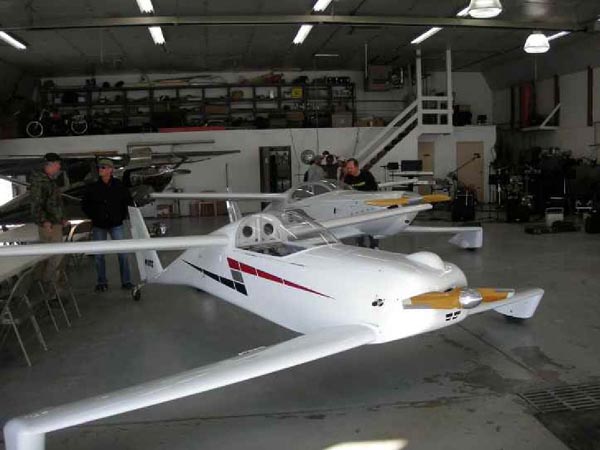 For people with finished airplanes, these events are just an excuse to fly. But these events are invaluable to those that are still building. Throughout the event there were numerous huddles of people sharing pictures, asking questions, and studying the example aircraft. If you haven't made it to one of these events, you owe it to yourself to get to one. First it gives you a chance to get your questions answered, but secondly the shot of motivation you get is tremendous. As Kevin likes to say, flying is way more fun than building!
The Decorah airport is managed by Mike and Ava Connell. Mike has just about every rating there is, including A&P, so he is a wealth of knowledge. And Ava always seems to have a smile on her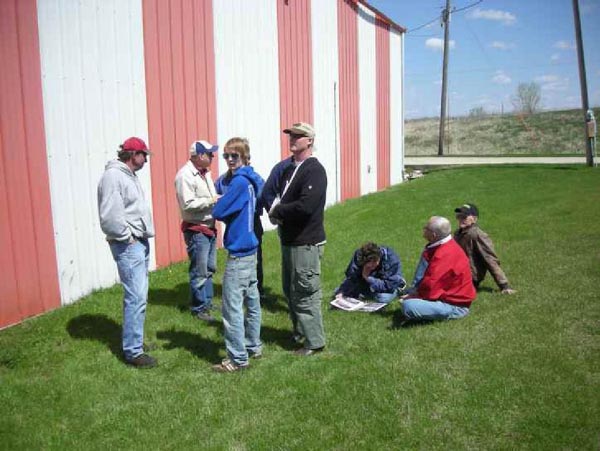 face! They were great hosts. There was a local band practicing in the hanger Friday night (the band just needed a place to practice, but we thanked Mike for scheduling them just for us!). And on Saturday, Eva served a terrific lunch in the airport office. These are genuinely nice people that were truly happy to share their airport with us. If you are ever in Northeast Iowa, stop in at KDEH. Oh yea, Kevin Boddicker has his Tri-Q200 there too, so I suppose you should also say hi to him while you are there to!
Submitted by:
Paul A. Fisher - Tayler Ridge, IL
Q-200, N17PF ~1380 hours, 19 years!
---
Articles from this issue:
Cross Country Trip in a Tri-Q - by Bruce and Joanne Crain
Cowling Work Continues - by D. Michael Bergen
Fly-in information - by Doug Humble
What's in Your X-country Q Emergency Kit? - by Doug Humble
Update from North of the Boarder - by Rene Robertson
How to find Level in an airplane you didn't build - by Jim Patillo

---
A current QBA member may have one free ad per issue. It may be a maximum of five lines of type and will be edited to fit space available. Items advertised must be owned by the QBA member. The ad contact must be a member name. Ads will be run for two issues and then the ad must be resubmitted. [EDITOR'S NOTE: Please note that these ads may no longer be valid. They are included here only as part of the online archive.]
For Sale: Tri-Q2 Selling due to age. Revmaster 65 HP engine. Never flown but is ready for taxi testing. Located in Aurora, IL. $10,000 OBO. Call Gordon Hanson 630-545-2107.
For Sale: LoPresti style cowl for Q200 and streamlined wheel pants for Tri-Q. Contact Earnest Martin at This email address is being protected from spambots. You need JavaScript enabled to view it. or phone 828-230-5378
For Sale: Q2 with LS1 (project) Too busy with family matters to put my Q back in the air, so I have decided to sell her. While this was a flying airplane, I am selling this as a project without an engine. I had a hard landing in Sept. of 2005 and wrinkled the top skin on the passenger side canard. This has been repaired and is in primer. This airplane has the following features: LS1 canard; wing tip lenses covering 3 position strobes and lights; three panel belly board; reflexor; dual sticks; dual finger brakes and forward mounted instrument panel for improved knee room. Instruments that come with it include Westach 4 in one engine monitor, airspeed indicator, altimeter, rate of climb, electric turn coordinator, compass, engine tach.; manifold pressure, (No Comm. radio), Narco transponder, & an intercom. Good flying bird for someone to put back in the air. Can be converted to a Q200. Photos available. Asking $7800. Call Doug Humble at 402-2509075 or email me at: This email address is being protected from spambots. You need JavaScript enabled to view it.
For Sale: I reformatted the large Appendix Sheets for the Q-2 plans and they are now available for immediate download on my website as PDF files. Simply go to www.quickheads.com and visit the "Stuff For Sale" link.
For Sale: Unstarted Q200 kit with O 200A engine This is an unstarted kit with the exception of the hot wired foam cores still protected in the original foam billets. Includes original fabricated pieces, wheels, tires/tubes, brakes, cables, & assoc. hardware, etc. in original packaging & shipping boxes. Also included is a set of CF spars for the LS1 canard. The engine has 786 SMOH, comes complete with its engine log & is in a pickled state with preservation oil & dehydrator plugs. Builder's manual, Q200 mods, templates & many newsletters. Just add a prop & instruments of your choice to complete the package. Am now in final stages of completing a Velocity and have no time to tackle the Q200. Selling Price: $7500.00 Located in Ontario Canada Call: 613-692-8285 or Email: This email address is being protected from spambots. You need JavaScript enabled to view it.
See more ads at:
http://www.quickheads.com/forsale.html
---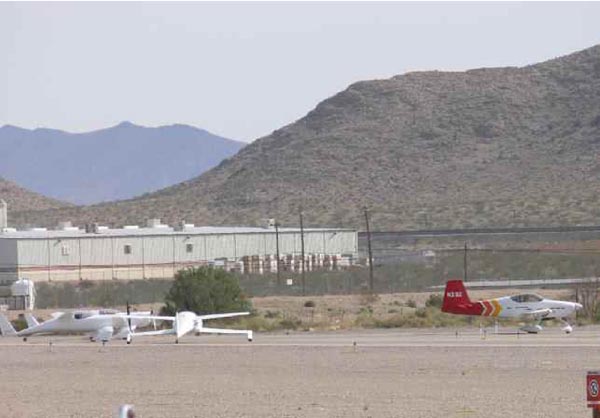 Three Q's stalking an RV at the Jean NV fly-in.
---
You can order a printed copy of Q-talk #135 by using the Q-talk Back Issue Order Page.