Q-talk 131 - Sept/Oct 2008 - index
Details

Category: Q-Talk Index
Published: Wednesday, 23 December 2009 16:24
Written by Doug Humble
Hits: 3643
Quickie Builders Association


Together we build better planes!

Sept/Oct 2008
Issue Number 131
---
Field Of Dreams 2008
Great Weather, Great Location, Great People result in a Great Fly-in!
It was like throwing a party for friends.
We had 11 tandem wing airplanes at this year's event. 3 Dragonflys with all the landing gear styles were represented; Wayne Ulvestad -Mark I, Greg Bruns Mark II, & Chuck Ufkes Mark II Hoop.
On the Quickie side of the fence we had a Q1 (Terry Crouch), 4 Tri-Q200's (Kevin Boddicker, Lynn French, Bruce Crain, & Bob Clark), a Jabaru powered Q (Paul Spackman), a Subaru powered Q2 (Jon Finley) and an unaltered original Q200 (Paul Fisher). Then we had others fly in as well. Three came in manufactured spam cans (Jay Scheevel, Terry & Barb Devine, and Bob & Charley Johnson) and Jeff Sell in his Pulsar. We even had some past Quickie builders show up. Bob Malechek who brought Phil Lankford in his RV7A, Robert Bounds in his Vari Eze, and Nathan Peck flew in with a friend in a Long Eze (as a side note of interest, Joanne Crain was a little disappointed that Nathan had gotten married since she had last seen him. What's up with that Bruce?). Steve and Linda Bennett from Great Plains Aircraft in Omaha drove down to say hi on Friday. I had 2 Omaha EAA chapter members fly down to check things out as well on Saturday. A 3rd showed up late Sunday morning in an RV6A just as the last of the Tandem Wing airplanes were taking off for home. Because Bob Malechek had not departed yet, the event then qualified as an Rv fly-in as well. :)
Those that drove in were Jerry and Nancy Marstall, Sam Kittle, Jim DeBower, Alan Thayer and his green shorts, Charlie Howe, Mitch Hargin & Pam Carson. I hope I didn't forget anyone.
At the pizza feed Friday night I counted 28 bodies in attendance. After the aircraft were put to bed, the hangar flying continued in the lounge area at the New Victorian Inn.
Saturday saw lots of flying; both in the air and in the hangar. Lynn French gave a ride to a local newspaper reporter and Paul Fisher kept his promise to give a ride to Judy from the New Victorian Inn. We gave the airport some good publicity by getting a front page, color story of our event in the local newspaper.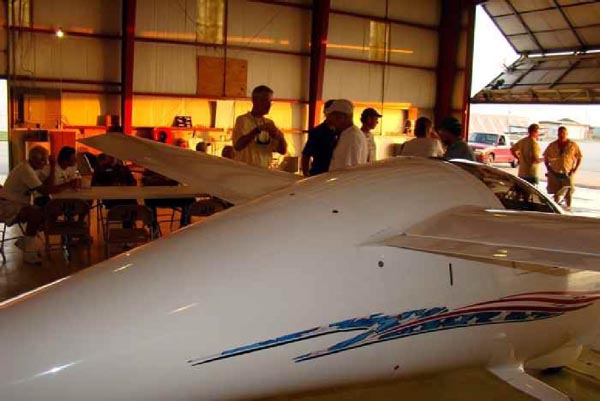 In the afternoon, everyone crowded into the pilot's lounge to watch Alan Thayer's video of the Q wing load test that was performed at the Livermore fly-in this past August. See complete story on page 4.
On Saturday evening we gathered at Risky's Sports Bar & Grill for a great dinner. We did have to go back to the airport for our awards presentations as the Husker football game had been moved to a night game and we could not compete with the crowd noise.
While waiting for a few people to arrive back at the airport I attempted to make everyone laugh by telling a joke. Well I botched it badly and I got a bigger laugh that lasted for the rest of the event. I think Kevin Boddicker may still be laughing. He knew the joke and just let me do my thing. Thanks Kevin!
Lynn French won Best Interior. Terry Crouch took home the Best Overall aircraft and Paul Fisher took home a rather large trophy for Highest Time aircraft. Paul, who was in charge of getting the awards this year, assured me it was just a coincidence that the rather large size of this year's Highest Time trophy had nothing to do with Sam Hoskins absence. I'll let you decide Sam.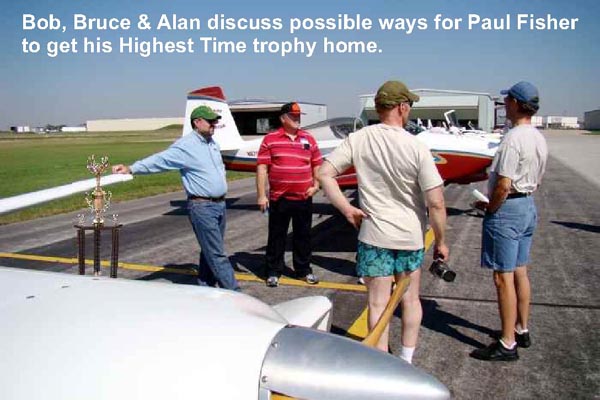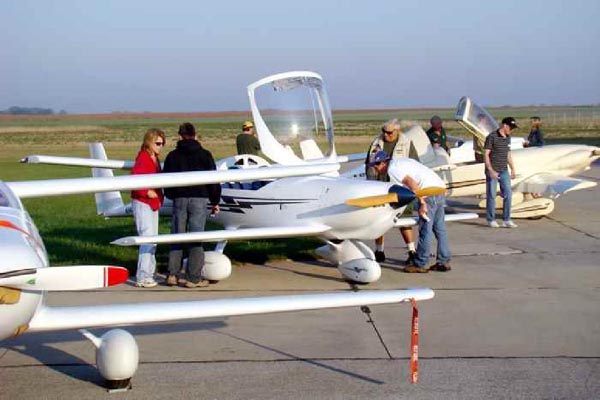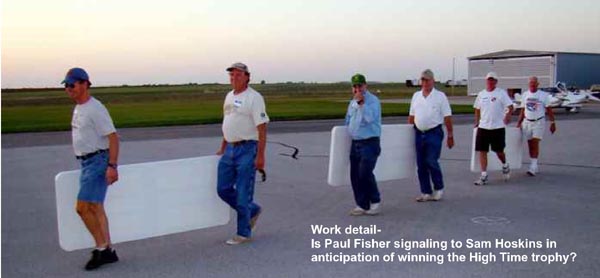 The airport rolled out the red carpet for us. Trash cans, chairs, tables, a ladder to take the group photo, two nice courtesy cars, a large hangar and 2 T-hangars, a golf cart to make me look official and for Honey Lamb Crain to quickly get to the bathroom. They gave me a key to the pilots lounge and showed me where other keys were. They gave me the code to the gate. Combine this with 2 large runways, 3 hotels and Wal-Mart within a reasonable walk, restaurants within a 2 mile drive, this is a great location. With your donations, I filled up the courtesy cars with gas and left the manager a cash donation and a Thank You card signed by most everyone in attendance. I told them we would be back next year.
I also want to thank Lynn French's father-in-law, Gene Bargman, for providing a few extra chairs for us as well.
The weather appeared to be relatively good for the trips to and from the event. If only I could bottle it and use it again next year!
---
Articles from this issue:
Where was Sam hiding - by Doug Humble
Livermore Fly-in and Wing Test Report - by Doug Humble
Alternative Power by Subaru - by Doug Humble

---
A current QBA member may have one free ad per issue. It may be a maximum of five lines of type and will be edited to fit space available. Items advertised must be owned by the QBA member. The ad contact must be a member name. Ads will be run for two issues and then the ad must be resubmitted. [EDITOR'S NOTE: Please note that these ads may no longer be valid. They are included here only as part of the online archive.]
For Sale: I reformatted the large Appendix Sheets for the Q-2 plans and they are now available for immediate download on my website as PDF files. Simply go to www.quickheads.com and visit the "Stuff For Sale" link.
See more ads at:
http://www.quickheads.com/forsale.html
---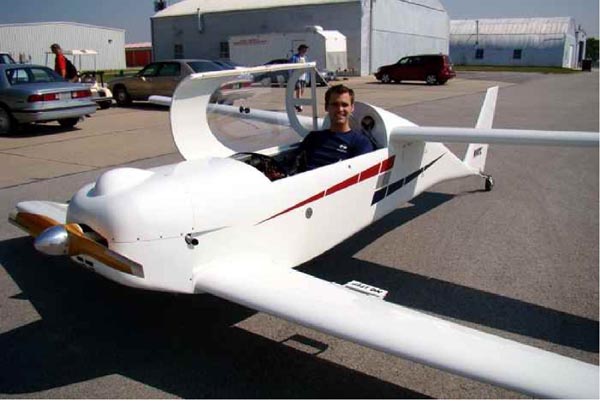 Nathan Peck reminisces about his old Quickie days at this year's Field of Dreams Fly-in.
---
You can order a printed copy of Q-talk #131 by using the Q-talk Back Issue Order Page.