Q-talk 128 - Mar/Apr 2008 - index
Details

Category: Q-Talk Index
Published: Wednesday, 23 December 2009 16:24
Written by Doug Humble
Hits: 3547
Quickie Builders Association


Together we build better planes!

Mar./Apr. 2008
Issue Number 128
---
Checking In With HQ!
Here are a few more letters from builders I received late in the newsletter renewal process.
Like any other fool, I bought the thing in the early 80's from lust of the eyes and being a single guy. Between five moves, getting married, raising a family, rebuilding a house (five year project turns into ten), and building a church; I am finally back on the project in earnest. There is nothing much to say, other than what so many have already been through. Part of the delays is trying to re-engineer or redesign different parts, such as the wheel pants, larger fuel tank, tail spring / rudder area, and boltless trailer-able option. Here are a few pictures of my project
D. Michael Bergen Linthicum HTS, MD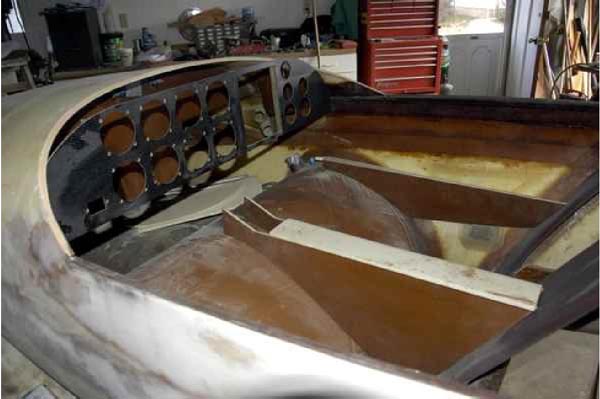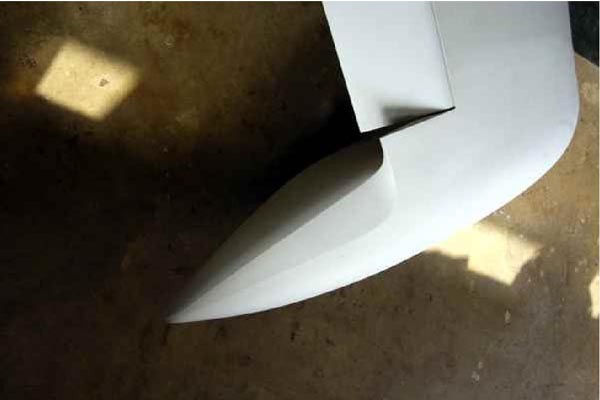 The Q1 design has been intriguing to me since I taxied one a few years ago. So I bought #091 which was built by George Sweeny of Culver City, CA in 1980. Contrary to common sense, I drove it 2654 miles back to Atlanta. It needs a thorough restoration but came with two engines; an Onan and a Rotax 503. Empty weight was 291 lbs with an Onan. I have no history of it beyond that. I wanted a bare bones, but airworthy airframe and hopefully that's what I got.
It needs a lot of work as there is some exposed foam in some areas and a large square hole cut out of the bottom of the fuel tank. I need another year to finish my Waiex and then it will get my full attention. I'll fill you in as it happens.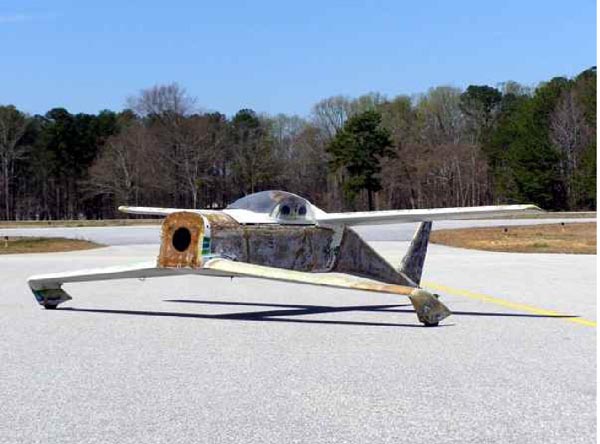 I fly a Challenger 604 and Lear 35 for a living. I have built and still fly a Kolb Firestar.
I also built a flying model of a Q1 from a quickbuild kit. I have an electric motor in mine. I bought it to explore the Q1 flight characteristics. It's a little different for sure. One interesting thing is that at the lower 1/3 of the speed envelope the pitch control gets mushy, so it must be flown in fast for a decent flare. The model rolls scary slow, but it will loop. Other flyers land to watch it fly. Here's a link to the kit:
http://www.eastrc.org/estorequickie.htm
Kip Laurie Atlanta GA
Then I heard from a new member, Richard Labarre who sent this email.
My interest in flying started when I got back from Iraq in 2005. I went back to my civilian job and decided I need to learn to fly. I've always wanted to, but never had the money. I saved a lot while I was in Iraq. I started my flight training in May of 2005. It was then that I started looking at buying an airplane. I looked at cheap Cessna 150/152's. Then I saw the Dragonfly and Quickies in September 2005. They really sparked my interest in experimental aircraft. At the same time, I was still looking at Cessna 140's. Almost bought a few. I started my tail wheel training in January 2006.
Then in August of 2006, I bought my dream Cessna 140. Shortly there after I
earned my pilots license. I even flew my 1946 Cessna 140 back to Vermont.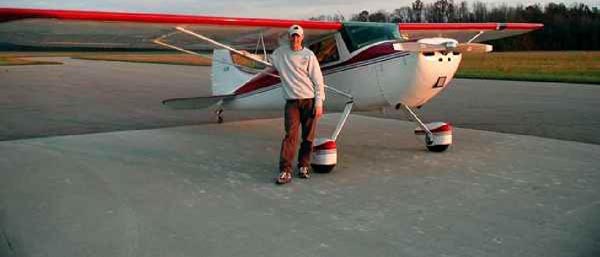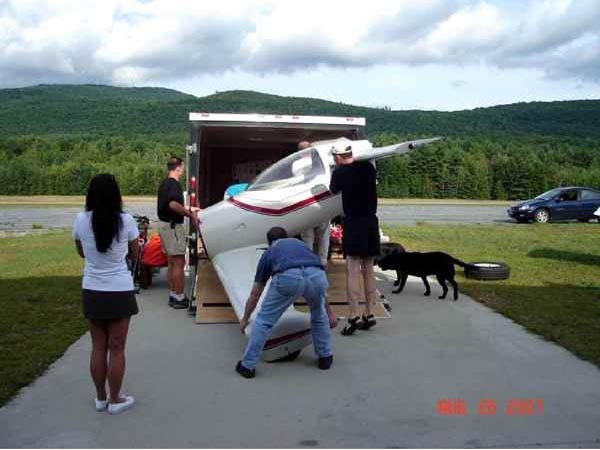 After this I started looking again at Quickies. I went as far as Oregon to look at one, but did not buy it. However, I did find one in Pennsylvania and ended up buying this one. It was delivered in August 2007 and I have been rebuilding it since.
Richard Labarre Waterbury Center, VT
The next letter makes me realize that, for some, the building process can be what satisfies the soul.
I can't believe that another year has past. Enclosed is a picture of my plane that is about ready for taxi tests. I have run the engine for a few hours and it runs beautifully.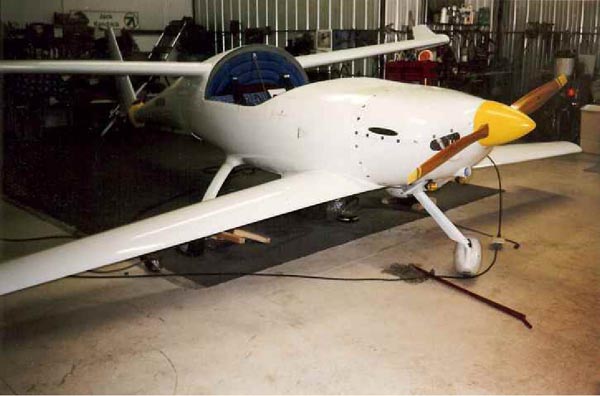 Due to the loss of my medical, I will have to put the plane up for sale. I am 88 years old this June and can't do all the things I used to do. Please put a For Sale ad in the newsletter for me. I have put 5000 enjoyable hours into building my plane. Thank you, all the old editors, and the contributors for the hints and ideas I have used over the years from Q-Talk. I have looked forward to every issue.
Gordon Hanson Glen Ellyn IL
Gordon is asking $12,000 or best offer for his Revmaster powered Tri-Q. His phone number is: 630-545-2107.
Hi Doug! I had been a wannabe since I first laid eyes on the Q planes in my younger years, but you know how it goes... money, family, life .... I started by building a Mini-max (ultra-light in Canada) and sold it to buy a Midget Mustang aircraft and have owned that project for 5 years now.
Then I went looking for a two seater and came across David Cyr (builder of the aircraft) who was looking to sell. Unless something comes out of the inspection, she'll be mine. It has about 120+ hours on it and was finished in 1998.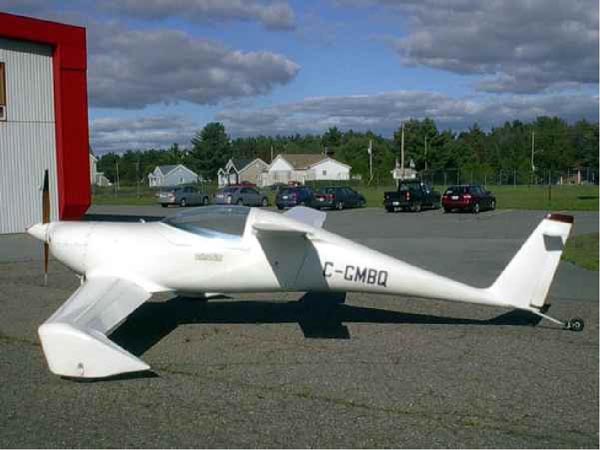 There is a Revmaster up front. One of the reasons I bought it was because David is one of those obsessive compulsive types and I know what kind of work he put into it; something like 5000 hours! I am planning on adding lights (tubing for wires already in), modifying the panel, and maybe a new paint job. My goal to eventually fly her to Oshkosh and one of the Tandem Wing fly-ins!
I went up in another fellow's Q-2 (jabiru engine) today and DANG I love the Q!!!!! I have included a few photos. One of the them is of me (pilots seat) and a friend trying out the fit last November in our winter coats (we each weigh 185 lbs and the fit was good).
Tony Molle
Pincourt near Montreal, Quebec Canada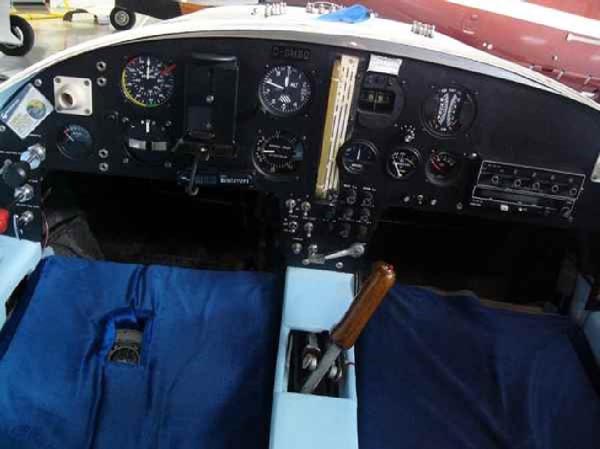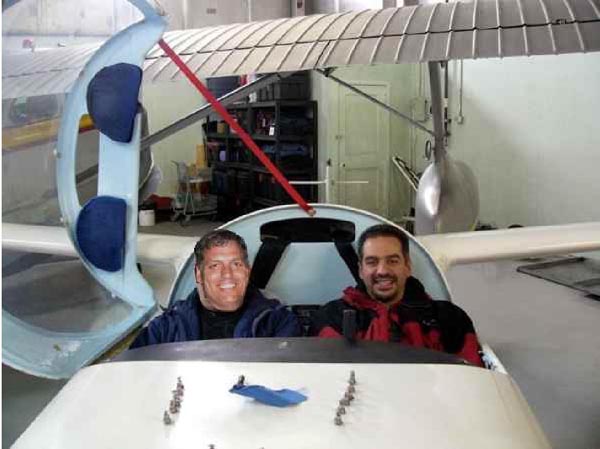 ---
Articles from this issue:
Where was Sam hiding? - by Doug Humble
Builder's Tip: Identify Those Wires! - by Jeff Letempt
>Brake Bleeding Catch Bottle - by Jerry Marstall
Sun 'n Fun Report - by Doug Humble
Swing Bar Canopy Installation - by Jim Masal
Milestone - by Kevin Boddicker
Sam's Progress - by Doug Humble
Fly-in Season Begins - by Doug Humble
QBA on the Grow - by Doug Humble

---
A current QBA member may have one free ad per issue. It may be a maximum of five lines of type and will be edited to fit space available. Items advertised must be owned by the QBA member. The ad contact must be a member name. Ads will be run for two issues and then the ad must be resubmitted. [EDITOR'S NOTE: Please note that these ads may no longer be valid. They are included here only as part of the online archive.]
Wanted: Q200 Plans and Kit Looking for Q200 plans with templates and/or kit. Let me know what you have. Call Lance Hooley at (407) 361-0422 or email me at: This email address is being protected from spambots. You need JavaScript enabled to view it.
FOR SALE: Q2 w/ LSI Canard Q2 project assembled and ready to mount engine (no engine). I MUST clear my shop! Has LS1 canard. Final finish, cockpit and instrument panel not completed. Photos available. Any offer considered! 618-398-3393 Henry Hurd, Belleville IL
FOR SALE: Q1 Kit #154 Includes plans, Onan engine, canopy, prop, instruments & all manf. supplied parts less two blocks of foam. Boxed & stored in Raleigh, NC. Asking $3000.00. Dennis Lundberg 919-376-0374, Email: This email address is being protected from spambots. You need JavaScript enabled to view it.
WANTED: I am a new Tri-Q200 owner and need a heavy nose gear. Anyone who has one for sale please Larry Seals at: This email address is being protected from spambots. You need JavaScript enabled to view it. or (870) 942-7677.
FOR SALE: Q1 Kit #11 60% complete. Engine with high compression heads, extra foam & fiberglass included. Make offer. John Cowan, Norman, OK (405) 447-5551-hm or (405) 535-1935-cell
FOR SALE: Misc. Q parts Molds for Q-200 cowl & spinner & back plate, Q2 canopy, misc. Airheart brake parts, Q2 pre-molded wheel pants & two Q2 CSA9 rudder pedals. Contact Marion Brown at: This email address is being protected from spambots. You need JavaScript enabled to view it.
FOR SALE: Tri-Q2 Selling due to my age. This Tri-Q2 has a Revmaster 65 HP engine and is about ready to taxi test. Asking $12,000 or best offer. Located in Glen Ellyn IL. Call Gordon Hanson at (630) 545-2107
FOR SALE: Revmaster Engine 50-60 hours. Call Glenn Hockenberry at (717) 243-1100
FOR SALE: Revmaster aluminum super engine block (not magnesium) Block is machined for 94mm pistons and cyclinders & up to an 84mm crank. Asking $600. Email Rene Robertson at: This email address is being protected from spambots. You need JavaScript enabled to view it.
See more ads at:
http://www.quickheads.com/forsale.html
---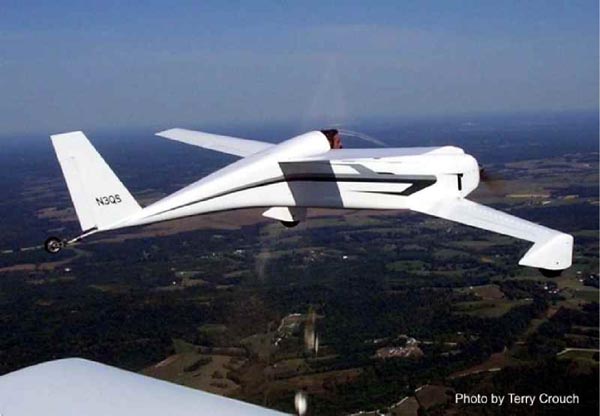 Roy Shannon at the Rough River Fly-in, Sept. 2007
---
You can order a printed copy of Q-talk #128 by using the Q-talk Back Issue Order Page.