Q-talk 126 - Jerry Marstall completes 3 year make over of his Tri-Q
Details

Category: Q-Talk Articles
Published: Wednesday, 23 December 2009 16:24
Written by Jerry Marstall
Hits: 1891
On November 11 Jerry sent this email to the Q-list announcing his return to the air.
UP, UP, and Away!
AT LAST!! Gee, these engine conversions are really quick and easy. After only 3 yrs and 8 months of recreation and education, my plastic fantastic roared skyward. It was a perfect day, 35F, zero wind and sunny. Nancy and Earnest Martin were there to witness the second launch. The first being 10 years ago. They were there then too.
Thanks to Earnest Martin and Bruce Crain giving me refamiliarization (is that a word?) rides. It all felt pretty natural. Guess it is like riding a bicycle.
The plane performed beautifully, nothing redlined and that new Malechek special (O-200 built by Bob Malechek) simply purred. Only loaded enough fuel for a 35 minute flight. I had planned on an hour, but this thing burns a lot more fuel than the old Revmaster.
I had a couple of valve cover leaks and crossed wires on my CHT/EGT indicator plus the tube from the plenum to the oil cooler came disconnected. Other than that, just pure fun.
Had my new Dynon100 on too. This thing is a gem! Can't wait to get the AOA calibrated.
I owe a lot to a whole list of you folks for helping and encouraging me throughout this ordeal. I don't have the time or space to list all the things that Earnest did for me. I would still be a few years from flying if it wasn't for his help and knowledge. And of course, none of us would be flying our planes without the support of our spouses. Nancy ranks at the top.
Jerry Marstall - thrilled to be flying again!!
I requested that Jerry send me some pictures and a summary of what his make over included and he submitted the following.
The first flight was as N222BB back in June of 1997 as a Tri-Q2. This, the 2nd -"1st flight" was as N625JM on November 26, 2007 as a Tri-Q200.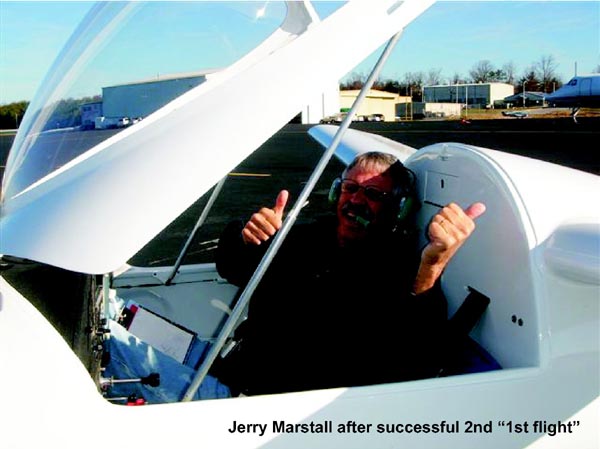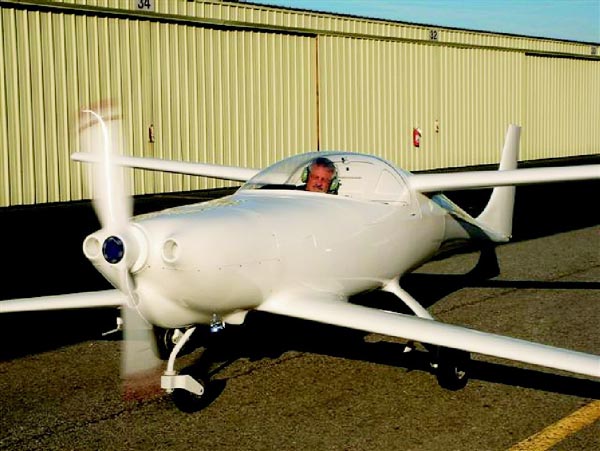 The plane had been down since April 2004 for an "extreme make over". 3 years and 8 months later, she flew again.
The next day I went for my 2nd flight. I launched at 11:20. Another perfect day: no wind, clear skies and cool. As before, it leaped off the ground much quicker than I am use to with the Revmaster. I climbed briskly to 7,500' and leveled off. The real mission for this flight was just to let it run to continue the engine break-in. I think I am about there.
I don't have a spinner on yet, nor wheel pants. It appears the Catto Prop is a climb prop by the rpm I'm seeing. It will pop up to 2850 rpm real quick. I still have yet to run it wide open in level flight.
Here are the numbers:
OAT = 39F; 7500' 6.6 gph at 2600 rpm. 145 mph - TAS Manifold pressure = 22" Oil Pressure = 40 Oil temp = 210 CHT = 300/310/370/360
Since this flight, I have cut down the baffles in front of cylinders 3 & 4 to try and even out the temps on those two cylinders.
EGT = ?
My KSA gage is so difficult to read that I am not real sure what they were. I'll keep fiddling with it. All I can tell you now is that cyl's 1&2 were within 25 deg. of one another and 3&4 were within 25 deg. of one another. The difference between the two groups was 250 deg.
I can't begin to express the difference in the flying characteristics from before. It now feels like a much larger airplane. To my amazement, it is now a hands-off airplane. At 7,500' in trimmed cruise, it will oscillate up and down 25' either side of level. With the individual elevator trim capability on the torque tube, I can trim it wings level and it will stay there. Now I can actually fold a map without doing aerobatics.
I have no vibration (and the prop hasn't been dynamically balanced yet), and it's a lot quieter than the Revmaster. I have 4-into-1 exhaust.
It was a real thrill just drilling around up there with such exhilaration. I would say that I had forgotten how much fun this is to fly but this is a totally different airplane than I was flying before. There is just no comparison. I even refer to the Revmaster version as "the other plane". It was a grueling experience over the last 3 yrs. and 8 months, but WOW! What a reward!
As everyone says, "Keep building, its worth it."
MAN AM I HAVING FUN (NOW)!!!!!!
What was done? A partial list includes:
-Q-200 upgrade mods
-Stainless firewall
-0-time Bob Malecheck built O-200
-And, oh yes, a REBUILT carb
-Stainless exhaust 4-into-1
-New instrument panel
-New Dynon 100
-Total rewiring
-Replaced brake lines
-Replaced fuel lines
-Installed 5 gal. removable Aux fuel tank
-Sanded down to the glass
-refinished and repainted
-New canopy supports
-New plenum
-New cowling
-New wheel pants
-Dorsal fin in front of vertical stabilizer That was enough!
As you will notice, there are no pictures of me flying. (Not sure why). Sooooooo, I guess you will have to take my word for it.
That's my story and I'm sticking to it!!!
Jerry Marstall
---
You can order a printed copy of Q-talk #126 by using the Q-talk Back Issue Order Page.