Q-talk 121 - Jan/Feb 2007 - index
Details

Category: Q-Talk Index
Published: Wednesday, 23 December 2009 16:24
Written by Doug Humble
Hits: 2676
Quickie Builders Association


Together we build better planes!

Jan./Feb. 2007
Issue Number 121
---
Checking In With HQ
Dear Doug, Thanks again for another great year! My VP II with a Revmaster 2100D should fly this year. It is running and the article about the Q2 Revmaster was very valuable.
Thanks again for all that you do!
Bill Jagust -St. Peters, FL
Hi Doug! I think I may have told you that I bought a "previously flown" Q1 a little over a year ago. It had minor damage to the aft fuselage and the canopy from a hanger collapse. I have the paperwork ready for it to fly, but the Onan engine is still a little stiff but getting better.
I have taxiied it quite a bit the length of the 3200 foot runway here. I find it fairly friendly during acceleration or slowing down, but seems to require more attention if a constant speed of 30 mph or above is maintained.
I would like to improve the brakes some. Individual brakes would be nice but not installed. As long as it is on a hard surface, it seems to be acceptable. If I turn corners with proper amount of enthusiasm, it does well and stops the turn on the desired heading fairly well.
I scaled up the drawing and located the CG where it is shown. It is heavier than I would like it to be. Total weight is 513lbs. with oil, 7.5 gal. of fuel and me (160 lbs.). The main gear weight was 489 lbs. at 40" aft of datum and the tail weighed 24 lbs. at 188.5" aft. of datum. The way I see it my CG range is from 46" to 49.5".
I did get to the Emporia "Family Reunion". I arrived Friday and left Saturday evening. I appreciated seeing the Q1 fly, and fly, and fly! Is the video from the Pilot's hat available yet? I came in a "tin can" this year. I will try to do better next year.
Robert Park -Harper KS N84MP SN 476
Dear Doug, I sure like to receive the newsletter. I read it all in one setting as soon as it arrives. You do a terrific job. Please keep up the good work.
I haven't been doing anything exciting or fun this past summer. Not being able to fly is a bummer. I had several inquiries on my Q2 for sale, but no buyers yet. I just received another on Jan.9th. I hate to sell it, but I have to since I can't fly it. It really is a good flying Q.
Jerry Kennedy -Sioux Falls, SD
Hawkeye - Thanks for the great newsletter year. It is of great value!
Jim Porter -Madison, AL
Dues for 2007 enclosed. Plane nearly finished & so are my days as a pilot!
Adrian Weigart -Cupertino, CA Quickie #85 N3QK
Hi Doug! I now own 4 Q2's.Two of them are in my Q shop and need some work, but are almost complete. The other two are still in the original factory sealed packages. I was very fortunate to come across them recently. I was just wondering if there is anyone in the group that travels for hire to help in construction?
Ritz Bartoli -Ontario, Canada
A photo of Ritz's shop can be seen at the Members Only page on the QBA web site.
Hi Doug! I'm the 4th owner of S/N 2036 and hope to be the one that gets it flying. I bought it last fall and have since sold the Revmaster and bought a wrecked C150 for the engine. This has turned into a very worthwhile adventure, because besides the obvious acquisition of the O-200 engine, I got a good 720 channel nav/com, transponder w/modeC, instruments, etc. An added bonus is the cash from selling the unwanted C-150 parts to eager ebay buyers. Win-Win!!
I'm anxious to get going on this project. Glass construction is complete. It still needs work on the controls, engine and wiring, etc. I've been watching the Q-List and have learned much. I flew over to the fly-in at Casey last spring with a friend in his Swift. It was there that I met Sam Hoskins and two guys who live near me that are also building a Q2.
My background is aviation related. I have been a pilot, sky diver, and an A&P since 1969. I've always been attracted to the Quickie since I first laid eyes on one. It looks like a Stagger winged Beech by Picasso.
I'm looking to retire in about a year and I just bought a lot at an airpark north of Kalamazoo. I'm also half owner of a 182 that we use part time for jumpers. High gas prices got me looking for economy. So here I am!
Jerry Brinkerhuff - Gobles MI
I've also placed a photo of Jerry's project in the Members Only page.
---
Articles from this issue:
Where was Sam hiding? - by Doug Humble
The Saga of a CNC Hot Wire Foam Cutter - by Doug Humble
Building Tip, Forming shapes with screen mesh - by Larry Severson
Update From Northeast Iowa - by Kevin Boddicker
Farm Shed Find Down Under - by Craig Jones
TAILDRAGGER - by Author Unknown
QBA on the Grow - by Doug Humble

---
A current QBA member may have one free ad per issue. It may be a maximum of five lines of type and will be edited to fit space available. Items advertised must be owned by the QBA member. The ad contact must be a member name. Ads will be run for two issues and then the ad must be resubmitted. [EDITOR'S NOTE: Please note that these ads may no longer be valid. They are included here only as part of the online archive.]
For Sale: Q2/200 Kit for sale. Main wing cut, jigged, and glassed on one side. Bulkheads complete but not mounted. Ailerons and rudder complete. No canard work completed, but LS-1 Carbon Fiber spars included. Fuselage shells unbonded. Includes canopy, wheels, tires, brakes, control hardware, some foam/fiberglass, plans, hotwire templates cut/mounted, epoxy pump, and much more. Clean ownership trail back to QAC. No engine, cowling or instruments. This would be a great kit for someone wanting to get a jump start on a high quality project. The workmanship thus far is a "must see". Located in Broken Bow, NE. Contact Lynn French at: This email address is being protected from spambots. You need JavaScript enabled to view it. or 308-872-5423. $2800. Also, check out other Q items I have for sale at: http://users.wildblue.net/LJFrench/The%20Airplane/For%20S ale/forsalepublish.html.
For sale: Flying Q2 with75hp Revemaster with all engine inst., Revflow carb and powder coated exh. 74 hrs since complete engine rebuild. Comes with two Terra TX720 transceivers, two Terra TN200 nav., one with glide slope, TRI NAV course deviation indicator, Pointer3000 ELT, TERRA 270 transponder, airborne vac pump, vac. artificiall horizon, 2 David Clark head sets, a hand held GPS & Bernie Warnke prop. Has toe brakes, reflexor, landing light & Wheelen nav. lights. Has cabin heater and vortex generators. 437 hr. on airframe and 426 hr. on new tires. Color is yellow with blue trim and blue interior. Forward opening canopy. Airplane runs & flies great. Lost medical. This is a great buy at $20,000. Located in Sioux Falls S.D. Contact Jerry Kennedy at: This email address is being protected from spambots. You need JavaScript enabled to view it.
For Sale: Q200 kit. Zero % done. No engine. No epoxie. Has LS1 with carbon fiber spar. Epoxy pump and 5 amp. Variac. Any reasonable offer accepted. Call: Steve Hori 626-912-6007 or email: This email address is being protected from spambots. You need JavaScript enabled to view it.
For Sale: Superquickie 60HP to be parted out. Aircraft is currently flying. 336.9 total hours, never damaged. Oshkosh "Lindy" winner in 1989. Will be sold complete, including trailer, minus engine, prop, and spinner. Engine is a 1835 VW built from a Great Plains kit. 112.4 hours total time. Both can be seen on Great Plains website, at: http://www.greatplainsas.com/vwtsolan.html $9500.00 airframe & trailer. $4500.00 for engine, prop, & spinner. Tom Solan 208-640-6952 or This email address is being protected from spambots. You need JavaScript enabled to view it.
Wanted: Q1 Onan cowling. Contact Keith Welsh at: This email address is being protected from spambots. You need JavaScript enabled to view it.
---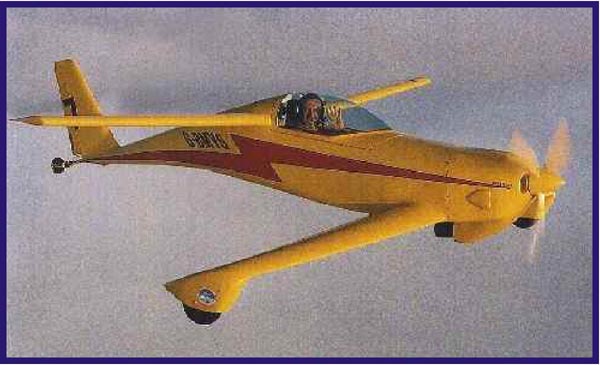 Paul Wright and a plane he calls Vickie
---
You can order a printed copy of Q-talk #121 by using the Q-talk Back Issue Order Page.