Q-talk 119 - Sept/Oct 2006 - index
Details

Category: Q-Talk Index
Published: Wednesday, 23 December 2009 16:24
Written by Doug Humble
Hits: 2732
Quickie Builders Association


Together we build better planes!

Sept./Oct. 2006
Issue Number 119
---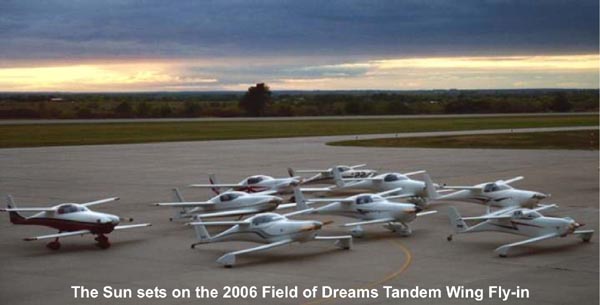 As the article title suggests, this year's Field of Dreams felt more like a family reunion than a fly-in. This was due in part to the constant 20 mph, 90 degree crosswind that kept the flying down to a minimum. However, such a crosswind would have given Jim Patillo a great opportunity to display the great handling ability of a standard configured Q-200. If only he had showed up! But as with all family reunions, not all the relatives could make it.
As we were getting reacquainted with our cousins on Friday afternoon, we got word that one of our family had perished on their way to the gathering. Tom Currie crashed near Branson, MO in a remote, heavily wood area. It is unclear at the time of this writing what caused the accident. After some research, we found that Tom was at the 1999
Field Of Dreams fly-in and a photo of him and his plane can be seen in Q-Talk Issue #77 on page 3. He had written to me in his subscription letter, that his Tri-Q had 1400 hours on it. This loss did make those of us gathered at this years event appreciate one another that much more.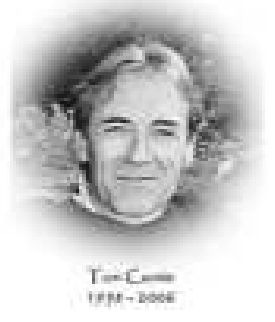 We had three Tri-Q200's, one Tri-Q2, two Q-200's, two Dragonfly's, a Cozy, a Velocity, a Pulsar, and 3 tin cans that flew in to Emporia. Not a bad showing considering there was weather in the northern plains. All told, we had nearly 60 people in attendance at this year's event.
At our Friday meal at the Golden Corral, I found out that being newsletter editor has its privileges as Terry Crouch bought dinner for me. Thanks Terry!
Saturday morning started off with all airplanes launching for a fly over at a nearby golf course which had some airport brass waiting for the flyover. They were so impressed that they sent over a large box of Hostess pastries for us to munch on.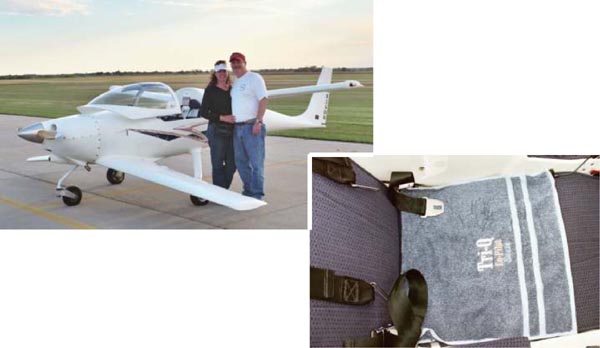 This was a special Field of Dreams for Dave and Susie Richardson who flew in for the first time in their Revmaster powered Tri-Q2. Most of you know that Dave and Susie starting coming to these events in the mid 1990's and all their hard work has now paid off.
I found some interesting features on their airplane. It seems we all have towels that we use to step into our type of aircraft. Well, Susie added a nice touch by having them embroidered. I think it is an inexpensive way we all can add our own touch to our planes. They also have cloth map pockets with the Quickie logo embroidered on them.
In many conversations I have had with Dave, he has mentioned items that cost him time in completing his project. For instance, he engineered a retracting handle to be used to open and lower the canopy. Shown here in these photos. He said he was proud of his ingenuity, but that he doesn't really use them. The canopy can be opened easily without them. His point is to not over think an issue and just stick to the plans when building. You get in the air faster.
A feature Dave does like is his forward sliding canopy inspired by Bob Malechek, who had a similar canopy. Dave bought the drawer slides from McMaster-Carr and cut them down to fit.
Dave's airplane did feature some nice fuselage graphics. Although he did not want to talk to me about them for some reason. I tried at length to find out where he had gotten them. I reminded him that A Sign Above was providing his transportation to his motel that night and that if he had not gotten them from A Sign Above, he should think about supporting those companies that support the event. He seemed remorseful, but time will tell, as he also told me he was planning on repainting their airplane sometime in the future. Let me caution others needing graphics for their aircraft. If you do not want to be chastised in the newsletter and you do not want this editor to waste valuable newsletter space on the subject, you better support the companies who support the group. ?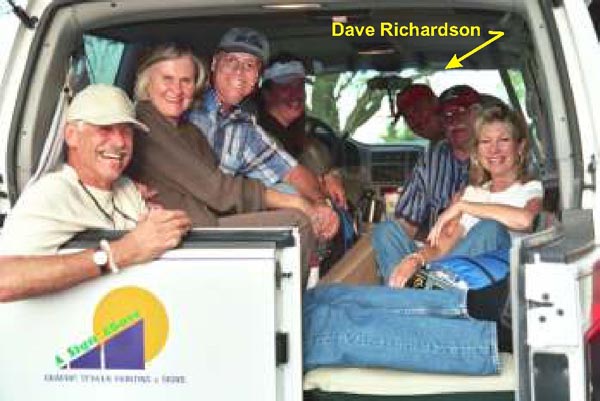 Dave Richardson & others being provided transportation to motels by the nice folks from A Sign Above.
The facilities at Emporia were top notch. We had access to two large hangers; one we had the forums and the banquet in, and the other sheltered the airplanes. There has been quite a lot of discussion about where to hold next year's event on the Q-List, but we will not find a better equipped airport for our event than Emporia had. A few of us even camped in between the hangers. It was our own mini Camp Scholler!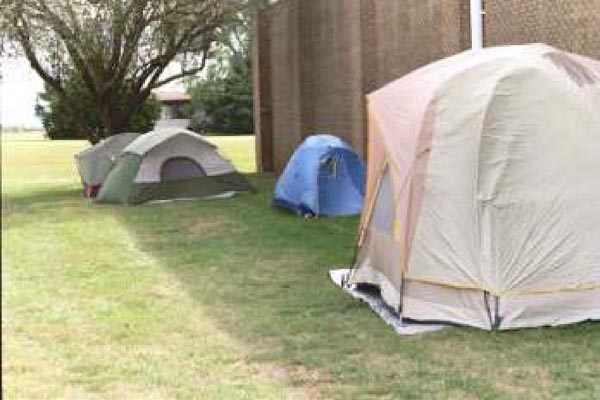 At the Quickie forum we discussed the plans built fuel vent system which had seen quite a bit of discussion on the Q-List in recent weeks. It sure adds to the discussion when you can draw a picture on a grease board and modify it to discuss the pro's and con's of all the different opinions in the room.
In the afternoon, Mike Huffman, who is a DAR, gave an excellent forum on how to prepare yourself and what to expect at an inspection to get your aircraft's airworthiness certificate. He even discussed the differences in licensing an aircraft under the various categories within the experimental category, including the new LSA one. This was a very educational forum for everyone.
The strong winds may have provided folks with more time to look at the aircraft in more detail. In the afternoon most everyone pulled airplanes inside and pulled their cowls off allowing everyone to get a close look at the various engine installations.
In fact, Lynn French had everyone talking about his dual fuel delivery system set up. A carb and fuel injection system under the same cowling. Read more about this set up in Lynn's article beginning on page 5 of this issue.
The evening featured our banquet at the airport in one of the large hangers. There was even heat in the hanger! The meal was great and Spud had raffle gifts galore. Mike Brown, who didn't attend this year's event, called and asked what he had won! I mailed him some Twinkies as his prize so he wouldn't be disappointed. Those who flew in participated in a game of Texas Hold 'em, and the big winner was Lynn French who took home $100.00 as the winner.
Mike Huffman, who was once a Quickie dealer, gave a slide presentation on his history with Quickie Aircraft. Jim Masal and Mike shared war stories after the presentation. Allen Thayer video taped the presentation and we may make it available on the QBA web site if we can figure how to do such a thing.
Overall, I think the fly-in was a success. Spud did a great job of organizing the event and our hats go off to him for his efforts! See you next year!
---
Articles from this issue:
Where was Sam hiding? - by Doug Humble
Livermore Report - by Jim Masal
Things I Did Last Winter - by Lynn French
Cowl mod increases cooling & MPH for Revmaster Turbo - by Richard Van Vleet
Heard on the Q-list - by Doug Humble
QBA on the Grow - by Doug Humble

---
A current QBA member may have one free ad per issue. It may be a maximum of five lines of type and will be edited to fit space available. Items advertised must be owned by the QBA member. The ad contact must be a member name. Ads will be run for two issues and then the ad must be resubmitted. [EDITOR'S NOTE: Please note that these ads may no longer be valid. They are included here only as part of the online archive.]
For sale: Flying Q2 with75hp Revemaster with all engine inst., Revflow carb and powder coated exh. 74 hrs since complete engine rebuild. Comes with two Terra TX720 transceivers, two Terra TN200 nav., one with glide slope, TRI NAV course deviation indicator, Pointer3000 ELT, TERRA 270 transponder, airborne vac pump, vac. artificiall horizon, 2 David Clark head sets, a hand held GPS & Bernie Warnke prop. Has toe brakes, reflexor, landing light & Wheelen nav. lights. Has cabin heater and vortex generators. 437 hr. on airframe and 426 hr. on new tires. Color is yellow with blue trim and blue interior. Forward opening canopy. Airplane runs & flies great. Lost medical. This is a great buy at $20,000. Located in Sioux Falls S.D. Contact Jerry Kennedy at: This email address is being protected from spambots. You need JavaScript enabled to view it.
For Sale: Superquickie 60HP to be parted out. Aircraft is currently flying. 336.9 total hours, never damaged. Oshkosh "Lindy" winner in 1989. Will be sold complete, including trailer, minus engine, prop, and spinner. Engine is a 1835 VW built from a Great Plains kit. 112.4 hours total time. Both can be seen on Great Plains website, at: http://www.greatplainsas.com/vwtsolan.html $9500.00 airframe & trailer. $4500.00 for engine, prop, & spinner. Tom Solan 208-640-6952 or This email address is being protected from spambots. You need JavaScript enabled to view it.
For Sale: Lopresti Style cowls for Q200's and very streamlined wheel pants for Tri-Q's. Contact Earnest Martin at This email address is being protected from spambots. You need JavaScript enabled to view it. or phone 828-230-5378 Photos may be seen at the QBA web site in Issue 111
Wanted: Q1 Onan cowling. Contact Keith Welsh at: This email address is being protected from spambots. You need JavaScript enabled to view it.
---
Mike Dwyer's View!
---
You can order a printed copy of Q-talk #119 by using the Q-talk Back Issue Order Page.