Q-talk 116 - Mar/Apr 2006 - index
Details

Category: Q-Talk Index
Published: Wednesday, 23 December 2009 16:24
Written by Doug Humble
Hits: 4754
Quickie Builders Association


Together we build better planes!

Mar./Apr. 2006
Issue Number 116
---
Sun 'n Fun 2006 certainly lived up to its name again this year. The Lakeland, FL weather was absolutely beautiful! For the entire week, we had daily highs in the mid 80's and lows in the 60's at night. The locals welcomed a rain that blew through on Saturday night, but that was the only precipitation for the week. We could not have ordered a better forecast for camping. It was great. That's enough about the "Sun" part of Sun 'n Fun; now on to the Fun.
Two crowd-gathering Q's flew into the event and were proudly displayed in the homebuilt aircraft section. Bruce and Joanne Crain flew their sharp Tri-Q200/Waddelow in from Enid, Oklahoma. Low clouds challenged Bruce and his navigator on this, their first, excursion to Lakeland. Perseverance and the promise of the warm Florida skies helped to keep them focused and they arrived safely. (Read more on Bruce and Joanne's trip on page 7)
The other Q, piloted by Roy Shannon, flew in from the east coast of Florida, near Daytona. His 20 hp Onan powered Quickie pulled in the gawkers. As you can see from the photo, Roy added a nice touch for those who looked inside his plane by displaying an information sheet. I'm sure his cost for the proverbial $100 hamburger had to produce some envious chuckles from those pilots with less efficient airplanes.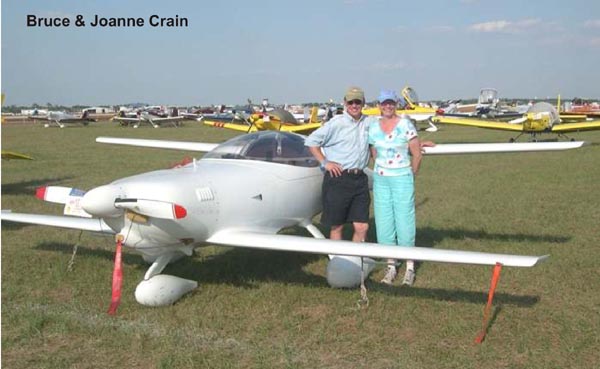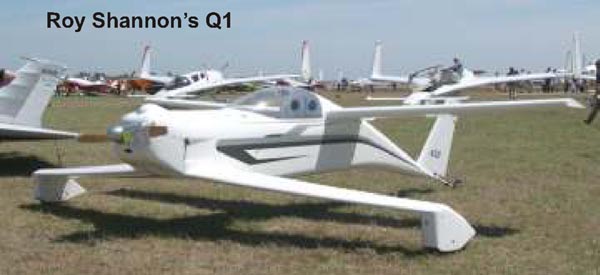 We heard that two Dragonflies were also on the field but they departed before we could locate them. I believe one was the same Corvair powered DFly that Chuck Ufkes flew in last year.
This year's Sun 'n Fun theme was a celebration of the 25th anniversary of the first space shuttle flight. Can you believe that the Atlantis first flew back in 1981? Wow, how time flies! Didn't some of you guys receive your Q kit back then?

We noticed many changes in the layout of the grounds this year. 28 new vendor spots edged out the "Hands-On" tents, which meant a farther walk to the educational opportunities.
Another very noticeable difference was the absence of the "Margarita-ville" impromptu bars that seemed to be taking over the last 2 or 3 years. Perhaps the close scheduling to Spring Break meant their services were needed elsewhere. Who knows? We did hear some rumblings that the sale of alcohol at the event was a sore spot with the EAA home office. That may have been true, or it may just be a guess.
LSA planes had a large presence at the show with much of the new vendor area being devoted to that class of aircraft. The dealers were saying that people were buying, too. With prices in the $50,000+ ranges, you have to wonder whatever happened to "affordable" flying. Perhaps what is considered affordable has changed for the new guys shopping. We learned that there are over 30 LSA aircraft on the market now with four receiving their FAA approval just the week before Sun 'n Fun.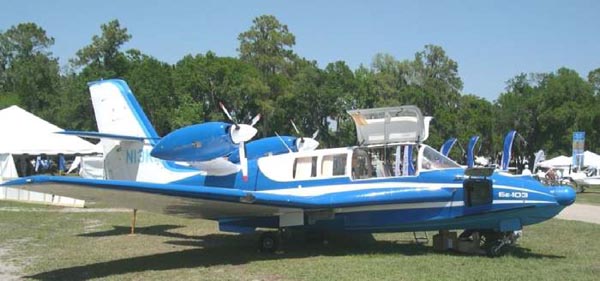 There was an unusual Russian-designed amphibian called a Beriev 103 parked near the new LSA area. The fuselage bottom was a normal hull-type structure, but there were no floats or outriggers on the wings. The plane settles down on the water with the wings as the "floats." Upon take off, the plane's design helps to raise the wings out of the water quickly so it can start generating lift. While looking at it, I wondered if the water conditions had to be just right to keep from digging in a wing upon landingand doing a summersault. After we arrived home, I did a Google search and found www.beriev-usa.com Ilearned that the max swells are just half a meter!
Jerry and Nancy Marstall alerted us to the Simple Green vendor found near the LSA area. The company was handing out free samples of their airplane friendly cleaner to anyone with a pilot's license...or anyone who knew a pilot.or anybody who could make airplane sounds! We visited there many times over the course of the week. We did this, of course, to collect enough product to do a complete and exhaustive test program and then share our results to you, the Q-Talk readers.
The company's previous product was actually reported to be corrosive to aluminum and NOT recommended for use on airplanes. According to the reps, the new version is safe on both aluminum and composite materials. Though the cleaner could be used straight out of the bottle, it was recommended that it be diluted with water. This actually helps to activate the cleaning properties.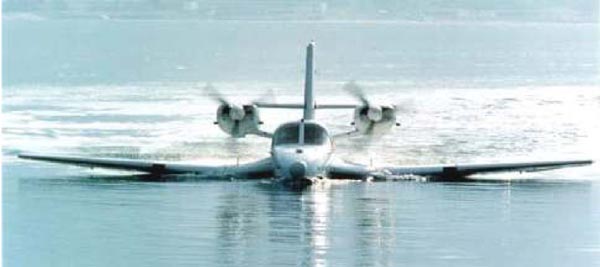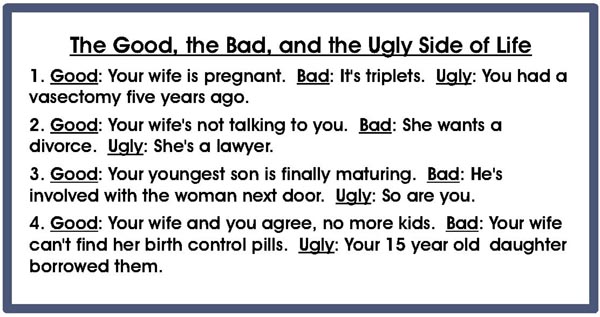 Engine Beat
The Jabiru folks displayed several models of their CNC'd aluminum engines. They were really good looking. This included their 180 hp eight cylinder version at 264 lbs for only $21,900! Perhaps some of you speed demons would like to pass on the 6 cylinder version and go for the 8 on your Q's. What would the cowling look like though? Considering its length and performance, folks may think you have got a small turbine under the hood.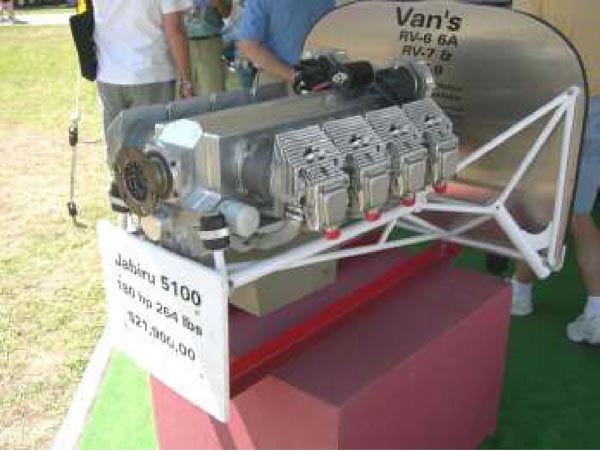 Pat Panzera led a forum on RevMaster's new R-3000 flat 4 engine featured in the Contact! magazine. Apparently a boat company helped fund the R&D. They had plans to mount the engine below a boat's floorboards, which would allow for more floor space. Bombardier (aka Rotax) bought the boat company so the new R&D engine project was halted. Despite the general similarity to the VW engine layout, the R-3000 only uses the same cam bearings as the VW with everything else being proprietary. Pat showed a picture indicating that the front bearing was beefed up considerably to take the stresses that the original VW was never expected to endure. Unfortunately, none of these engines are flying yet; so current aviation experience is not available. Apparently RevMaster does have a beta program with several builders in place so once those engines start appearing, we might be able to see what the engine is capable of doing. You can see this engine at RevMaster's web site at www.revmasteraviation.com. Look under the Products tab and click on Under Development.
There were a couple of interesting engines in the ultralight area. One was featured on an ultralight called a Phantom. This German rotary engine was originally developed for go-carts. It had to be geared down, but it produces about 40 hp at 7600 rpm. It is water-cooled at only 55-65 lbs! You can see more information about this engine at www.rotary-xr40.com
Another unique engine was the Rad-Cam radial engine with a twist. The twist was that the design used a neat cam instead of a normal crankshaft. They are claiming they get 40 hp at 3100 rpm and weigh only 51 lbs. They have a 60 hp at 2700 rpm at only 60 lbs in the works, too. You can find more information about these engines and their development at www.rad-cam.com
There was another Q2 on the field that was not mentioned earlier. Well, sort of. An EAA chapter had for sale a Q2xx fuselage, wing, LS1 canard, canopy top and a RevMaster cowling for $1,500 at the parts mart. The workmanship seemed a bit resin-rich. The trailing edges seemed true and there weren't too many noticeable hangar rash dings. Since it sold, we should have someone new joining the ranks.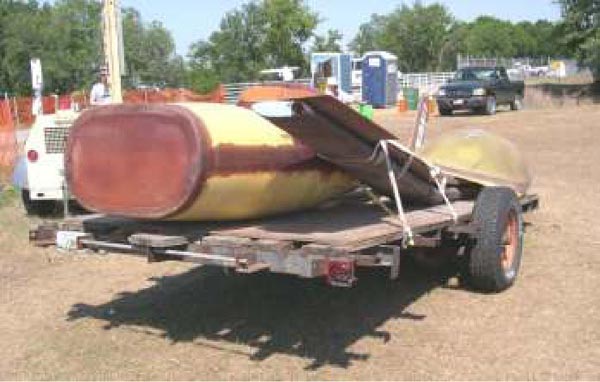 We had over 30 attendees at the two-hour QBA forum for spirited updates on projects and flight stories. Jim Masal kicked off the forum but could not stay long because he had a plane to catch back to Texas.
We had some new guys in attendance that recently acquired projects and were chock-full of questions. Even those who now have years of experience could remember feeling that way after receiving their kits or projects. One of the new guys pointed out that he is looking into a C85 with an O200 crank as a low cost alternative to a stock O200.
Other notables in the group included long time Quickie driver, J.P. Stroud, who shared a number of his experiences with the group. Mike Huffman also told of his days as a Quickie dealer in Missouri and of his 300+ hours of Q flying. He was nominated by the dealer network to flight test the prototype LS1 canard to determine if it, indeed, resolved the problems found with the GU. Mike recently located a Tri-Q200 project, but he may have to sell it to make room for yet another type of airplane.
Jerry Marstall talked to the group about his transformation from a Tri-Q2 to a Tri-Q200. In addition to this, he is also adding a new paint job and a newer version of his trademark double-hinged instrument panel. If you are unaware, these hinges permit him to swing the two outboard portions of the panel toward the center to give him clear access to the firewall. Jerry has been working for the last 3 years on his upgrade and he had some words of wisdom to share. "If you are planning to upgrade to the O200 from another engine, start collecting the parts early. That way it isn't as much of a shock to your bank account." He also suggested that you might not want to do everything at the same time like he has done. He feels it is taking him longer than it would if he had replaced just the engine and come back later for the other things.
Roy Shannon shared that he has almost 200 hours on his single placed Quickie now. He said he has flown it to many pancake breakfasts around Florida and has really enjoyed the experience. Roy is also working on an EZ project that he also hopes to trailer back and forth between the airport and his home garage/hangar.
At the end of the forum, a gentleman from England by the name of Farry told me he had completed a Tri-Q200 and found himself in the unnerving situation where a fast taxi test turned into his first flight. The good news was he lived to tell about it and was able to successfully land the airplane in one piece. He now has another Q project that he hopes to install a Jabiru. He was pleased to hear that several QBA members have already been down that road and have had good success. (Farry's Tri-Q200 is featured on the back page of this issue.)
The daily airshows drew large crowds again this year. Familiar names like Patty Wagstaff, Mike Goulian, Gene Soucy and Sean Tucker (in his Columbia) graced us with their aerial antics. New this year was the initial public performances of not one but two F22 Raptors. One of the F22's was flown by a Lakeland boy; Maj. Mike Shower. Mike actually learned to fly at the Lakeland airport and worked there as a lineman. Mike really showed off the F22's capabilities, including the vectored thrust. He took the plane up over a mile high and slowed it way down. He hung there on the thrust. Slowly he pushed the nose over and finally gained speed again. The F22 also joined the P51 and F15 for the heritage flight, showing off the technology leaders from three different eras.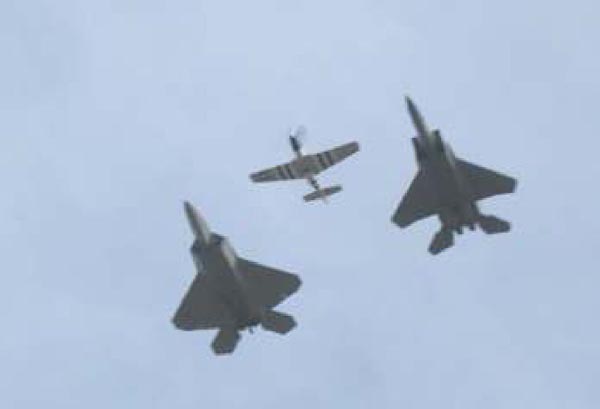 This year's night airshow and fireworks was one of the more entertaining. The 4 Aeroshell T6's flew in formation, spewing fireworks as their strobes flashed. Their props blatted the air over the crowd and really demanded their attention. Another act had a new twist on an old theme. Bob Essell flew a high wing Quicksilver MXL II Sport ultralight, with fireworks in trail. His daughter, Jenny, was on top of the wing as a wing walker. Now you don't see that every day! Their act got a little close to the ground and their fireworks caused several small grass fires at the west end of the runway. After a brief pause, while the fire crew quickly extinguished the flames, the airshow continued. Manfred Radius in his H 101 Salto glider performed a truly impressive act. He was towed up to 5,500 feet and expertly used every bit of that altitude to do elegant loops and rolls that would make some quiver even in the daytime. His technique made you think you were watching a deer effortlessly jump over a fallen tree. It was so graceful.
After the last plane landed, the sky was lit up by a fantastic ground-based fireworks display. Many ooohs and ahhhs were heard as the aerial bombardment exploded with whistles and bright colors against the black sky. A unique series of lower fireworks were also released. They looked like a water hose that was pointed into the air while spraying from side to side. Oooooh!
On a sad note, while attending Sun 'n Fun, we heard the depressing news about Larry Koutz's accident. At first we did not have any details, just that he went to the hospital. Later we learned of his death. You will read more about Larry in this issue of Q-Talk. He was a great guy and he will be missed. Our hearts and prayers go out to his family.
While we were visiting the ultralight area, Susie and I were also quite concerned when we heard the wail of fire truck sirens. We then saw a large black plume of smoke off the end of the ultralight runway, near one of the parking lots. Someone said they heard it was a brush fire. As it turned out, no planes were involved in the blaze. A 2005 Masarati parked in one of the grass parking lots was so low to the ground that its catalytic converter caught the dry grass on fire. A Boston firefighter was parking his car nearby when the fire started and he attempted to help. He called 911 and tried to put out the fire with his extinguisher. The winds were too high and the grass was too dry. He could not keep up. In all, 23 cars were involved and 9 were totaled. Fortunately, no one was hurt. The next day the paper reported that some of people with lost cars took it pretty well. You have to wonder, if in some cases, they were thinking, "Hey, it's a rental!"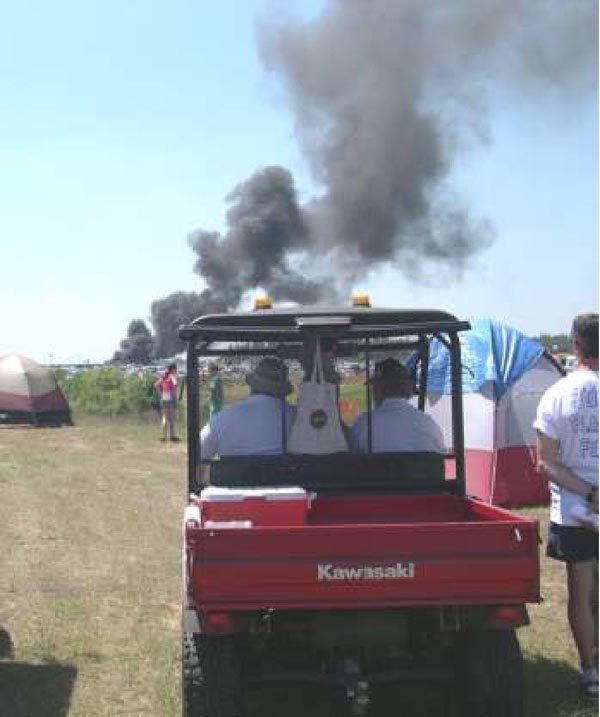 Why Didn't I Think of That?
A new product displayed at the fly-in considers the comfort of everyone in your family when it comes to eliminating cockpit noise while flying. Step aside Bose, Sigtronics and David Clark. Yes, even Spot can fly in comfort with "Mutt Muffs" for around $50. It was just one of those booths that made you smile while walking by.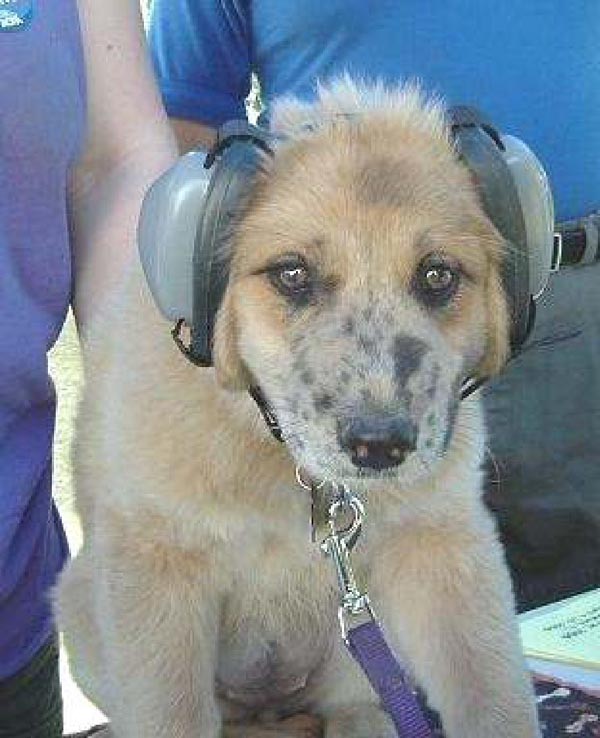 We were so glad we had a chance to attend the show this year. Beyond all the planes, vendors and wonderful Florida skies, were the great friends we got to laugh with, camp with, and reconnect with that really made the whole trip worthwhile.
---
Articles from this issue:
Where was Sam hiding? - by Doug Humble
Crains Seen Flying to Sun 'n Fun - by Bruce Crain
Another Tri-Q flies! - by Kevin Boddicker
Tandem Wing Field of Dreams - Sept 22-24 - by Doug Humble
(Runway 27 L - by Doug Humble
QBA on the Grow - by Doug Humble

---
A current QBA member may have one free ad per issue. It may be a maximum of five lines of type and will be edited to fit space available. Items advertised must be owned by the QBA member. The ad contact must be a member name. Ads will be run for two issues and then the ad must be resubmitted. [EDITOR'S NOTE: Please note that these ads may no longer be valid. They are included here only as part of the online archive.]
For Sale: Q2 project w/LSl canard. Assembled and ready to mount engine (not included). Tail dragger. Final finish, cockpit and instrument panel not completed. Photos available. $5000. 618-398-3393 Henry Hurd Belleville IL
For Sale: Lopresti Style cowls for Q200's and very streamlined wheel pants for Tri-Q's. Contact Earnest Martin at This email address is being protected from spambots. You need JavaScript enabled to view it. or phone 828-230-5378 Photos may be seen at the QBA web site in Issue 111
Wanted: Virgin Q1 kit. Any vintage. Must have metal parts & canopy. Ben Bosma 937-477-5238
Dynamic Propellor Balancing for Experimental Aircraft
Contact Jon Finley at 952-423-6391 or This email address is being protected from spambots. You need JavaScript enabled to view it. www.finleyweb.net/balance
For Sale: Q2 kit never started. No engine & no LS1 canard. Kevin Evans 952-322-1054
Wanted: Goodyear tires for a Q1 or other manf. tires' that are the same diameter as the Goodyear tires. JP Stroud 321-757-3553 or This email address is being protected from spambots. You need JavaScript enabled to view it.
Wanted: Searching for the Q1 that sold on eBay one year ago for $1800. Need 3-6 Oklahoma City metro persons to complete my 50% complete Q1 in exchange for limited flying privileges; or A&P pilot with foam & fiberglass experience. John Cowan 405-447-5551
For Sale: My father past away recently and I am helping my mother to sell his Q2. Here is what we know of the airplane. It has a RevMaster engine and the Hobbs meter shows 95 hours, but we are not sure it has ever flown. The original builder was Bill Brei of western PA. I have photo's that I can email you. The plane is located at the New Castle, PA airport in western PA. You can reach me at (570) 398-8365 or email me at This email address is being protected from spambots. You need JavaScript enabled to view it.. We are asking $12,000 OBO.
---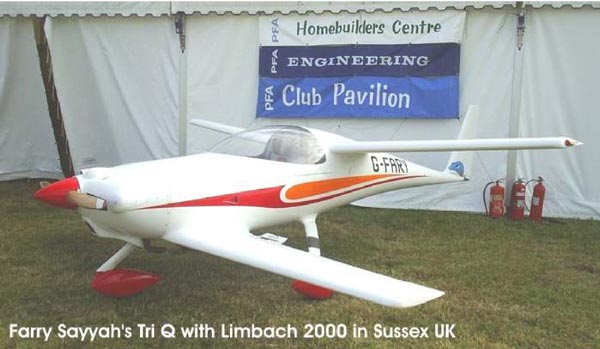 Farry Sayyah's Tri Q with LimBach 2000 in Sussex, UK
---
You can order a printed copy of Q-talk #116 by using the Q-talk Back Issue Order Page.