Q-talk 112 - July/Aug 2005 - index
Details

Category: Q-Talk Index
Published: Wednesday, 23 December 2009 16:24
Written by Doug Humble
Hits: 2329
Quickie Builders Association


Together we build better planes!

July/Aug. 2005
Issue Number 112
---
If the above statement is true, then I'm a girlie girl. I cried when my son was born. I cried when my daughter was born. I usually get choked up when my Hawkeyes win a big game. I always watch the movie The Rookie alone because I bawl my head off. And I found myself with tears in my eyes on two occasions at this years' AirVenture. On a third occasion I had to fight them off. Yes, you have as your editor a real emotional basket case!
The first teary eyed opportunity came on Monday, with the arrival of White Knight carrying beneath it Space Ship One (SS1). She lumbered overhead as she made a few passes and then landed; rolled out and came to a stop in front of me and the thousands who had come out to see Burt Rutan's latest famous creation. We found out moments later that Mike Melvill, the first civilian astronaut, had been at the controls of White Knight and in the right seat was Brian Binnie, the second civilian astronaut. I think we were all surprised to see Burt and his wife Tanya, pop out underneath in Space Ship One.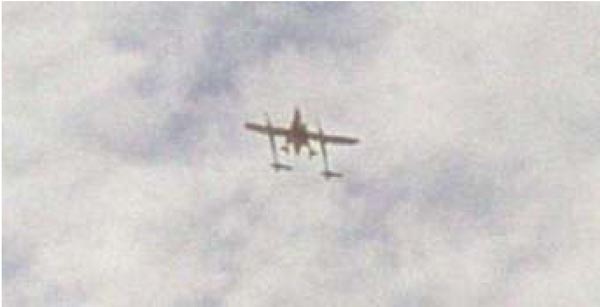 Tom Poberezny, welcomed the trio and their financier Paul Allen, to AirVenture.
Then as the famous people hopped in cars and went for a welcoming ride in front of the flight line, the ground workers slowly moved White Knight and SS1 to the center of AeroShell Square to be on display for the remainder of the week. This would be the only public viewing of SS1 before it is flown to Washington DC to take it's rightful spot in the Air & Space Museum along side other milestone aircraft like Glamorous Glen, the Spirit of St. Louis and the Wright Flyer.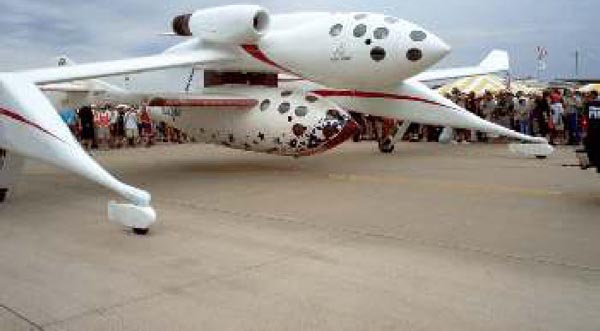 It was when they started to move the aircraft to the display area, that the emotion hit me. I was here. I was witnessing history. It was then that I wished my 5 year old son had been there with me. So I called him to share the moment with him. My wife had taken the kids to her parents house for the week and when I told him I was in front of Space Ship One, he turned to his grandpa and said "Daddy saw a space ship!" That's when the tears started flowing. Someday he'll be with me to share these experiences in person.
I stuck around for the speeches and the press conference near the display area. The question I wanted to ask Burt was if he brought his own tie downs or would he need to purchase some. :-)
I had planned on getting Burt's autograph. Weeks earlier I had downloaded some photos from the Scaled Composite web site and had arranged and printed them in just the perfect way on photo quality paper, leaving space for Burt's signature. Of course I had forgotten to bring it! I hung around anyway until the crowd had dissipated to just a small gaggle, and then I noticed Burt beginning to sign autograph's. That's when I noticed someone handed Burt their hat to sign. A Hat! I thought, That's it! I had wore my hat that has my "N" number stitched acrossed the front. It was perfect! I wedged my way up close and Burt finally reached for my hat and signed it. Wow! What a treasure! The grin on my face might have been bigger the day I first flew my Q2, but not by much.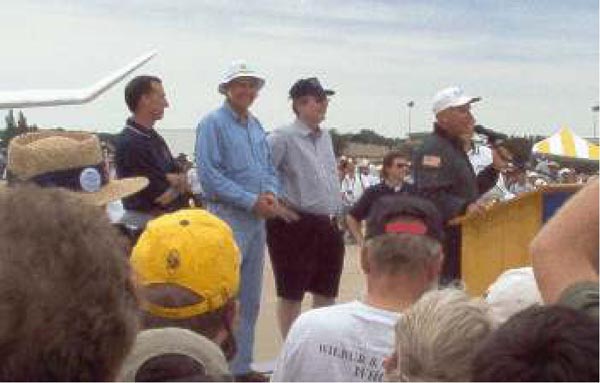 The second time my emotions got away from me was at the EAA Museum. I wandered upon Dick Rutan giving a recount of his historic, record setting, around the world, non-stop flight in front of the Voyager display. His story of how he and Jeana Yeager's struggle to fly this small flying gas tank around the world non-stop had the small audience captivated. He even admitted that they didn't expect to succeed on the first try. A look around the room after his story gave evidence I was not the only teary-eyed person in the crowd. Afterwards I got Dick to sign my AirVenture map. Another treasure!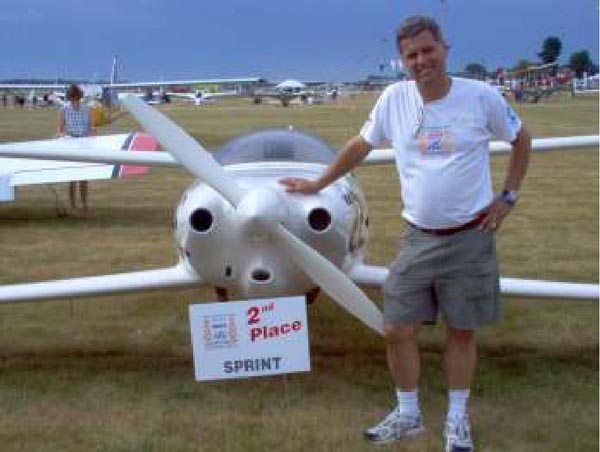 The third opportunity to become emotionally unglued happened while I was with Sam and Sandy Hoskins out on the flight line near Sam's Q-200. Sam had placed second in this year's AirVenture Cup Race in the Sprint Class and I was looking over his new wheel pants when Sandy asked me if I knew Sam had dedicated the race to his father, who had passed away earlier this year just before the Tandem Wing Spring Fling. I said no and then asked Sam if he had brought any pictures with him of his father. Sam just pointed to his cockpit where taped to the right seat back was a picture of the elder Hoskins wearing his WWII flight jacket. He had flown the race with Sam. It took all my faculties to control my emotions and keep from showing them to Sam & Sandy.

All in all it was a great AirVenture for me. I have memories and heirlooms to hand down to my children. I'm sure they will be telling their children how their daddy never stopped talking about the time he got the Rutan brothers' autographs at AirVenture 2005.
I believe real men do cry occasionally about things they are passionate about. And I believe I'm in good company. Even Burt Rutan shed a tear or two in the Discovery Channel's documentary of his team's try at the X Prize.
Other significant happenings at AirVenture.
As I mentioned earlier, Sam Hoskins placed 2nd in the AirVenture Cup. It is worthy to note that Sam was faster than 49% of the 45 entries in an classes. His average speed into a head wind was 200.31mph.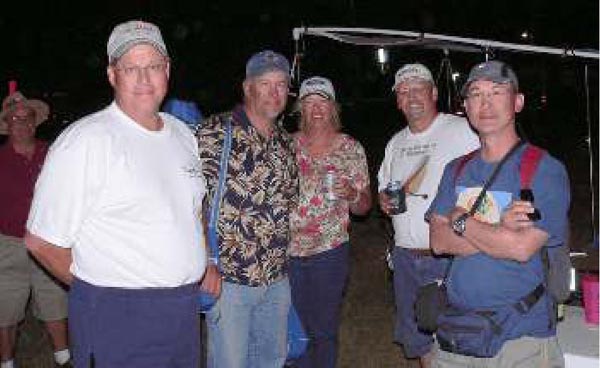 Including Sam's Q-200, we had a total of seven Q-birds at AirVenture. Those who flew in were Paul Fisher - Taylor Ridge IL(Q-200), Phil Lankford - San Marcos CA (Q-200), Lynn French - Broken Bow NE (Tri-Q-200), Bruce Crain - Enid OK (Tri-Q-200), Dave Dugas - Athol MA (Q2), I also wanted to note that the Hot Dog Roast was a success. We had 44 people attend and I must have calculated correctly as we had one hot dog that went uneaten! My thanks go out Kevin Boddicter who helped cook the dogs and to everyone who filled the donation can.
---
Articles from this issue:
Crash Report - by Doug Humble
Gear Leg Fairing Construction and Other Go-fast Ideas - by Doug Humble
Dual Pass Radiator - by Peter Harris
15th Annual Tandem Wing Field of Dreams Fly-In - by Jeff LeTempt
QBA on the Grow - by Doug Humble

---
A current QBA member may have one free ad per issue. It may be a maximum of five lines of type and will be edited to fit space available. Items advertised must be owned by the QBA member. The ad contact must be a member name. Ads will be run for two issues and then the ad must be resubmitted. [EDITOR'S NOTE: Please note that these ads may no longer be valid. They are included here only as part of the online archive.]
Wanted/For Sale: I am looking to buy a canopy for a Q1. I also have for sale a 2100 CC engine with cowling and new prop. T.T. 50 Hours. Glenn Hockenberry Carlisle, Pa (717) 243-1100
Wanted: Virgin Q1 kit. Any vintage. Must have metal parts & canopy. Ben Bosma 937-477-5238
Wanted: flying Tri-Q200, 235, or a nearly completed project. Charles Babb 719-532-1362
For Sale: Q200 airframe. Complete except for cowling, engine & engine mounts. Best offer. Al Bromann 715-277-3801
---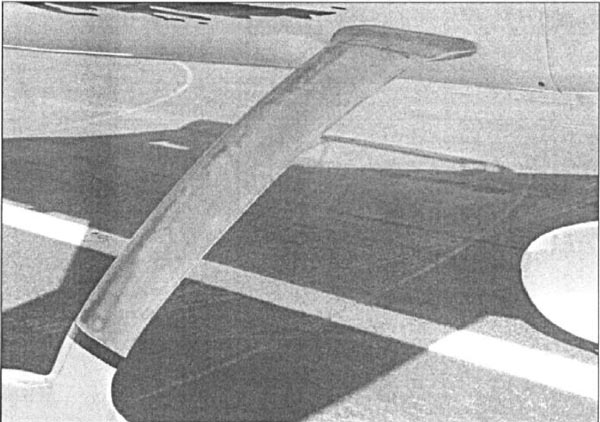 Tri-Q landing gear fairings discussed in this issue.
---
You can order a printed copy of Q-talk #112 by using the Q-talk Back Issue Order Page.