Q-talk 107 - Sept/Oct 2004 - index
Details

Category: Q-Talk Index
Published: Wednesday, 23 December 2009 16:24
Written by Dave Richardson
Hits: 5510
Quickie Builders Association


Together we build better planes!

Sept/Oct 2004
Issue Number 107
---
Ah, the state of Missouri, also known as the "Show Me State". On the weekend of September 24, 2004, Sullivan, Missouri certainly lived up to its nick name. The state showed us some Quickie airplanes, showed us some dear friends, showed us some building and flying tips, showed us some delicious food, and definitely showed us some fun!
Jeff and Jill LeTempt did an outstanding job hosting the annual Field of Dreams Fly-in at the Sullivan Re-| gional Airport. The beautiful facility, located near many restaurants, hotels, and businesses, was also the headquarters for a skydiving group. They provided bonus entertainment all weekend with both single and tandem jumps.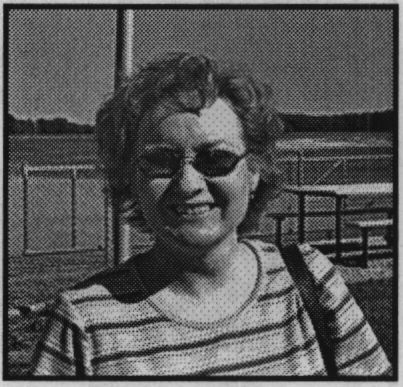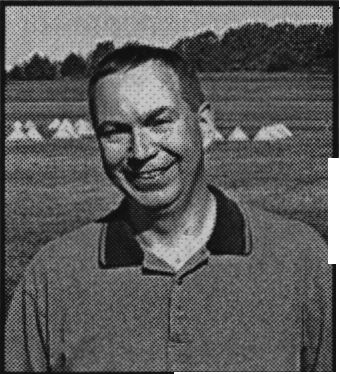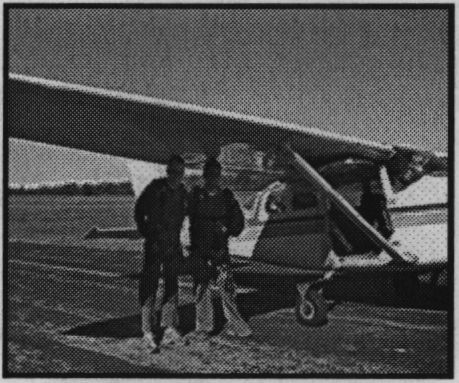 The reunion day, Friday, included a composite class taught by Jeff LeTempt and Charlie Johnson. We heard very good reports from those who participated. What a terrific opportunity for new builders to be introduced to the fiberglass world! The students were able to experience what it would be like to roll up their sleeves, mix up some epoxy and get their squeegees wet. Basic techniques were shown from which new skills could grow. This class was quite a service and I certainly recommend attending next year, if offered, if you need a little help in that area.
That evening everyone hustled to a large truck stop called "The Flying J". Its Country Market Restaurant offered a huge buffet. The business probably lost money that night, though, judging by the amount of food on our plates. Oh well, there is nothing better than a good meal with good friends. Following the feeding frenzy, Jeff announced the plans for the next day. Then eve-lyone returned to their hotels. At least at our site, many pilots gathered in the lobby to continue to share stories, etc., late into the night. We met again on Saturday morning for the free continental breakfast and to start the day with some good natured jokes.
The following planes were at the Sullivan fly-in:
Bruce and Joanne Crain - Enid, OK Tri-Q200
Sam and Sandy Hoskins - Murphysboro, IL Q200
Paul and Roy Fisher - Taylor Ridge, IL Q200
Doug Humble - Omaha, NE Q2
Terry Crouch - Bettendorf, IA Quickie
Earnest and Donna Martin - Arden, NC Tri-Q200
Keith Welsh - Marshall, IL Quickie
Lynn French - Broken Bow, NE Tri-Q200
David and Diana Bourque - Abbeville, LA Dragonfly MK-II
Charlie Johnson - Ogden, UT Dragonfly MK-II
Steve Laribee - Charleston, IL Dragonfly MK-II
Richard Werner - Chesterfield, MO Dragonfly MK-I
Jeff and Jill LeTempt - Rolla, MO Dragonfly MK-IIH and
Dragonfly MK-III project.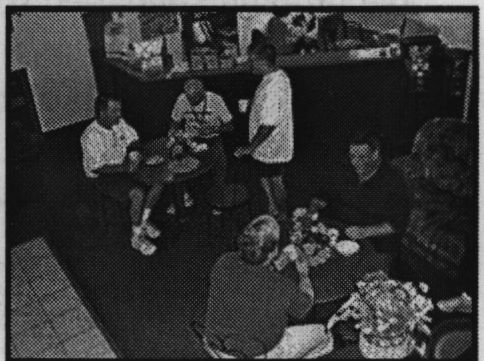 Keith Welsh returned to the Field of Dreams Fly-in after a few year hiatus. He just completed a rework of his instrument panel, making room for a new radio, with just enough time to test it before flying to Sullivan You can see from the photo that Keith did a top-notch job on the panel installation.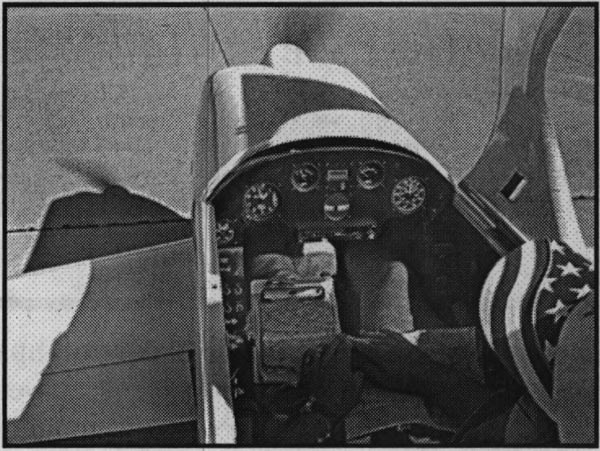 Another notable entry from the list of attending planes this year was Doug Humble and his Type IV VW powered Q2. Doug has been flying his plane for a couple of years; however, various circumstances have prevented him from bringing it to our fly-ins. One of the more recent issues was when the prop hub departed from the crankshaft while idling at the fuel pump. Obviously, he wasn't flying anywhere until that problem was resolved.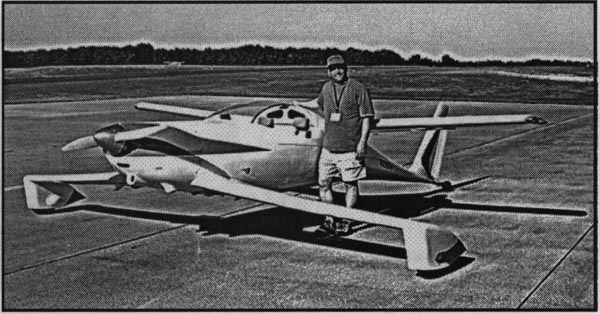 Doug purchased a flying Q2 and replaced the original Revmaster with the Type IV VW engine. This was done with the help of fellow EAA chapter member, Steve Bennett. The hungry builders at Sullivan circled Doug's Q2 like it was fresh meat as they begged for a sample the clever ideas contained inside. One of the modifications the original builders made led to a serious raised eyebrow from QBA founder, Jim Masai. Yes - it had a bigger rudder! I talked with Doug about his use of the rudder during takeoff and landings and he seemed pleased with the setup. Unfortunately, he does not have the perspective of how the plane flew before the enhancement so it's hard to draw any conclusions in the heated "rudder size" debate.
On a less controversial topic, an interesting feature of Doug's plane was an easy access spot for a trickle charger. This could be done by making use of a couple of wires located in the "map box" built into the passenger side of the instrument panel. The builders cleverly made the wires different lengths to avoid crossing the wires between the battery and the charger. Doug said he likes to keep the plane hooked up to the charger while he's at the hangar. He does this because he feels the output of the alternator is not quite sufficient enough to carry the loads during flight and to charge the battery at the same time.
Another unique item was the reflexor mechanism built into the center console. The builders designed their own geared box that rotates a shaft connected to a cam at the aileron pivot point. The picture does not do it justice for the amount of engineering that went into this device.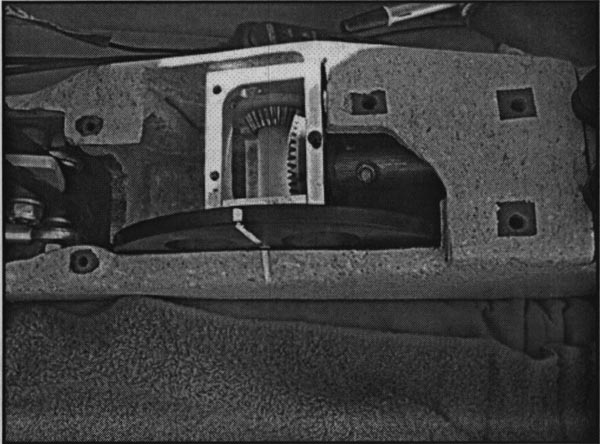 The plane also included a one-of-a-kind belly board. It had both forward and aft-hinged surfaces that inter
point. The picture does not do it justice for the amount of engineering that went into this device.
The plane also included a one-of-a-kind belly board. It had both forward and aft-hinged surfaces that inter
locked when retracted. It could be activated by pulling an over center lever. It uses the internal elevator torque tubes between the canard and the forward surface of the fuel tank. This was a very clever design and perhaps Doug will describe its workings in greater detail in a future issue of Q-Talk.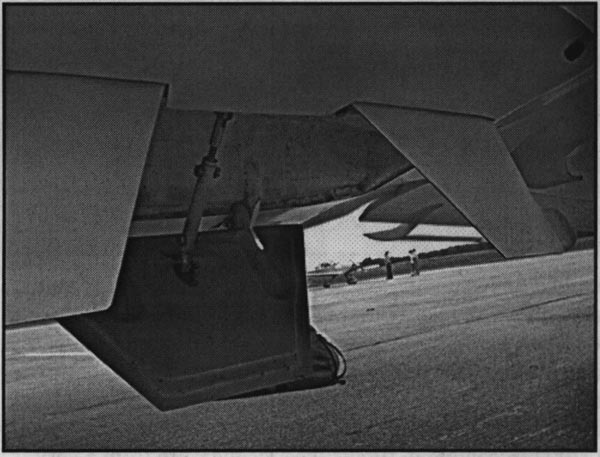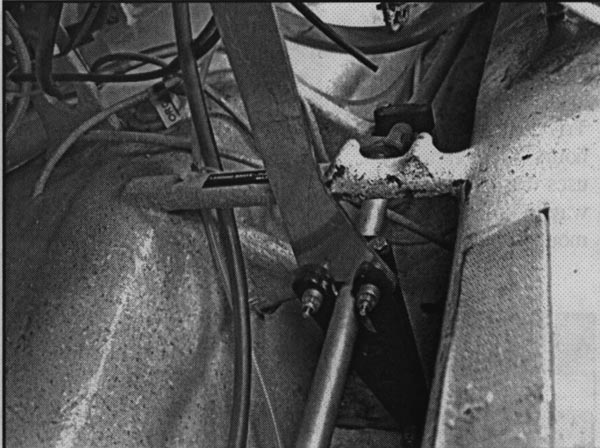 Saturday morning began with a pilot briefing and a 100 mile r#&e -er-ah-"performance run " with the following planes participating.
Sam Hoskins Q200 192.8 mph
Earnest Martin Tri-Q200 184.0 mph
Bruce Crain Tri-Q200 165.7 mph
Lynn French Tri-Q200 157.8 mph
Charlie Johnson D-Fly Mk II 136.1 mph
After all the runners landed, the Q folks met for a couple of hours to get caught up on the progress made on projects, to become acquainted with new participants, new ideas and to brainstorm about current problems.
I showed an example of how a printed circuit board could be made from a piece of clear acetate, info from a file on Jim Weir's website, a laser printer and an electric iron I also discussed how my plane flew very left heavy on the first flight and how I installed a trim device to help resolve the problem.
One of the new members present, Mike Leary from Georgia, had many good questions for the group. He recently purchased a single place Quickie project and felt he was venturing into uncharted territory. Every builder there could relate to his situation because they, too, had much to learn at the beginning of their projects. That is the advantage of a support group like the Quickie Builders Association. We can share information and take care of our own.
Alan Thayer brought smiles to all attendee's faces by wearing his traditional wild green shorts. He gave a brief report about the August Livermore, CA fly-in. Approximately 12 planes attended. Five Qs call that airport home. The beautiful site is located near many attractions and Alan recommended a visit next year.
It was highlighted that Bruce Crain was the first to install and prove the Waddelow canard on his Tri- Q200 with 60 plus hours. The plane also uses washers in a unique way to hold the motor mount bolts.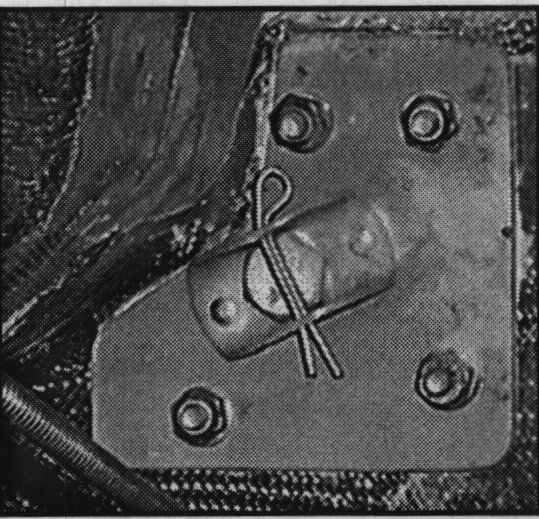 Interest was shown in the small step built into the tri-gear of Earnest Martin's beautiful Tri-Q200. His plane also had 150 watt heaters in his cockpit. Everyone was impressed with his clever ideas.
Lynn French's Tri-Q200 displayed very sporty RV 8 wheel pants and a well designed new carbon fiber spinner.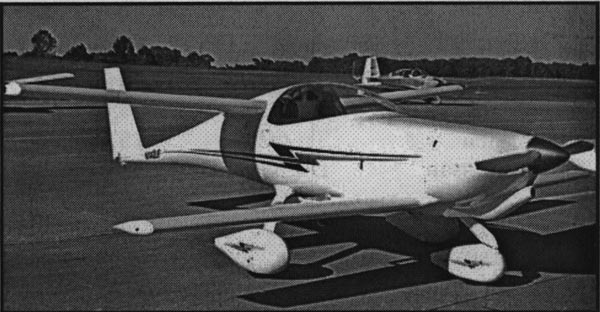 He had a problem with the old spinner and the replacement was terrific. He did a great job.
The very stiff and strong Australian tail spring on Sam Hoskins's fast Q200 was made for him by fellow Quickie enthusiast, John tenHave. Sam visited John in Australia in the past and proved that friends can be made and the Quickie design can be appreciated the world over.
During the QBA forum, several of the pilots who flew their planes to the event bolted for the flight line. They ran to rescue their planes from the idiot who decided to "taxi" hover his helicopter while enjoying the sights of the tandem winged airplanes. Many of these planes had their canopies open and some cowlings removed. At least one cowling was scratched in the calamity. It didn't escalate into "Runway Rage" but it easily could have.
At the close of the QBA forum, the Dragonfly guys met for their discussion. During this time, many of the Q pilots took builders up for flights to experience the plane's handling characteristics and to help rejuvenate their desire to finish and fly their own projects. These flights are always an important component of fly-in events. Everyone gains in the long run.
Lunch was catered at the airport by a charity supporting neglected and mistreated animals. Not only were their sandwiches good but we felt like our money was also going toward a good cause.
Paul Fisher brought a new toy to Sullivan this year. He found a miniature camera on ebay for $28.00 that could be mounted on the outside of the plane. Images could be recorded on inside the cockpit. He duct taped the tiny camera and 9-volt battery to the front of his left wheel pant and took off. Paul's son, Roy, acted as the director of the production and probably enjoyed telling Dad what to do for once. The pair shot some takeoffs and landings as well as aerial work of Bruce Crain's Tri-Q200 and Sam Hoskins Q200 birds while in flight. The results were from a very interesting perspective. You can download the video at http://www.quickiebuilders.org/wheelcam /wheelcam3.wrnv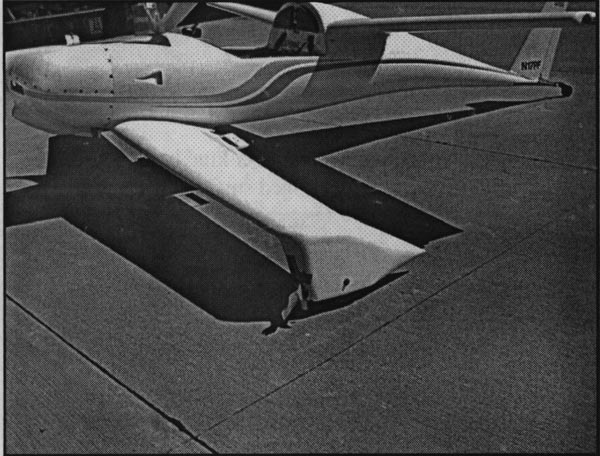 Vicki Knapp led several of the ladies into town to buy supplies for an organization called Operation Christmas Child. This worldwide outreach program focuses on poor, sick and suffering children overseas. Tiny treasure chests were made from shoe-boxes filled with small toys, school supplies, hygiene items, and other treats. The gifts would be given to children who have so little. From the photos you can see that the ladies packed a lot of smiles and love into the boxes as well.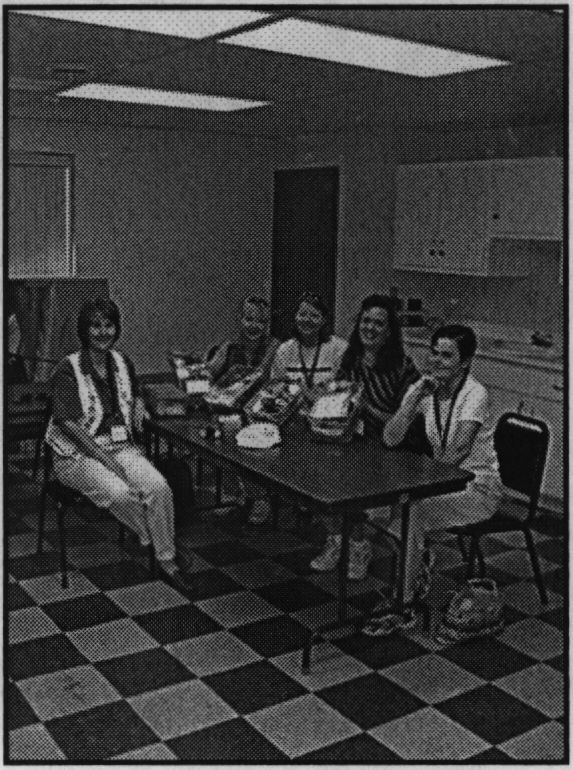 In preparation for his conversion from a Revmaster to a juiced up 0200, Jerry Marstall is seen here in prayerful homage to speed demon, Sam Hoskins and his very hot Q200.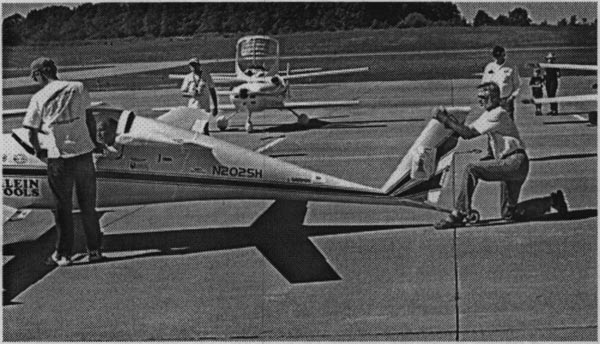 p>Tom Moore, past editor of Q-Talk and Q200 owner, flew from Texas in his RV 7 A and was seen tempting young Paul Fisher to the "dark side" with his aluminum craft.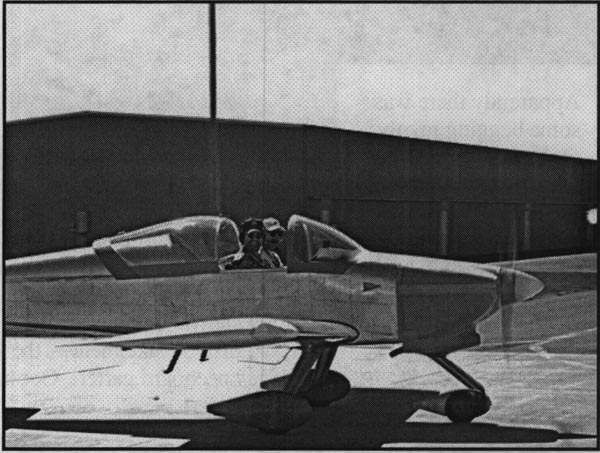 Darth Moore even took Princess Susie for a jaunt into hyperspace in his Aluminum Falcon and let the her take the helm for a short time. Upon their return, still dazed from the intense speed, the princess described the flight as being very stable and smooth. This was in stark contrast to the flight she had in the past with his young apprentice where a 90?+ rollout maneuver created a shriek heard around the galaxy and far, far away.
All Star Wars references aside, we were all thankful Tom could make it to the event this year. Paul was particularly pleased with a chance to fly Tom's plane as he is also building a RV. That was his first chance to be at the stick. I'm sure Paul went to school on that flight. Susie had a good flight, too, and really appreciated the chance to fly in another type of experimental aircraft.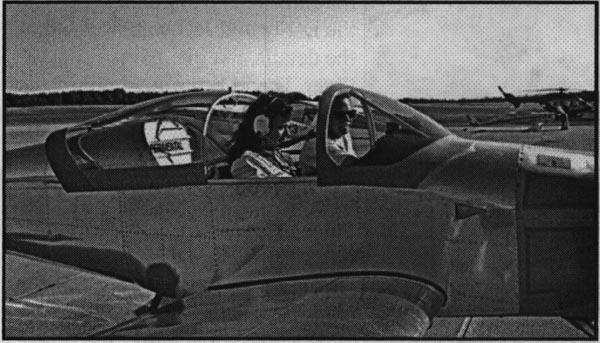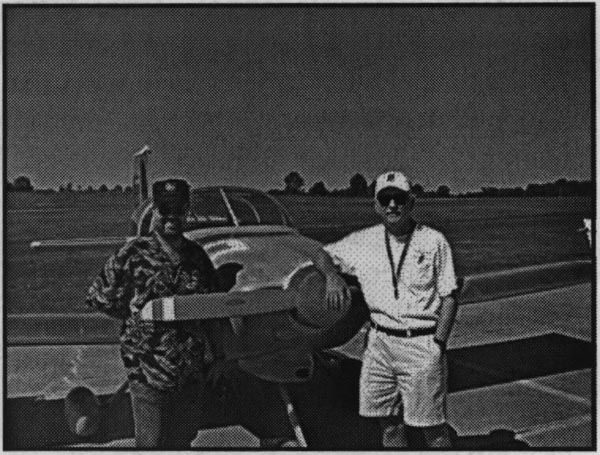 Tom also premiered new Quickie/Q200 T-Shirts for the group and they were selling briskly. Samples of the designs offered can be found on page eleven of this issue. Additional information and an order can be placed from his web site http://flvingtees. home .comcast.net
The banquet on Saturday night was held at the Sullivan Community Center. The facility was a perfect size for our group. The caterers' delicious meal really hit the spot for this hungry group of aviators. After eating, Lynn French was given the opportunity to be the first participant to introduce himself to the group. This was done in reaction to the funny situation last year. Lynn was to be the last person to introduce himself at that banquet. He was seated next to Sam Hoskins who surprised the group with an introduction that turned into a marriage proposal to Sandy. That was a tough act for Lynn to follow.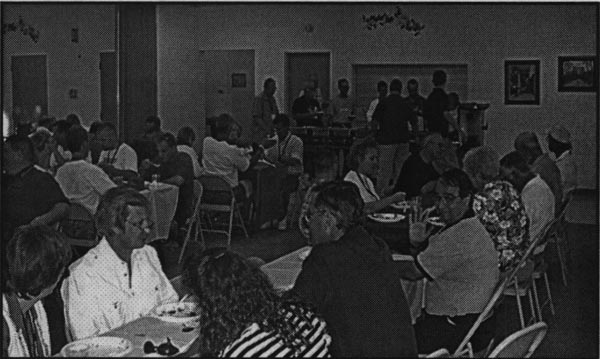 Sandy Hoskins stood up during the introductions this year and said several people asked if she was now expecting.
She said she was expecting... Sam's plane to go faster next year and that was as far as she was willing to take it. Sam had Sandy model a shirt that they had made for her. It read, "My husband is having an affair with a fiberglass bitch and he married me."
Sam Hoskins' mentor and former professor, Charlie Rodriguez, joined us for the events on Saturday afternoon and for the banquet that evening. He spent the morning at a KR gathering neaiby. We became acquainted with Charlie while at the Southern Illinois fly-in hosted by Sam last spring. Even though Charlie flew to the gathering in his spam can, he has become a "composite convert". Charlie has been helping Sam make a new main wing for his Q200. He has already cut foam and helped glass the surfaces. I'm sure Sam won't mind some assistance with the filling and sanding phase, too!
The following awards were given at the banquet: Quickies
Longest Distance Traveled to the Event in a Q
Earnest and Donna Martin High Time Q
Sam and Sandy Hoskins (over 1400 hours) Best Q Cockpit
Terry Crouch Best Overall Q
Earnest and Donna Martin
Dragonfly
Longest Distance Traveled to the Event in a Dragonfly Charlie Johnson
(Ogden, UT to Sullivan, MO in one day) High Time Dragonfly
Charlie Johnson (over 750 hours) Best Dragonfly Cockpit
David and Diana Bourque Best Overall Dragonfly
Jeff and Jill LeTempt
A note about the Dragonfly awards, Jill LeTempt did an excellent job on the interior upholstery made for Jeff's plane. This was her first attempt at a project like this and she obviously knew what she was doing. If you look closely, you can even see dragonfly images sewn into the armrest. Wow! Many Q builders wondered if she could also work on Quickies.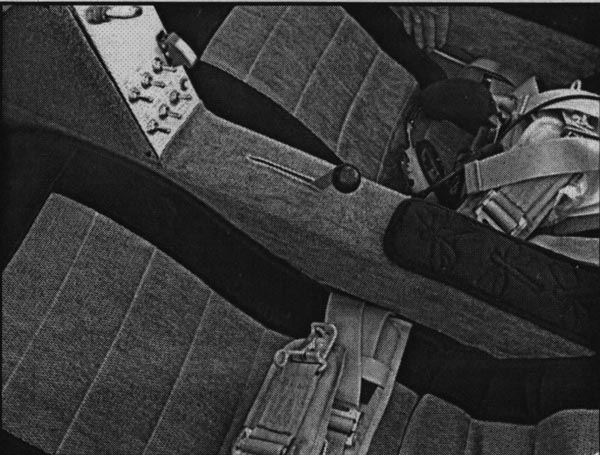 After introductions were complete, Jeff LeTempt announced that he was willing to host the Field of Dreams fly-in for 2005 again at the Sullivan facility. This was accepted with much appreciation and enthusiasm.
Using a TV inside the dining hall, Paul Fisher showed the WheelCam movies shot earlier that day. You could tell how impressed everyone was by all the Ooohs and Aaaahs coming from the crowd standing 4 to 5 deep around the television set.
On Sunday morning, I happened to catch the charming Bruce Crain in action as he found a couple of women to help him work on his plane. I understand there was another one running to get him a soda, too. What is it about UPS drivers that make women act this way?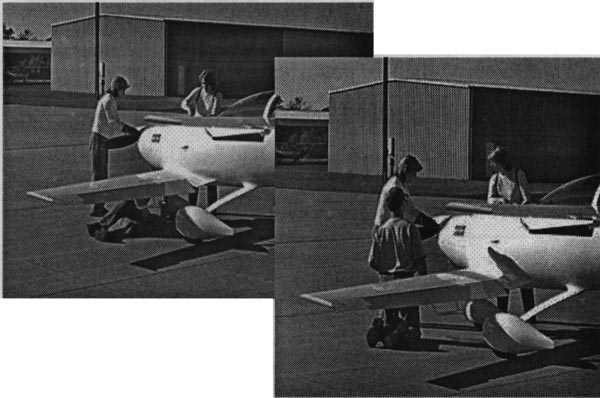 Apparently there was some begging involved.
Feeling the pressure of being out-done by Alan Thayer's traditional green shorts, Keith Welsh is shown making his own fashion statement? the kneeboard garter! Oooh, Baby!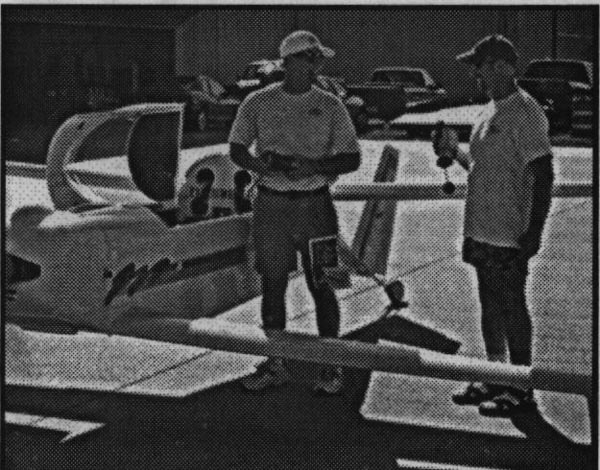 During that weekend, Jeff LeTempt shot some landings with his hoop-gear Dragonfly, gaining confidence in the landing sequence. The transition from tail up to tail down on the mnway is particularly tricky in the D-Fly and Jeff was working out the details. At one point, fellow D-Flyer, David Bourque, jumped into the right seat to give Jeff some pointers. One of the landings caused a few eyebrows to go up from the spectators and several gasps were heard. Apparently the plane veered hard toward the left and both Jeff and David worked to get it back under control. One, or both of them, must have added some hard right brake because we could see the right wheel on the hoop gear oscillate dramatically for a second or two. Everyone was relieved to see them both return to the hangar safely. When I asked Jeff later about the experience, he described it as a "shutter".
Be sure to look at the photo by Jim Masai on the cover of this issue of Q-Talk. Teny Crouch, in his award-winning Quickie, was doing a low pass over the runway. What a beautiful shot! As Jim noted, "You can almost see the spinach stuck in his teeth!" Jim has a wonderful way of turning a phrase, doesn't he?
It was a very enjoyable weekend and everyone was sad to see it end. Jeff and Jill LeTempt worked many hours to see that we all had a good time. Their effort paid off in spades! To our advantage, they must be gluttons for punishment because they have agreed to do it all over again next year. We can not wait to attend. Hope you will come, too. We are very fortunate to have people so dedicated to our group. May God bless them, their family and all of you.
---
Articles from this issue:
QBA on the Grow - by Dave Richardson
The Rub with Brake Lines - by Jerry Marstall
Tire Tracking - by Jerry Marstall
Simple Wheel Chock - by Doug Humble
Trailer Treasures - by Larry Covey
Oil Leaks - Gaskets - by Dave Richardson
New Quickie Shirts Available - by Tom Moore
Quickie Completion - by Roy Shannon

---
A current QBA member may have one free ad per issue. It may be a maximum of five lines of type and will be edited to fit space available. Items advertised must be owned by the QBA member. The ad contact must be a member name. Ads will be run for two issues and then the ad must be resubmitted. [EDITOR'S NOTE: Please note that these ads may no longer be valid. They are included here only as part of the online archive.]
FOR SALE: 0-200 key start engine 1523 SMOH; 3992 TT. Pulled from Q-200 after 1032 hours. Still ran well when it was removed. Includes 2 Slick Mags, Starter (needs new starter clutch) Asking $3,500. Contact Paul Fisher? This email address is being protected from spambots. You need JavaScript enabled to view it. or (319) 798-2282
WANTED: Engine mounts for Q200 and complete cowling Continental 0200 engine. Contact A1 Bromann, 9186 Island Rd. Harshaw, WI 54529 (800)746-3963. (10)
WANTED: Canopy for Q-l. Also, I need an Onan engine in good condition. Please contact Nathan Peck, Marthas-ville, Missouri. Call collect: (636) 433-3633 or email This email address is being protected from spambots. You need JavaScript enabled to view it.
FOR SALE: Completed Q2 N393JT with LSI canaid less engine and some instruments. Includes hydraulic disc brakes, reflexor, belly board, sliding canopy and sharp paint job. Flown for 12 hrs TT. John Touchet, fL (863)294-8540 or cat52 This email address is being protected from spambots. You need JavaScript enabled to view it. (8)
FOR SALE: Various Q items. Jon Finley
http://www.finleyweb.net/default.asp?id=144
This email address is being protected from spambots. You need JavaScript enabled to view it. (4)
---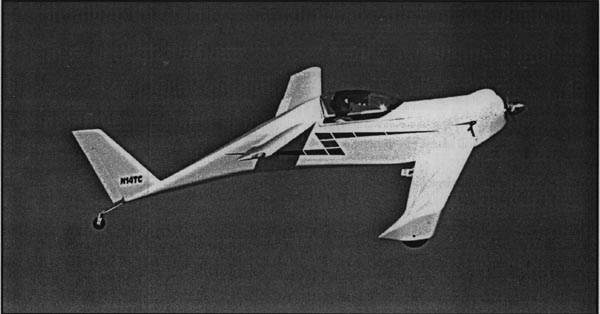 N14TC, you are looking good! While it may appear that pilot, Terry Crouch, in his Quickie is hundreds of feet in the air, he was only about 30 feet above the runway. Jim Masal caught this moment at the 2004 Field of Dreams Fly-In held in Sullivan, Missouri. It is a beautiful shot of a beautiful plane.
---
You can order a printed copy of Q-talk #107 by using the Q-talk Back Issue Order Page.