Q-talk 96 - Nov/Dec 2002 - index
Details

Category: Q-Talk Index
Published: Wednesday, 23 December 2009 16:24
Written by Dave Richardson
Hits: 2482
Quickie Builders Association


Together we build better planes!

Nov/Dec 2002
Issue Number 96
---
Perhaps you have noticed a gap in your builders log since you last worked on your project. Perhaps this gap could be measured in months or even YEARS! Well, you might be experiencing what has been affectionately called "The Wall."; I first heard this term used by marathon runners as they neared the end of their course. They would feel physically and mentally spent, doubting they would be able to finish the race.
Marathon runners may have various goals when they run. One goal may be to "finish the race." Another may be to "run the race as fast as they can and beat somebody else" or "beat their own best time." I tend to see the actual flying of the Quickie as a builder's "finish the race"; goal. I realize that there is a new "race" that begins after you are flying, but I'm on the "Pre-Flight" side of the curve so that's my current perspective. Fortunately, and unfortunately, there is no real "fast as possible/beat someone else" aspect to building your plane. It is fortunate because you can easily let errors creep into your project if you go too fast. It is also unfortunate because there is no real way to control when the "race" is finished. Imagine a marathon between point A and B where the competitors could set up their own course. Some may take the straight route and finish in hours while others might go "sightseeing" and finish days or weeks later. They may even get lost along the way and never make it to point B. When you build your plane per the plans, you have the chance to take the shortest route. When you make up your own "plans", you are almost guaranteed to see the sights and run the risk of taking much longer or not finishing at all.
The building process is fraught with many built-in factors for delay. They may take many forms or combine themselves as you progress through your project. Here are just a few examples:
1) Fear. Early in the building process you may have concerns (rightly so) about breaking something or ruining materials. You might even begin to ask yourself if the "Nay Sayers" are right when they ask, "You're going to fly in something you built?"
2) Money. I would be preaching to the choir if I reminded you that aviation is not a cheap hobby, so I won't. For many of us, the creativity in locating appropriate raw materials is veiy challenging and can cause delays when the coffers are empty.
3) Time. Building an airplane requires a significant amount of time and there seems to be less of to go around as the years go by.
4) Knowledge. There are many skills needed to build a plane and many have an aviation twist. While you may be proficient in a similar skill when working on an automobile, the aviation difference can almost make the process foreign.
5) Wrong Decisions. When tackling a new portion of the project, you may have questions as to proper procedures or you may make some wrong decisions from lack of experience. This can really lock up your progress since so many things are interdependent.
6) Physical. Perhaps your arms are so tired that you are saying things to yourself like "I just can't sand any more..." or other similar statements.
7) Lack of Family Support. Families and spouses need your time, too. If you just got an elbow to the ribs and a finger pointed to the previous sentence by someone reading over your shoulder, your life may be out of balance in the way you work on your project.
8) Scope Creep. We use that term in the software development business when you find you are spending a lot of time on things that were not in the original contract. If you are trying to locate the optimal location for your radome, you might be experiencing Scope Creep.
Jim Masai said that you will learn more about yourself during the building process than you will about building airplanes. When facing "The Wall," it is veiy important to learn what it takes for you to break down, jump over, go under, or go around it. The QAC manual states that only 20% of projects will be completed and I believe "The Wall" plays a major role in why so many projects languish.
As part of our interview for the "Pilot Profiles" published in each issue, we asked these successful builder-pilots if they ever hit the wall and what they did to overcome the problem. We have had almost as many different responses as we have had interviews. We have heard everything from "Oh YEAH! I have hit the wall." to "Not really" and everything in-between. We listened very carefully to their solutions. Here is a list from some of those who have successfully finished the race and are enjoying the rewards of flying their plane. Don't expect each item listed to be a 20-pound sledge for your wall. You may have to combine ideas to act as a wedge and hammer to help work through your obstacle.
1 Visualize your goal - Post photos of finished and flying planes like yours where you can easily see them every day, especially in your workshop. See the future - Be the future.
2 Read or re-read all the back issues of Q-Talk and Quicktalk. As you progress through your project,
your radar will be tuned to find solutions to problems you may not have been aware of earlier on in your development.
3 Remember you are not alone or the first one to deal with a particular issue. Use the combined knowledge of the group to your advantage.
4 Remember - given enough time and money, anything on the plane can be replaced. This is veiy freeing when you dread doing something.
5 Make a copy of the manual so you can have with you when you are away from the workshop and have some free time.
6 Mix Business with Pleasure - Use Grandma's Rule - do the tough job first and then move on to the fun stuff before you finish working for the day. Once begun - the job is half done.
7 Ask yourself, "How much better then good enough does it have to be?"
8 Make room for the rest of your life. Be sure to schedule time for your family as well as your project. When you are with your family, do not plan what you are going to do on your project.
9 Get up at 5 a m. and work several hours on your project before you begin your regular day.
10 Think of all the people you have told you were building a plane and what their reaction would be if you quit.
11 Have your project inspected by another builder / flyer. A visitor to the workshop can really help motivate you to clean up the hanger and complete items on the list before they arrive.
12 Put yourself in the presence of the plane. In other words, do not avoid going to the workshop. Be near the project until you can pick up that wrench or sanding block again. There are consequences to out of sight is out of mind.
13 Quit your whining and finish your plane. (Your mother sent that one in)
14 Think of all the time and money you have invested in the project.
15 Use your lunch hour as a planning session to prepare a game plan for your next visit to the workshop.
16 Celebrate milestones!
17 Avoid Analysis Paralysis. Follow plans. Do not chase ghosts that might not even exist. Build the plane and fly it. If there are problems, fix them.
18 When it comes down to it, these planes are like dirt bikes. Build it, go out there and have fun.
19 Remember that building a plane is not a huge a project when you consider it is made up of 1000 smaller projects. Manage the subprojects.
20 Attend fly-ins and get a ride in a plane similar to yours. Nothing pumps the soul like looking out of one of these birds and flying along at 175 mph. Feel what you are missing by not working on your project.
21 Focus on what is important. Make lists of what you need to do and use some sort of A-C or 1-5 rating system to help you prioritize your efforts.
22 Ask yourself if what you are wasting time on helps keep you in die air and if it is required by the FAA.
23 The more you work on your plane, the more you want to work on your plane. The more you want to work on your plane, the more you want to finish your plane.
24 Develop a mentor relationship with another builder/ flyer. Experience is priceless.
25 Involve your family and make it fun.
26 Import some help when you need it. Many hands make light work and when those hands have done hundreds of layups, you are bound to accomplish something quickly.
27 Ask for help. For many lone wolf types, this can be a hard thing to do. Do not consider asking for help as a sign of weakness, but rather a sign of intelligence because you understand your limitations and realize you can tap into the experience of others who have been through this challenge before.
28 Email or call other builders/fliers on the phone to get advice.
29 Involve others in your project diat have a positive attitude and respect your dream.
30 Do not forget to make it serviceable. You may have a neat feature but it could be a real maintenance problem.
31 Schedule a regular time to work with others on your project. Sometimes it is easier to just work on the plane than to have to call off.
32 Join a building group that meets regularly. Work in a common area and socialize as part of your regular pattern.
33 Hunt in packs - help do layups for others in a small group of fast glass builders. The owner of the project would act as the supervisor and everyone else would work as laborers. As you move from project to project, everyone would have a chance to play bodi roles.
If you were paying attention, you noticed that almost half of the suggestions involved other people. If there was one "Wrecking Ball" idea to break "The Wall" down, it was to get others involved. The QBA or the EAA is a good place to look assistance. Perhaps a friend who restores cars would be interested in learning how to build a plane. If you are having trouble making progress your project, your first goal should be to find someone to help.
We hope that at least one idea from the list above will help you break through your wall and successfully complete your Q. Remember, the advice came from Q builder/pilots who have finished the race and are flying their planes. Together we build better planes.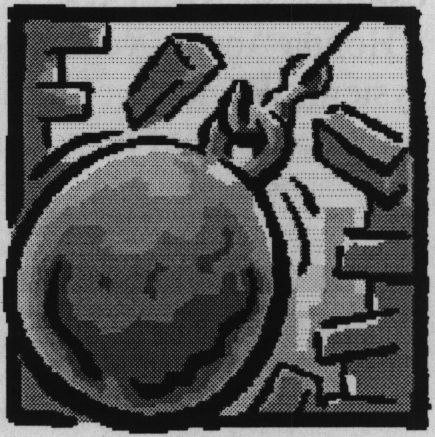 ---
Articles from this issue:
New Website Feature - by Dave Richardson
Featured Pilot - Jerry Marstall - by Dave Richardson
The Quickie Airfoils - by Mike Shuck
Wing Tips - by Bruce Crain
Safety Wire Hose Clamps - by Terry Crouch
Tri-Q Nose Gear Caster - by Dave Richardson
QBA On The Grow - by Dave Richardson

---
A current QBA member may have one free ad per issue. It may be a maximum of five lines of type and will be edited to fit space available. Items advertised must be owned by the QBA member. The ad contact must be a member name. Ads will be run for two issues and then the ad must be resubmitted. [EDITOR'S NOTE: Please note that these ads may no longer be valid. They are included here only as part of the online archive.]
FOR SALE: Revmaster with A1 Page 75 hp heads including glass plenum, exhaust, intake & Posa carb. 200 TT. Removed to install Jabiru. Make offer. Cowley prop cut down 1 inch-$150. Hegy 50x50 prop for Revmaster $150. Paul Spackman This email address is being protected from spambots. You need JavaScript enabled to view it.
FOR SALE: 3 3/8" Attitude Gyro(Artificial Horizon), 3 3/8" Directional Gyro(Vertical card compass), vac pump, filter, regulator, vac gauge and all hoses to install on a 0200. From the instrument panel to the engine. $800. 1/2 half price of new. Contact Bud Stains This email address is being protected from spambots. You need JavaScript enabled to view it. or 812.985.2527 (12)
FOR SALE: Q-200 N1711Q Dual Nav, with Glide slope, Transponder, IFR, Annual to 7-02. Hangared Pontiac, Michigan. Contact Harry Scarfe, This email address is being protected from spambots. You need JavaScript enabled to view it.
FOR SALE: 22.6 hp Onan (118 hrs), Q1 instruments and parts. (Donated rest of plane to children's museum.) Best offer. Ted Kibiuk, NY (315) 896-2004 after 8:00 p.m.
---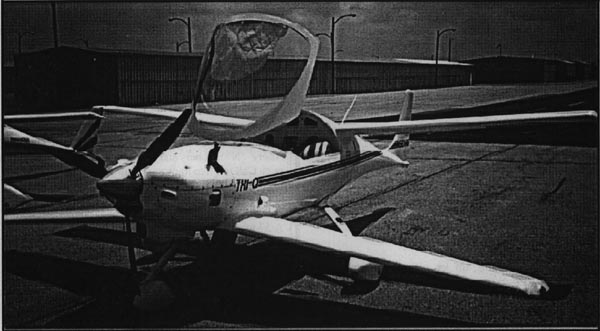 Jim Doyle's C-85 powered Tri-Q cooling down after a summer flight. Note the sun shield inside the canopy.
---
You can order a printed copy of Q-talk #96 by using the Q-talk Back Issue Order Page.