Q-talk 95 - Sept/Oct 2002 - index
Details

Category: Q-Talk Index
Published: Wednesday, 23 December 2009 16:24
Written by Dave Richardson
Hits: 2722
Quickie Builders Association


Together we build better planes!

Sept/Oct. 2002
Issue Number 95
---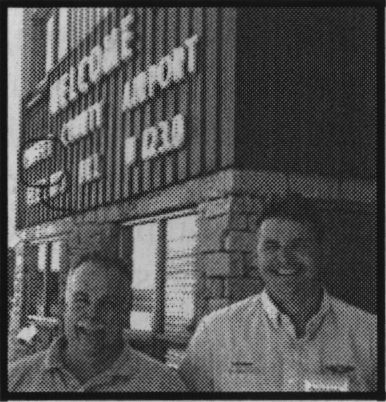 Wow! What a fabulous fly-in! We are very pleased to report that the new home for the Tandem Wing Fly-In held September 27-29, 2002 at the Coffey Co. airport, near Burlington, KS, was a fantastic choice. Spud Spornitz and his friend, Dale, really did their homework on this relatively new, 1989, airport. The current manager, Darren Isch, was sincerely happy to provide the facilities for our gathering and bent over backwards to meet our needs. The FBO even hosted a free breakfast for the larger than usual group of campers before the Chuck Wagon arrived. Air-conditioned rooms were available but most of the forums were held in a very large open hangar.
Since Spud knew that some people were planning to arrive on Thursday, he scheduled additional forums. MIG and Oxy/Acetylene equipment plus welding instructors, like Terry Bailey, were available to help builders sharpen their welding skills. Engine mounts were fabricated before the weekend was over. The Corvair guys brought examples of their engines to drool over and everyone had a chance to try their hand at flying X-Plane simulations.
The Friday evening meal was held at the Beto truck stop about 7 miles from the airport. Rumor had it that the food at this particular truck stop was some of the best in the country and our dining experience confirmed that story. Everyone really enjoyed the reasonably priced seafood buffet. The private dining room nicely accommodated our crazy group, too.
Speaking of food, we were pleased that Bob and Pat Home could set up their Chuck Wagon at our fly-in again this year. There were constant lines of people at their trailer, impatiently waiting to sink their teeth into a tasty breakfast or a juicy hamburger. Their son, Steve, joined them on Saturday for the first time. Paul Fisher gave him a ride in his Q200. He loved it. In fact, he made his parents promise to include him in the plans for the next year. The Homes have become very special friends of the Quickie/Dfly community. One of the ways the family shows their support to our group each year is by donating a cash door prize for the banquet. We certainly appreciate their part in the festivities.
The Quickie forum was lead by the one and only, Jim Ma-sal. After introductions, each pilot told pertinent information about their plane. Building hints were shared and problems examined. The Q's that flew into the event were actually outnumbered by the Dragonflys this year, 4 to 7. Sam Hoskins suggested purchasing a book that focuses on the elimination of drag. It is called Speed with Economy - Experimental Aircraft Performance Improvement by Kent Paser. It can be ordered from EAA or Paser Publications, 5672 West Chestnut Ave., Littleton, CO 80128. $24.95 ($3.50 shipping)
We had an unusual interruption during the Quickie Forum. Lloyd Latch, from the FBO at Ottawa, spoke briefly to the group. Lloyd said, "If it doesn't work out here, the Friends of Ottawa would sure like to have you come back." Jim Masai jumped in and asked "Are you selling much gas at Ottawa today?" Lloyd responded, "No"; and moved on to talk with Spud. Several people who drove by or flew over the Ottawa airport said that there was only 1 airplane, at the most, on the field. It appears that Tony LeMaster, who manages the Ottawa FBO, was playing politics with the local government and we were the pawns. The way I see it, Ottawa and Ottawa Airport lost in the deal. Burlington, Coffey Co. Airport and WE came out as the winners.

Drew Aurigema from Oak Hill, Florida gave a presentation on his "Dragonfly on Steroids"; called the "Raptor". He used the Roncz airfoil for his canard instead of the more typical GU. He described the flying characteristics of the Raptor as being "a handful." To help prepare for flight-testing, Drew used the programmable flight simulator called X-Plane. You can learn more about X-Plane by going to http://www.x-plane.com He showed a wire model of the Raptor on a computer monitor and demonstrated how he could adjust its characteristics using X-Plane's modeler. He felt the simulator was a fair representation of his flying experience. That is not too bad for a $30 software package. Additional information about Drew's Raptor can be found at http://www.angelfire. com/on/dragonflyaircraft/ Drew and a partner also un-molded a Raptor's fiberglass tricycle gear bow that they laid up just prior to the fly-in.
The Coffey County Republican newspaper sent reporter Becky Reeves to do a story on the fly-in. She interviewed Sam Hoskins about building and flying his plane. Paul Fisher gave her a ride in his Q-200 in an effort to obtain some aerial photos. To be able to aim and focus her camera, she had to shoot across Paul while he held the plane in steep left-banked turns. If you are reading this as a classic recipe for motion sickness, you are right. Thankfully she said something to Paul about feeling a little queasy and they landed immediately. There were varying descriptions of the reporter's shade of green as she exited the plane. Let's just say that Paul got them on the ground in the nick of time. Despite her near "Sick-Sac" experience, she wrote a very positive account of the event.
Bob Nuckolls captivated the largest forum of the day with his practical, yet well thought out, approach to aircraft wiring and design. Bob's underlying theme is that amateur builders have the latitude to install advanced concepts into their planes and given the right education, can produce far superior designs over their certified counterparts. Bob brought up the example of the modular switching systems that you can buy for your instrument panel. He said the basic idea is good, but they used self-resetting circuit breakers. He said you have to ask yourself how many times you want a circuit breaker to reset on a device that is shorting enough to trip a breaker. I strongly recommend reading his book, the AeroElectric Connection. You can learn more about Bob's writings at http://www.aeroelectic.com
There was quite a stir when Rich Goldman arrived in his Norton rotary powered Dragonfly Mk II. I will have to say that I had never seen a more densely populated instrument panel than his, short of a 747. He still had few issues to resolve but the engine sounded very smooth. Rich took twenty years to get to this point in his building / rebuilding process. He had only been flying it in its current configuration for two months.
Alan Thayer was airboss for the performance run again this year. Sam Hoskins in his Q-200, Charlie Johnson in his D-Fly Mk II and Terry Crouch in his Quickie participated. The pilots made a right-hand turn after take off and the clock was started as they crossed the runway at midfield. A strong headwind on the third leg seemed to negate any advantages that the new timing procedure would have provided, as speeds were very similar to last year's numbers.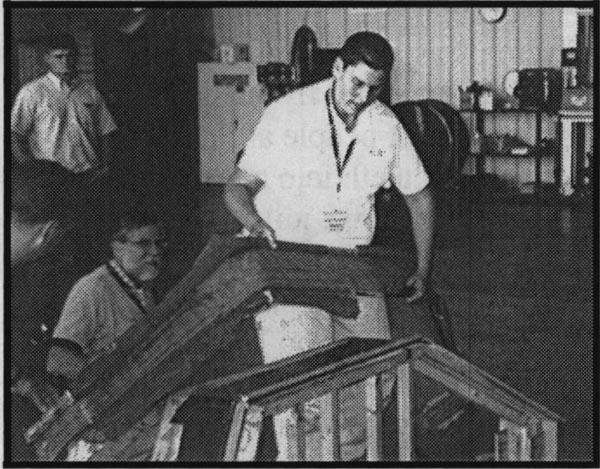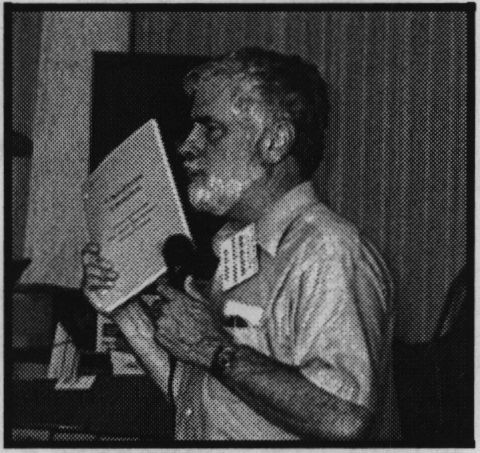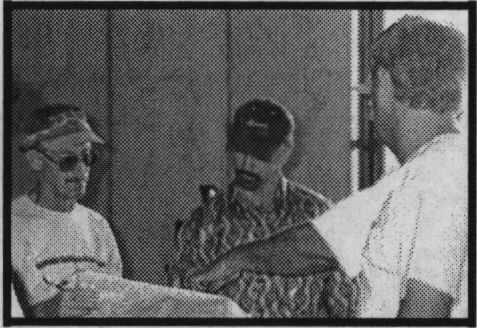 After the performance run, the timekeeping crew was treated to an up close and impromptu demonstration of the awesome high and low speed capabilities of Terry Crouch's Quickie. Terry first aligned himself with the 15+ mph wind and the runway. He screamed past our position well in excess of 130 mph. He then slowed down near the end of the runway and performed a stalling 180-degree turn in what seemed to be no wider than two or three wing lengths. He headed into the wind at pitch buck speed and bobbed his way down the runway at a pace that did not seem much faster than a brisk walk! Sean D. Tucker himself would have been proud of that Harrier pass! I am sure that Terry's demonstration looked good from the hangar, but being right underneath him made us feel like we were part of the flight.
QBA member Paul Buckley certainly deserved an award for traveling the farthest to attend the fly-in. Paul lives in Cheshire England. He had been communicat-I ing with Bruce Crain about Tri-Q and Waddelow details via the Internet. Paul is very interested in any data related to the Waddelow canard because the British version of the FAA will require documented flying examples of that ca-1 nard before they will let him fly. Paul flew to the Crain's home in Oklahoma and they drove to the fly-in together. While talking with another QBA member at the fly-in, Paul was told that the reason they had not had time to work on their plane was because their older farm required a lot of work. He asked, "Oh, how old is the farm?" The reply was 30-40 years old. Paul said he had similar problems with his farm but his was 250 years old!
The wives and significant others gathered on Saturday afternoon in one of the air-conditioned rooms. They produced a very creative scrapbook with photos of past Kansas' fly-ins, under the leadership of Vickie Knapp and Jill LeTempt. Vickie brought fancy scissors, hole punches, paper, stickers and markers from home to complete the job. The girls enjoyed getting to know each other and creating a book of memories. Well done, Vickie.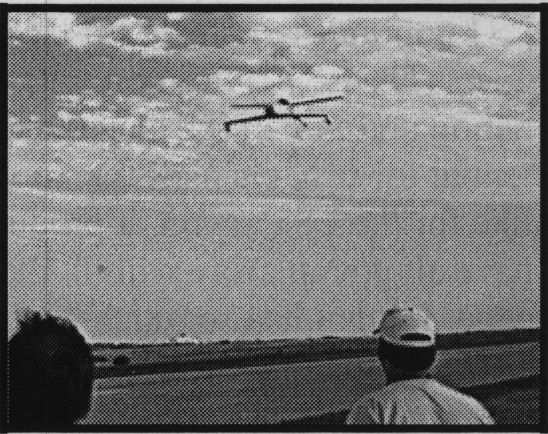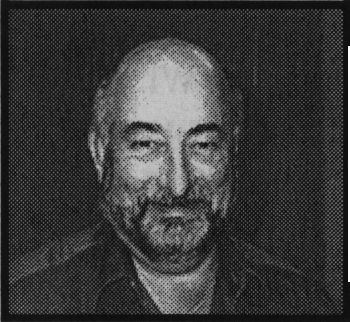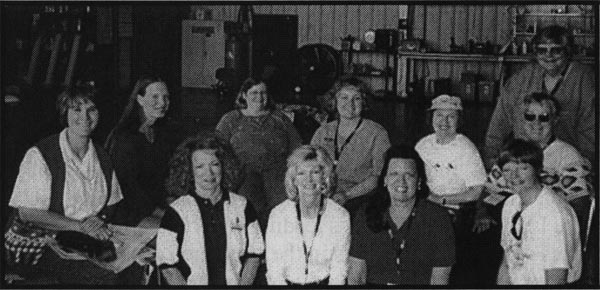 A banquet was held Saturday night in a community hall about 3 miles from the airport. The catered food was very good, definitely prepared a notch or two above the usual fare. Once the cheesecake forks were laid down, Spud and Jim began the proceedings with the traditional introductions, optimistic projections of completion dates, "Best of" awards and door prizes. Pat Panzera announced that Spud Spornitz will be the returning as the editor of the Dragonfly newsletter at the end of 2002 and Pat will become the new editor of a magazine called Contact! As part of this new venture, he hopes to use the "Not for Profit" status of Contact! to satisfy a need he has seen in the aviator/ homebuilder community, allowing pilots to help pilots. He intends to create a process where the spouse or family of a departed builder or pilot (ie. Fallen Pilot) can get assistance in liquidating project materials and airplane parts. We wish you all the best, Pat.
The following names were chosen as the Quickie winners:
Best Overall - Terry Crouch
Best Interior - Paul Fisher
High Time - Sam Hoskins
Longest Distance - Jerry Kennedy
Throughout the banquet activities, Spud and Jim drew tickets for door prizes. Just about everyone won at least one prize. The big winner for the evening was Mike Brown. Mike won the first and last prize as well as 6 others in-between. What are the odds of that? It was a mystery how he got so lucky. The MCs soon grew tired of hearing Mike's loud "YEEAaah!" each time his number was called and witnessing his proud strut to the front of the room. In exasperation, a few of his prizes were actually lobbed in Mike's general direction instead being presented with a smile. The crowd was in stitches with laughter. It really made the evening a lot of fun. Congratulations, Mike!
Throughout the entire weekend, everyone felt at home at Coffey Co. and appreciated the FBO's warm hospitality. If you were unable to attend the fly-in this year, start saving your pennies for 2003 because it will be sure to please. Thank you Spud and Darren for the hours of work required to ensure that everyone had a good time. Nice job!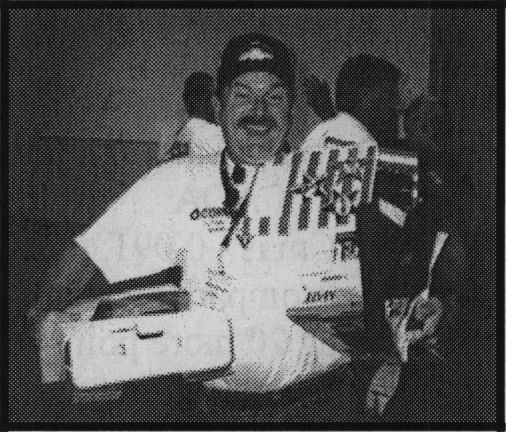 ---
Articles from this issue:
CockPit Paint - by John ten Have
Featured Pilot - Jim Masal - by Dave Richardson
The Quickie Airfoils - by Mike Shuck
The Run for One (thousand) - by Paul Fisher
Aligning Glass Fibers - by Terry Crouch
Breaking Ground - by Jim Patlllo
Jabiru 3300 Installation - by Paul Spackman
Parts and Supplies Page - by Mike Conlin
Aluminum VW Case Installation - by Steve Kulczycky
QBA On the Grow! - by Dave Richardson
---
A current QBA member may have one free ad per issue. It may be a maximum of five lines of type and will be edited to fit space available. Items advertised must be owned by the QBA member. The ad contact must be a member name. Ads will be run for two issues and then the ad must be resubmitted. [EDITOR'S NOTE: Please note that these ads may no longer be valid. They are included here only as part of the online archive.]
FOR SALE: Q-200 N1711Q Dual Nav, with Glide slope. Transponder, IFR, Annual to 7-02. Hangared Pontiac, Michigan. Contact Harry Scarfe. This email address is being protected from spambots. You need JavaScript enabled to view it.
FOR SALE: 22.6 hp Onan (118 hrs), Q1 instruments and parts. (Donated rest of plane to children's museum.) Best offer. Ted Kibiuk, NY (315) 896-2004 after 8:00 p.m.
FOR SALE: Q1 aprox 70% complete. Have fuselage, wings, like new Onan and 100 hp McCulloch 4 cyl. engine. $1,700. Tom Killingbeck, Dallas, TX (972) 293-0268 (6)
WANTED: Un-mounted Q2 canopy. Dave McConahy 918-369-2984. OK
FOR SALE: Q2?Revmaster 40 TTAF. Flies great. Been stored at home and refused to pay $200 a month for inside storage at airport. LSI canard and new prop. Engine sounds and runs great. 5x6 tires and 3 point front canopy. Got to big for fast tail dragger. Glenn Hockenberry 717-243-1100 PA
FOR SALE: Q-200 project. Fuselage completed, painted, upholstered. Rotary engine mounted. Exhaust and carburetor mounted. No prop. Trailer incl. Best offer over $5K. Too old, abandoned license. Jack Soules (216) 687-3517 (days), (216)991-5805. OH (4)
---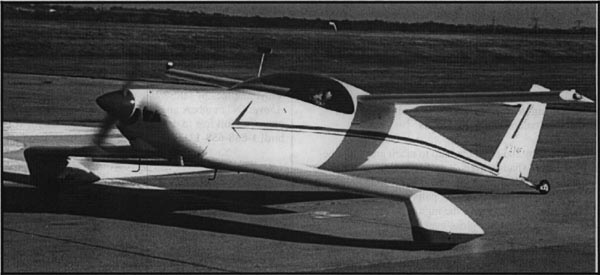 Jerry Kennedy triumphantly returned to Kansas in his bright yellow Q2 with anew matching yellow case for his rebuilt Revmaster engine. Jerry limped homelast year from Ottawa, but arrived at Coffey in style!
---
You can order a printed copy of Q-talk #95 by using the Q-talk Back Issue Order Page.