Q-talk 91 - Jan/Feb 2002 - index
Details

Category: Q-Talk Index
Published: Wednesday, 23 December 2009 16:24
Written by Dave Richardson
Hits: 2106
Quickie Builders Association


Together we build better planes!

Jan./Feb. 2002
Issue Number 91
---
Raising the Standard
It is hard to believe that the original Quickie design was introduced 25 years ago. While 25 years may sound like a long time, that period of time is just the last quarter of the century since the first powered flights. The design is so unique and fresh that it still turns heads. New Q's are being completed and some of the more seasoned Q's are being purchased by a new wave of Q admirers.
As a group, we must help to insure a smooth transition from builder to pilot or from buyer to pilot. Like it or not, we are all linked to these new Q pilots. Don't believe me? Check insurance rates for your plane and see what happens when you mention the word "canard". You guessed it. The rates go up. These canard planes, as well as our EZ brethren, are fast planes. They take off fast. They cruise fast. They land fast. Nobody mentions the word fast in the same sentence with the typical land-o-matic Cessna or Piper airplanes unless they are referring to the Hobbs meter or the fuel gauge.
So, how prepared is the average pilot to successfully fly the Q they built or bought? What can we, as a group, do to help reduce the risks for these budding Q pilots and raise the bar for being prepared to fly safely? What trails can we blaze to ensure that the person who buys a Q will have the proper flight experience? How will they have access to, or the means of, educating an A&P so they can get a good annual and operate the plane safely? We have the capacity to be more than a loose collection of builders and pilots. We can be organized, methodical and, above all, a safety-centric group looking out for each other. With all the talents that our members possess, coupled with the computer power and communication available to us today, we can go a long way to be in control of our own destiny.
What we need is a vision, a plan of action, a roadmap toward our goals. The first step is to set a reasonable timetable to collectively define the objectives and develop a workable plan. Let's set December 31, 2002 as our deadline. To aid in the discussion and decision making process, let's devote a portion of the forum meeting times at each of the fly-ins we attend this year to the subject and report the progress in the newsletter. This is an important and worthy task with everyone's best interest in mind. I look forward to the process and feel confident we can achieve great things together.
---
Articles from this issue:
Checking in with Headquarters - by Dave Richardson
Featured Pilot - Sam Hoskins - by Dave Richardson
Fly-in Coffey - by Spud Spornitz
Product Watch - Fire Extinguishers - by Mike Dwyer
FUN WITH FOAM: X-40 - by Jim Masal
AeroElectric Connection Updates - by Dave Richardson
Runway 27 Left - by Dave Richardson
LaRue Brake Mod Notes - by Jim Patillo
Fuel Flow - by Dave Richardson
Compass Calibration - by Dave Richardson
0-200 Starter Thoughts - by Tom Moore
QBA on the Grow - by Dave Richardson
In the Press - by Dave Richardson
Revmaster Aviation Contact Info - by Dave Richardson

---
A current QBA member may have one free ad per issue. It may be a maximum of five lines of type and will be edited to fit space available. Items advertised must be owned by the QBA member. The ad contact must be a member name. Ads will be run for two issues and then the ad must be resubmitted. [EDITOR'S NOTE: Please note that these ads may no longer be valid. They are included here only as part of the online archive.]
WANTED: Tires for Q1 size 280-4NHS by Goodyear. Must be Goodyear as other brands are larger in diameter and won't fit my Q-l. Contact J.P Stroud at 321-757-3553 or e-mail at This email address is being protected from spambots. You need JavaScript enabled to view it.
FOR SALE: TRI-Q200 Project. Structurally complete. Zero time 0-200 engine (log available). Some instruments and radios (new). 20K+invested. Asking $13,900. For photo/info/ log package contact Ted Fox, PO Box 23, Mansfield, OH 44901-0023. This email address is being protected from spambots. You need JavaScript enabled to view it.
FOR SALE: TRI-Q conversion kit, and straight LS-1 Canard, $1400.00. Sam Kittle This email address is being protected from spambots. You need JavaScript enabled to view it. 209-785-2931
FOR SALE: Andair, 6" pneumatic tail wheel spare tires and tubes. $46 plus postage (from England), total for tire and tube. These wheels improve ground handling and are quieter. If interested, contact Chris Rayner: tel 00 44 13 67 82 02 31; e-mail This email address is being protected from spambots. You need JavaScript enabled to view it.
WANTED: Unused RAE resin and hardener to finish building Q1. One gallon w/hardener should be sufficient. A reasonable amount of crystalline sediment OK. Please respond to 520795-1491 or email This email address is being protected from spambots. You need JavaScript enabled to view it.
FOR SALE: Q1 project with all main flying surfaces and fuselage done. Other parts included but no engine. Excellent workmanship. Barbara Wilson, CA. 916-726-7456. $1,000.00 plus shipping and handling.
---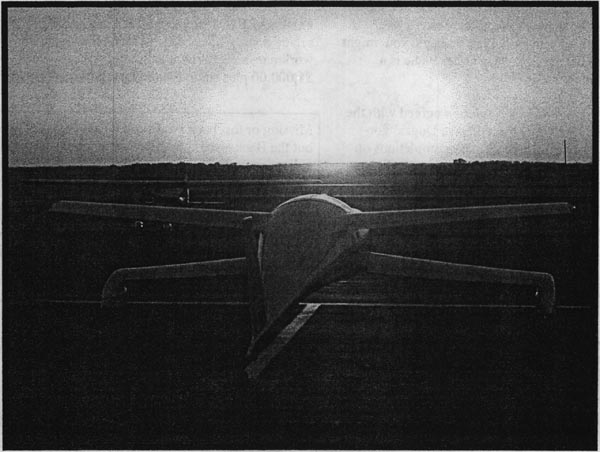 A sunset view at Ottawa 2001 of Bob Farnum's Q200 pining for its home in California.
---
You can order a printed copy of Q-talk #91 by using the Q-talk Back Issue Order Page.