Q-talk 122 - Q2 and Dragonfly Compared
Details

Category: Q-Talk Articles
Published: Wednesday, 23 December 2009 16:24
Written by Doug Humble
Hits: 4237
Reg Clarke of Alberta Canada has been experimenting with tandem wing airplanes and Subaru engines for more than 10 years now. He has recently completed installation of a Subaru in a Q2. Here his his comparison of flying a Q2 & Dragonfly.
The following presents a series of related thoughts on the topic of flying similarities & differences on the Q2/ Dragonfly aircraft. I have no formal or informal training or background as an engineer, but I enjoy experimenting which includes testing, flying, and recording results of flying my home built aircraft. I have helped people build, modify, and repair their homebuilt aircraft. In the process, I have done consderable work on the Q2 and Dragonfly airframes and firewall forward with the Subaru engines & related systems. I am not a trained or professional test pilot, although I have test flown a few different homebuilt airplanes for friends and acquaintances. I do work at a flight school as an instructor and specialize in tail wheel training in my Taylorcraft.
This is not written so as to persuade, but merely to record my thoughts and test flight results. My sole purpose is to inform and to report what I found to be of interest to me.
SOME HISTORY
I have flown my Dragonfly several hundred hours; changed engines several times and experimented along the way. The last engine this airplane flew with is a Subaru EJ-2.5 Direct Drive and I did some flight testing to get an idea on power to speeds, airframe glide and economy cruise, etc. It was in 1995 that I met an older gentleman named John Cheek at Oshkosh and he started asking me questions about the Subaru engine in my Dragonfly, XPRESSO.
He was looking for a different engine for his Q2. The following year at Oshkosh he ordered a EA81 Subaru,100 HP engine. I actually sold him the one that I had in my Dragonfly at the time. (See the article on my airplane, XPRESSO in the Feb. 1996 SPORT AVIATION)
I hadn't heard from John in a while, until he called me and asked me to come and see him in Nashville. He had the Subaru installed and was taxing it, but had several problems to solve; mostly the cooling issues. I went down a total of five times and on the last trip I flew his Q2 in the pattern a few times at his (KMQY) airport just outside Nashville. Our plan was to fly his Q2 and my Dragonfly into Sun 'N Fun and also to Oshkosh as a flight of two.
A few days after I got home from this trip, his wife calls to tell me his cancer is back and he wants me to fly his Q2 to Oshkosh. He passed away 10 days later. My brother Bud and I trailered it back home to Canada.
I sold my Dragonfly after obtaining John's aircraft.
MY MODS TO JOHN's Q2
John built his Q2 in the late 80's per plans with the LS1 canard and the Revmaster V.W. as a power plant.
I totally stripped and cleaned Q2 airframe and committed the next two years to learning about Quickies and making modifications and changes that I thought made sense.
- Modified the cooling scoop & cooling system.
- Changed to individual brakes and master cylinders.
- Balanced the ailerons.
- Installed a new tail spring.
- Installed a new tail wheel to rudder linkage.
- Did the Gall wheel alignment.
- Installed a new engine, firewall forward including a custom cowling for the EJ-2.5
- Installed a new glass panel.
- Installed a new fuel filler cap.
- Installed an electric roll trim.
- Modified the canopy hinge and latching system.
- Removed the speed brake.
- Repainted exterior.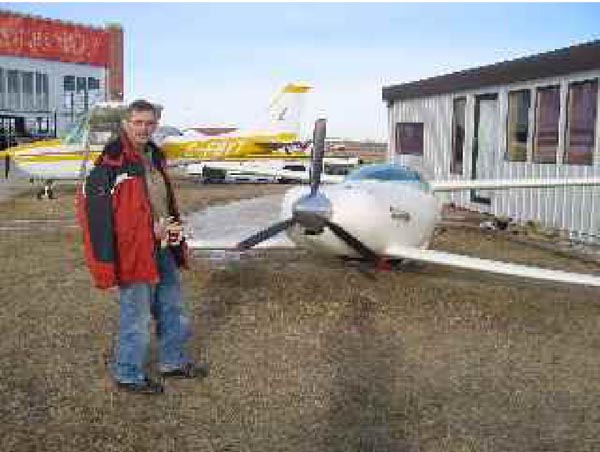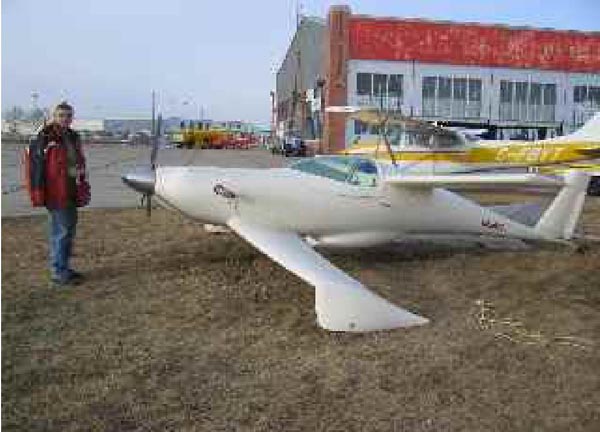 Resulting in:
Q2-Subaru - N624JC - 800 LBS empty. (My old Dragonfly - 160 LBS heavier)
FIRST FLYING IMPRESSIONS
Both airplanes have the same engine configuration and propellor.
- Subaru EJ-2.5 direct drive with a turobocharger and intercooler.
- Three blade ground adjustable warp drive set at 21 degrees pitch and modified airfoils on blades.
The Q2 and Dragonfly basically feel and fly like same airplane except Q2 is lighter & quicker on roll, however the Dragonfly has more rudder control.
TAXIING: Typical tail wheel airplane very well mannered and steers well with the feet.
COMPARISONS TAKEOFF:
--Dragonfly -brakes on--Manifold pressure (M.P.)30''--rolling M.P.35''--keep straight with feet. Rudder authority almost immediately (I LOVE THAT LARGE RUDDER)--control stick 3/4 ahead, tail up, rotate at 65 knots, climb at 120 knots. It can handle a lot more crosswind than typical tail wheel.
--Q2-Subaru --brakes on-- M.P.30'' --rolling-- M.P. 35''-- keep straight with feet, control stick 3/4 back, tail down, rotate at 65 knots, climb at 120 knots. I'm still experimenting with cross winds. Eh!
CLIMB: Both are pretty much the same including visibility.
CRUISE: Both are pretty much same -- Q2 faster speeds, & I like the good control/harmony and response of Q2.
TURNING: Both have good yaw control and stay in a banked attitude, I would have to give the nod to the Dragonfly.
I usually cruise at 10,000' to 12,500' if I had oxygen I would go up much higher because these airplanes fly very well up high and they usually want to continue to climb higher.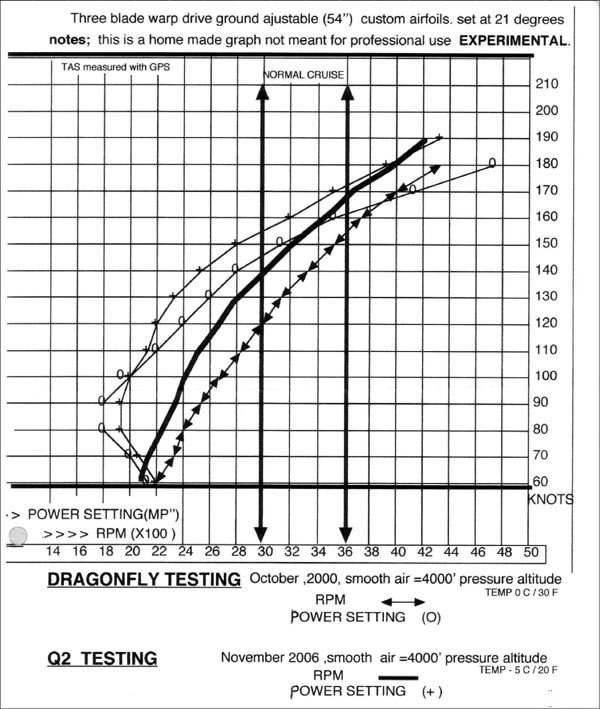 DESCENTS/APPROACHES/ LANDINGS
--Dragonfly-- you choose 85 knots 65 knots fly down to runway wheel landing or three point (side slips are great)
--Q2-subaru-- you choose 85 knots 65 knots fly down to runway , wheel landing or three point (side slips are good)
STALLS: Both airplanes stall about the same, with the ailerons still working for turns.
--one person on board--mushes at 900'' decent at 60 knots
--two people--mushes and bobs 1000'' decent at 65 knots I will be changing blade pitch (ground adjustable) angle as part of my testing.
LAST IMPRESSIONS & SUMMARY
I need to fly the Q2 more to get more experience. I had nearly 900 hours on my Dragonfly compared to just 45 hours on my Q2. I love both airplanes and I am looking forward to flying the Q2 to Oshkosh. I am planning on entering it in the AirVenture Cup Race this year. Sam Hoskins wants me to fly my airplane at least 100 hours first and I respect this advice from a veteran. It is January 07 and I will know by spring if both me and my airplane are ready for racing.
MORE TESTING
What this airplane really needs is a cockpit adjustable propellor because the speeds spread is so large and the power with the turbocharger means sea level power is available at all times.
I have done some testing and I will graph these and send to Doug and Jeff. I have more testing to do on engines and airframe
As an interesting side note, the other day I picked up 1/8'' rime ice while out flying VFR. I detected no difference in flying qualities right down to stall and landing. I was amazed how quickly it accumulated on leading edge wings and could have been very dangerous. This was not an experiment as this was the first time I've picked up ice on an airplane wing.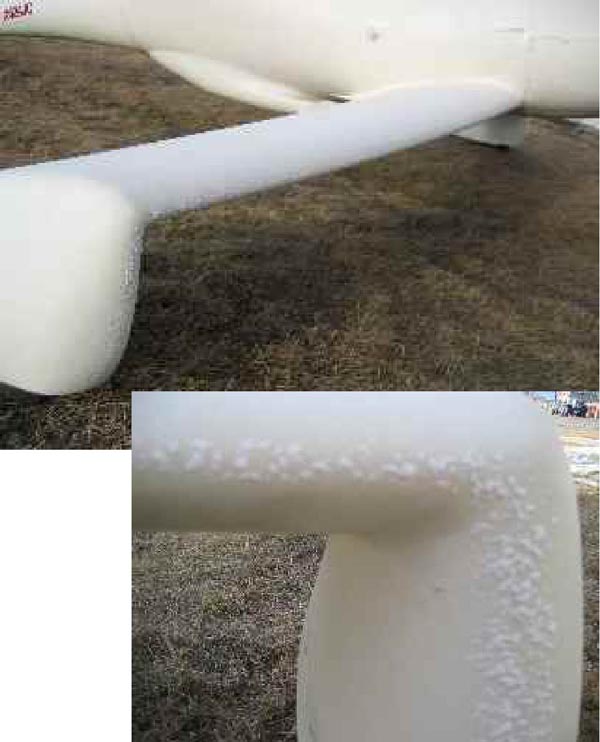 Reg's web site has more pictures at: www.homepage.mac.com/airryder
---
You can order a printed copy of Q-talk #122 by using the Q-talk Back Issue Order Page.