Q-talk 113 - 15th Annual Field Of Dreams
Details

Category: Q-Talk Articles
Published: Wednesday, 23 December 2009 16:24
Written by Jeff LeTempt
Hits: 2058
I wanted to say thank everyone for supporting the fly-in again this year. The weather put a damper on the event, but I think everyone who attended had a good time. Even though the weather was kind of nasty, we still had a good turn-out. 10 people flew their TW plane to the event.
Sam and Sandy Hoskins - Q200
Dave Davis - Tri-Q2
Terry Crouch - Quickie
Lynn French - Tri-Q200
Bruce and Joanne Crain - Tri-Q200+
David McConahy - Q2
Charlie Johnson - Dragonfly MK-II
Richard Werner - Dragonfly MK-I
Darrell and Rosemary Doerhoff - Dragonfly MK-I
Jeff and Jill LeTempt - Dragonfly MK-IIH
The performance run scheduled for Saturday morning was delayed due to fog and low ceilings. Several people had to head back for home Saturday afternoon to avoid the really nasty weather forecast for Sunday, but 3 people participated in the performance run late on Saturday. I do not have the exact numbers to the 1/1000th of a mile per hour, but here are the numbers within 1 MPH.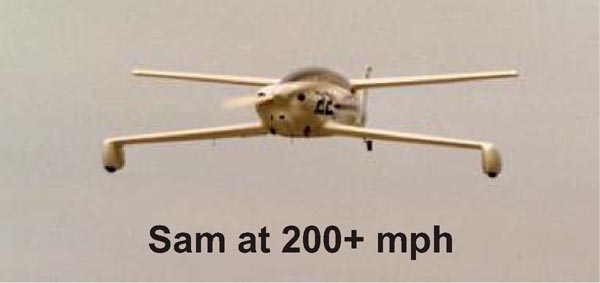 Sam Hoskins - 201 MPH (wide open throttle) Charlie Johnson - 138 MPH (wide open throttle) Jeff LeTempt - 136 MPH (3000 RPM normal cruise)
Sam Hoskins - 201 MPH (wide open throttle) Charlie Johnson - 138 MPH (wide open throttle) Jeff LeTempt - 136 MPH (3000 RPM normal cruise)
The usual awards for longest distance traveled, high time, best cockpit, and best overall were given to the following:
Best Overall Q - Terry Crouch
Best Q Cockpit - Bruce Crain
High Time Q - Sam Hoskins (1400+ hours)
Longest Distance Traveled in a Q - Lynn French
Best Overall Dragonfly - Jeff LeTempt Best Dragonfly Cockpit - Richard Werner High Time Dragonfly - Charlie Johnson (829 hrs) Longest Distance Traveled in a Dragonfly - Charlie Johnson (11 hours in 1 day behind a VW!!!)
I had lots of great help at the event. Special thanks to Dave and Susie Richardson, Spud Spornitz, Doug Humble, Terry Devine, Justin Mace, and Alan Thayer. Everyone was more than willing to help with anything necessary. It
was great to see many old friends and make many more new friends.
There were several things that stood out in my mind about this weekend. I thoroughly enjoyed Dave and Susie's "you might be a tandem winger if" and "you might be a tandem wingers wife if" comedy act at the awards dinner. I thoroughly enjoyed giving Dragonfly builder Fred Worrell his first Dragonfly ride. I thoroughly enjoyed the look on Valentine Boehm's face after he got a flight with Sam Hoskins. Valentine bought a Q2 kit in 1981 and has not worked on it since 1984. He told me Friday evening that he was not sure if he wanted to cut the project up or finish it. I am very confident that Valentine will start working on his Q project very soon.
I thoroughly enjoyed landing my Dragonfly on runway 06 after the performance run and making the first turn while Gene Knapp was standing in the middle of the runway trying to take my picture (obviously he does not remember my landing show last year).
According to my calculations the first turn is about 1690 feet from the end of the runway. I thoroughly enjoyed flying formation with Sam, even when he blew right by me about 50 MPH faster than me.
Charlie and Sam both got weathered in on Sunday. Sam and Sandy got a ride back home with Gene and Vickie Knapp. Sam's cell phone was breaking up a little when we talked, but I think he told me to just go ahead and fly it for a few days until he was able to get back to Sullivan to pick it up. Hope it is ok that I told the FBO to put the fuel on your tab.
Charlie spent the night with us last night and Jill drove both of us back to Sullivan to fly our planes back home.....Charlie had about a 1200 mile trip and I had about a 12 mile trip. I landed on runway 36 at Cuba and with a little more aggressive braking I could have made the first turn which is about 1050' from the end of the runway (my landing distance was about 1200 feet).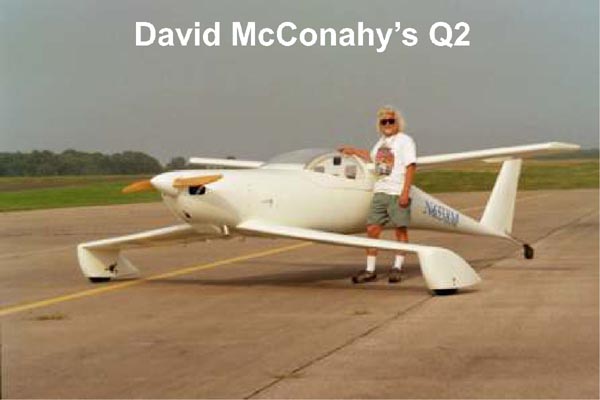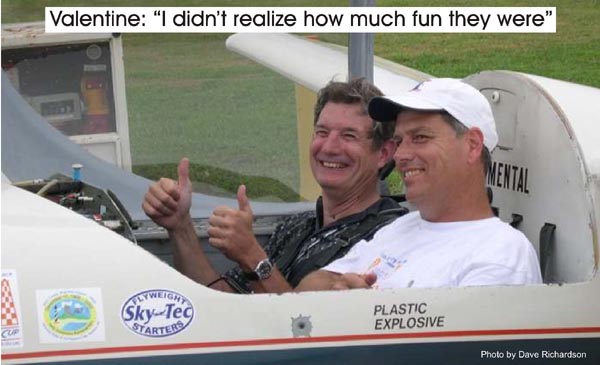 Since some of the guys had to head home early due to the weather, there was plenty of food at the awards dinner. The extra hour at the dinner was needed. I finally had run off Steve Jackson and Valentine at about 2220. I had to throw the penalty flag when I heard them talking about motorcycles rather than airplanes.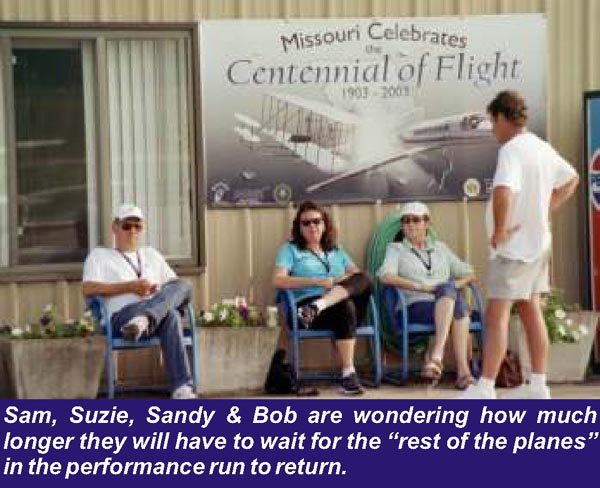 All in all I think it was a great event. You can plan the event for months and months, but a day or 2 of bad weather and things come to a halt. I hope everyone who attended had a good time. I really do feel that attending an event like this (I know I have said this before) is a very cheap investment if you are building a Q or a Dragonfly.
I only wish that I had more time to visit with everyone. It makes for such a long weekend getting up at 0530 and not getting home until after 2300 several days in a row.
See you next year!!
Thanks Jeff for your efforts!

---
You can order a printed copy of Q-talk #113 by using the Q-talk Back Issue Order Page.