Q-talk 74 - SUN 'N FUN PIX
Details

Category: Q-Talk Articles
Published: Sunday, 28 February 1999 06:11
Written by Tom Moore
Hits: 2128

A good turn out for the long trip to Florida. Here are seven of nine birds that flew in. Earnest Martin was away from us, camping with his Q. Dave Carlson showed up late so they put him in a row by himself.
Mark Greenwood made his first trip to Sun 'N Fun from around Nashville, Tennessee. Mark has just 70 hours on the plane and is starting to stretch his wings. Nice looking Tri-Q-200.
Tom Moore's Q-200. I still haven't put any stripes on the plane yet, but I did get the upholstery finished, put the spinner on and I made up some wheel pant covers.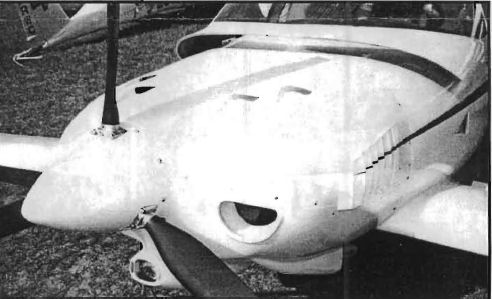 Marion Brown has done an excellent job reforming his cowling to fit his new Subaru EA-81 truck engine.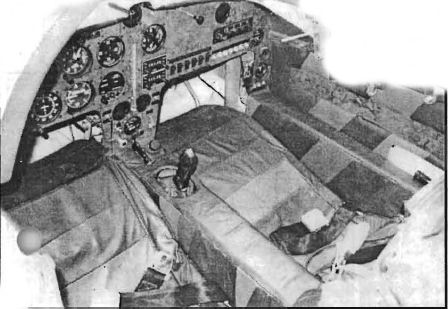 Marion's upholstery job is left over from when he first flew the plane as a Revmaster Q-2. The leather seats sure do stand out and show the quality of Marion's craftsmanship. The forward sliding canopy really is nice when your taxiing around on the hot summer days.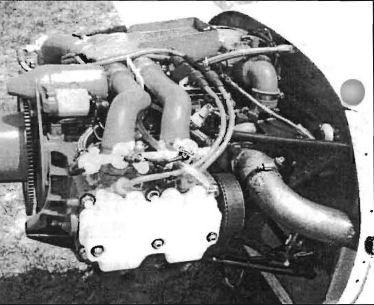 Reg Clark's Dragonfly had a Subaru 2.5 Liter Turbo Charged Legacy engine. Reg has done a fine job of engineering this. He's just getting some hours on it so it will be interesting to see what numbers he comes up with.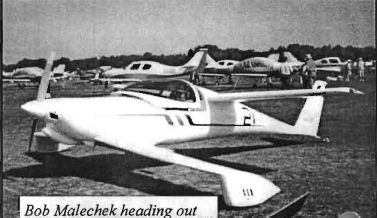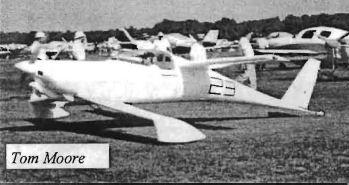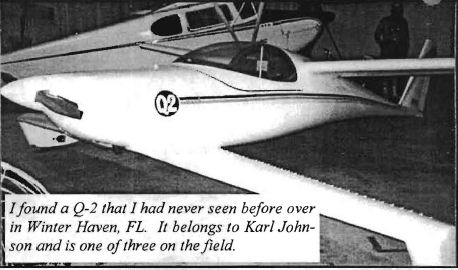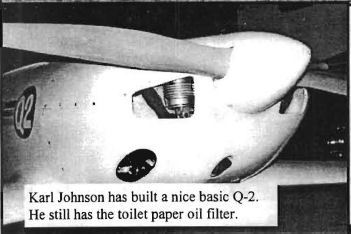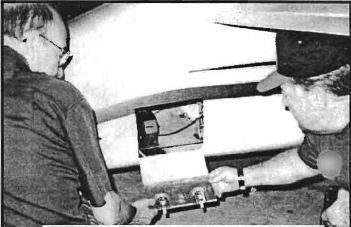 John Touchet and Bob Malechek take a look at the battery inspection door John added on.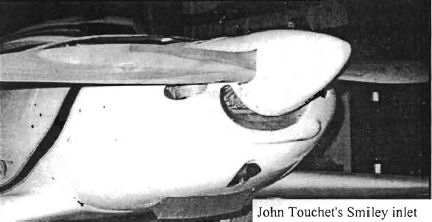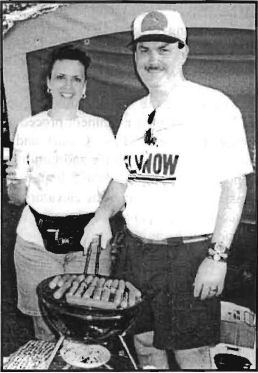 Susie and Dave Richardson have been the mainstay of the QBA HOT DOG ROAST for the last two years. Dave's engineering background and previous outdoor experiences has allowed him to develop the perfectly burnt hot dog. He's got it down pretty good. The dogs don't hang around long.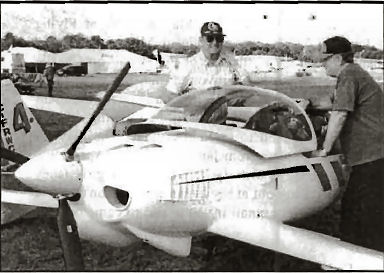 Marion Brown and Bob Malechek look over the instrument changes required to support the water-cooled Subaru engine. This was Marion's debut of the Subaru installation.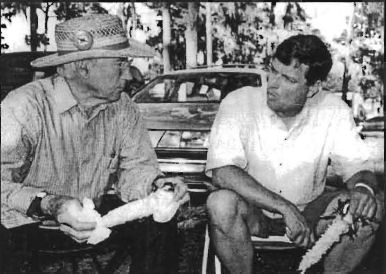 One of the long running favorites of the Sun 'N Fun campers has been the Roasted Corn. Marv Getten and Sam Hoskins take advantage of the local treat.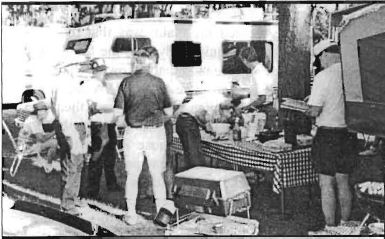 The Hot Dog Roast was a welcome treat after walking in the warm Florida sunshine all day. The $2.00 All You Can East menu fit everyone's budget and appetite.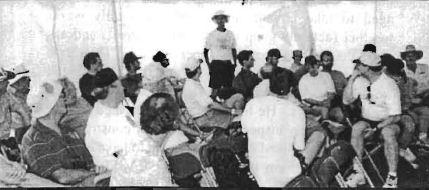 The early morning Sunday forum got this years Sun 'N Fun off to a good start. The enthusiasm was high with several projects nearing completion.
---
You can order a PDF or printed copy of Q-talk #74 by using the Q-talk Back Issue Order Page.