Q-talk 63 - LETTERS
Details

Category: Q-Talk Articles
Published: Wednesday, 30 April 1997 07:11
Written by Tom Moore
Hits: 2947
Hi Gang!
I've got an update that I wanted to share concerning development of the new LS(1) canard for the Quickie-1. The designer, who was working in Oregon took an offer he couldn't refuse involving a move to Dijon, France (right, that's where they make the mustard!) and a contract for up to five years. Just before he moved, I had sent him a sample of the GRAPHLITE Rod material to take with him and was assured that development would continue while he was there. After an exchange of phone calls and email messages, he faxed me the procedure to conduct a test here in California on a model I was to build according to his specifications. I wasted no time in constructing the model involving the GRAPHLITE material, and a shear web of 8 plies of bi-directional cloth. I then built a test stand according to his specifications, and the following weekend, we (myself and some good friends from our local EAA Chapter, including the former Northern California Quickie Dealer, Gordon Pratt) conducted the test on the model, which was to go to failure. We had a two-ton jack, and a very accurate scale. The model, 1"x1"x30" long, failed just below 650 pounds with a very faint-sounding crackle, not a huge explosion like some of us were anticipating; it was almost anticlimactic!
After the test, we plotted the force applied versus amount of deflection on the model, and found that it produced an almost perfectly straight line, which is what my hangar partner, also an engineer, was more or less expecting of a material like GRAPHLITE and glass.
I have sent pictures at various stages of the test, as well as the failed test piece itself, on to the designer in France, who supposedly will be sorting out the information to be gleaned, do the number-crunching, and then come up with a schedule for lay-ups and rod pack application. Again, my canard will be the prototype for this design. Being on the pioneering end of something like this has been exciting, but distressing at the same time, mostly because of lengthy delays. But at this point, there is light at the end of that long dark tunnel.
So, we seem to be making progress, although excruciatingly slow; I realize that this is a very backseat project for the designer, so I'm learning patience! In the meantime, I'm trying to get as much done on the existing airframe as it is. Rear wing is not mounted yet, though ready. This week I plan on completing installation of the control system bearings and right armrest console. I have already benefited from some indispensable advice that Terry Crouch gave me about not glassing in the right console until CS2 was in place, as there is a substantial "accumulation of tolerances". Terry Sickler then advised that I could use a tunnel glass over the CS2 protrusion, thereby enabling me to keep the console side parallel to the fuselage. Then, it's on to my panel, and as much wiring as is practical at this stage.
Hope that this will help in filling you all in on progress with the new design. I will continue to keep everyone up to date on how things are coming along.
Alan Thayer, Castro Valley, CA
Jim and Tom
Enclosed is a 3-view drawing of my tailwheel fork arrangement and a picture of the complete assembly. The QTW5 substitute tailwheel fork is required for installation of the 200 x 50 tailwheel. It has been tested and it works for me. The 200 x 50 tire, tube and wheel may be obtained from Eastern Sailplane, (513) 897-5667. A builder will have to provide his own machined axle hub for the wheel. My hub is secured between the fork by a single AN3 bolt. As configured the tailwheel uses a tailspring mounted weldment, which allows the QTW5 fork to lay parallel to the ground and follow in a trailing position (as opposed to flopping as in the per plans drawings).
Again I have had good success with differential brakes and this tailwheel setup. If it can keep me on the runway ... well, it should allow everyone to build their Q-2/200 as it was supposed to be built. A taildragger!
Brian Martinez, Quartz Hill, CA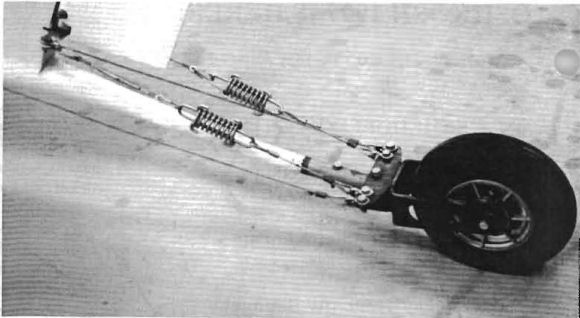 Brian Martinez's tailwheel fork and sailplane wheel and tire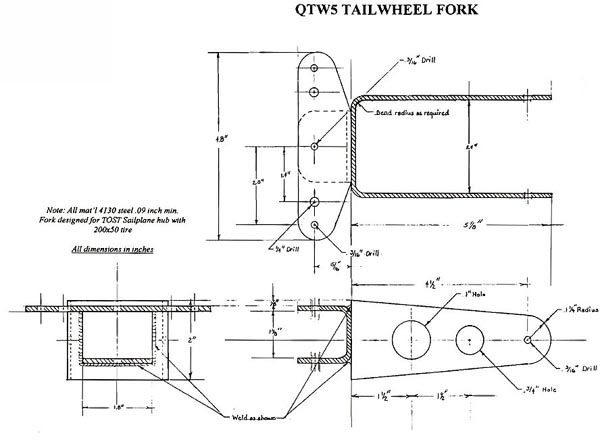 Dear Tom:
I have received the newsletter for over a year now and was given copies of many of the older ones. Having gotten a number of good tips and confirmations (I often reinvent the wheel) I feel a positive urge to share what I can in return, although I think most of what I have done is old stuff by now.
I bought a completed Q2 in 1989 from its builder who had performed taxi tests for about a year but was afraid to fly the plane. (Not, I should hasten to add, because he lacked confidence in either the design or his workmanship; he simply lacked any taildragger time.) The plane was of the original design with the DQ-2100 Revmaster and the GU canard.
I completed the flight test at Chino, CA without incident except wounded pride, having ground looped three times. In 40+ years of flying I had never ground looped anything before the Q2 and I had over 600 hours of conventional gear time at that point. Two of the incidents were due to the single brake lever and one of the brakes applying about 1/2 the force of the other and I fixed this when I discovered that the swerving wasn't a "design feature".
I had about 300 hours on the plane by September of 1994 and had experienced no trouble to speak of with either the plane or the Revmaster. I had taken it all over the Pacific Coast and Southwest and my only problem was that I couldn't plan a stop at an airport of less than 4,000 feet, which annoyed me greatly. (I actually could land in about 2,500 feet on the big runway at Van Nuys with reasonable consistency but no margin at all.)
In September of 1994 I cracked the right span of the canard, just at the juncture between the inboard and outboard pieces of foam (and where the reinforcement channel ends) in a very hard landing at full gross.
It took me almost a year to decide what to do to repair the plane. I could have repaired the original wing, built a modified Dragonfly wing with conventional gear or replaced the GU canard with an LS canard, which was the choice I favored. I then found out how hard it seemed to be to get the spar. I do want to acknowledge the generous help and insight that Kimbull McAndrew provided during this period.
Almost immediately when my (unofficial) partner Don Herzstein and I got back from Oshkosh in 1995 I was fortunate enough to locate a complete LS canard that had been sawed out of a wrecked Q200. I bought this wing and with the good assistance of Don, began the slow process of removing the complete GU canard and replacing it with the new LS canard. Before the new canard was fitted we did put in differential brakes, using Scott Swing's brake design, and a landing light. Since I hadn't originally built my plane this was my first experience at working on a part outside the fuselage, standing upright like a gentleman. Marvelous!
Since I knew the plane was going to be down for a while, and I had removed the engine anyway, I took the engine out to Hesperia to the relocated Revmaster plant and had Joe Horvath magnaflux the crank and rework the cam and valves. He promises about 74 HP at 3400 RPM with the new setup and I guess I'll find that out soon enough. While I was at it I got a new prop from Ed Sterba. In anticipation of a bit more power I changed the pitch from 56x46 to 56x48. Again, we'll see.
Besides the modifications above, we have changed the canopy from the original hinged design to a forward sliding one. We have also added an electrically operated speed brake and electric roll trim, made the instrument panel removable and done lots of rewiring and instrument changes/additions including a fuel now meter and capillary main fuel gauge.
We are at the stage where we are doing engine and taxi tests while waiting for the arrival of a DAR to approve the major modification per our Operation Limitations. Everything is working well and in a later letter I will report how the little guy actually flies, although it will be hard to tell what physical changes have contributed to the changes in performance.
I can share one success at this point, however, and that's the modified tail wheel installation. I was quite unimpressed with the original tail wheel and had replaced it with a solid 6x2.25 wheel straight out of Aircraft Spruce. This had helped some, but when Don read in the newsletter about the good work Brian Martinez had done he gave Brian several calls and Brian was most helpful. We now have modified the tail wheel to an 8" sailplane wheel (which weighs less than the 6" solid) and also put on Maule dampening springs, a la Brian. It is absolutely SUPER! at least in the taxi tests. I can turn on a dime, almost pivoting on one of the main wheels. High-speed taxi gives a very positive response, even without the differential brakes. By my next report I will have landed, and can present more data but all indications so far are that the modification is a worthy one.
Michael Kruse, Tarzana, CA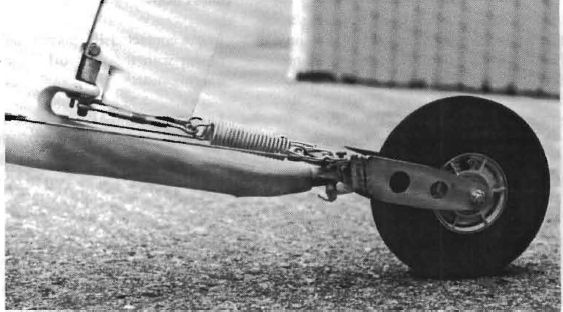 Michael Kruse's tailwheel from Brian Martinez's plans.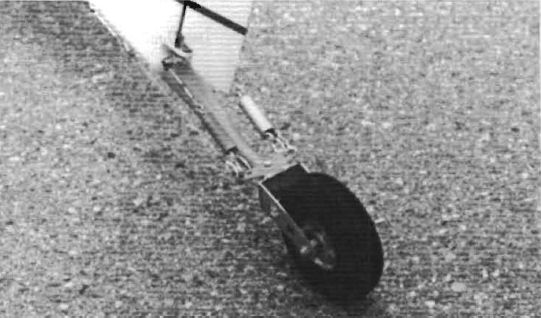 Top side view of Michael's tailwheel
Dear Jim,
I have been having trouble getting the right reading on my tach. My first thought was that I had installed my electronic system incorrectly. I sent my diagrams to the tach company, they made a few changes, but this still didn't help.
I next contacted Revmaster and they said to set the timing with the prop off. This I did but with no improvement.
I finally got "SMART" and got a hand held tach. This recorded 2700 rpm instead of 1900. Aircraft Spruce, after two tries, got me a tach that gives the correct reading. All systems seem to be working OK and with a break in the weather we will fly 42Q.
Sincerely,
Harold A. Drake, Twin Falls, ID
Dear Jim
My Tri-Q200 (G-BUBC) has now completed over 175 flying hours with very little problem. Landing in all conditions including quite stiff crosswinds is quite straightforward and the rudder is standard. Earlier I adopted a fairly flat approach with power all the way down. Now I have changed to a higher approach with power off for the last 20 feet or so, with a good hold off. This achieves a slower touchdown in all conditions.
Further to my report in Q-TALK #47 and 48, I have discovered that Champion Spark Plugs REM 37 BY, can be obtained 1/4" shorter than standard. The one which I have has a "C" in a square frame after the BY, whereas the shorter version has an "A" in the square. I have tried to obtain these plugs thru the suppliers in England, who have in turn approached their supplier in the U.S.A. without success. If anyone knows of a source I would be grateful to hear from them.
Regarding spinner cracking, my engine has now completed over 200 hours without any sign of cracking so maybe my additional support is being effective (item 14).
Derek Clarke, Doncaster, England
Dear Jim,
Work on my Tri-Q project slowly inches forward. I now have the Limbach engine completely installed after many problems. The fuel system has an auxiliary electric pump to back up the engine driven pump, which has complicated the plumbing somewhat. Also the provision of a carburetor heat system (a mandatory requirement here) and air filter gave me cause for much thought. The cowling needed extensive modification as the Limbach is wider and the carburetor lower than the Revmaster. All in all I wish now I had gone for the Revmaster or O-200.
The current situation is that all that now remains to be done before first flight is the electrical system and final finishing - the micro and epoxy filling has already been done which does not seem much when you say it like that. However, past experience would indicate that there would still be many problems to come! Also I must admit that my enthusiasm for the project has sunk to an all time low even though the end is in sight, and so I am not putting so much time into it at the moment. I would also note that I have done all the construction myself, unaided except for help from my wife and son on the wing and canard layups, with only the moral and practical support of Q-TALK to keep me going. I am determined to get it flying, however, and it should happen in 1997 if all goes according to plan.
Finally, in case you haven't had this one before, just a small tip on the actuation of the aileron reflexor. I have used the Bob Falkiner design actuated by a control called "SlimLine Quadrant", Part No. 05-15900 in the Aircraft Spruce catalog, which allows easy movement at one end yet resists a strong pull at the other end. The actuating lever in the cockpit will therefore stay locked wherever it is placed. The Quadrant is connected to the reflexor mechanism via an A-920 Push-Pull Control. This appears to work very well with no backlash at all.
Wishing you all the best for 1997 and in particular, good flying. The QBA has been and continues to be an enormous help to me and without which I think I would have given up long ago.
Chris Simpson, West Sussex, England
Dear Jim and Tom
Tri-Q-200 N6251M flew for the first time the day before Thanksgiving, 1996. I flew the maiden voyage myself and, even as a low time pilot (100 hrs.), I had no problem controlling the plane with confidence. Many thanks to Earnest Martin (Tri-Q-200 from Asheville, NC) and Pat Reina, (Cozy in Nashville) for the canard stick-time. The first flight was cut short due to dropping oil pressure, but I made time to test low power stalls before landing. The oil pressure issue was solved by cleaning a small metal piece of debris from the pressure relief valve and checking the oil screen for further signs of internal problems. Subsequent flights revealed an average of one problem per flight - which I now assume to be typical of the first few hours.
1) Incidental contact between the oil pressure switch and the copper primer lines, causing the instrument breaker to pop when the engine was started.
2) Clogged fuel line coming out of main tank. I cleaned this out by removing the quick-drain valve and snaking the line, while the main tank fuel ran out.
3) Trailing edge of elevators were down 3/4" at cruise. LS canard mounted at 0 degrees.
4) Nagging left roll tendency.
This last one was the clincher. I made an incidence-jig and mounted a digital level to it. Measuring the main wing showed a difference at the tip of 1 1/2 degrees. I purchased this as a partially, completed kit and I did not build the main wing .. so I don't know when the twist was induced. In January of 1993, I trailered the airplane from Nashville, TN to Lakeland, FL unpainted. The dark color of the wing and the way I had it secured may have been enough.
After speaking with many people and finding that each one of them had a different opinion on what my alternatives were, I decided to heat the wing and twist it to the desired shape. I constructed an "oven" of 1x2's and plastic sheet, powered by a propane "torpedo" space heater. I heated the wing to 180 degrees F for 1 hour with constant twisting pressure. At about one hour I noticed wrinkles forming at the leading edge and discontinued heat. At this point I was disappointed and relieved, feeling that even if it had worked I would not be confident in its safety.
I have now cut the wing out and I am preparing to build a new one. Incidentally, the twisted wing was an extended length Waddelow wing, cut down to 228" to match my extended length canard. I have not seen or heard of any other extended length Q-2's flying and, I don' know if the plusses outweigh the minuses. If anyone has information or an opinion, please contact me.
I won't make Sun 'N Fun this year but I hope to attend Oshkosh with luck I'll fly there. Happy flying!
Mark Greenwood, Henderson, TN
OTTAWA 1997
Ottawa, Kansas
Labor Day Weekend
Friday, August 29 thru Sunday, August 31
This starts on Friday afternoon/evening and finishes up Sunday so you've got plenty of time to get home. There will be plenty of aircraft at this get-together. If you're looking to spend a lot of time with builders and people who are flying their Q-birds then this is the place to be.
You can pre-register for OTTAWA be contacting: Spud Spornitz, 1112 Layton Dr., Olathe, KS 66061 (913) 397-0518.
The cost will be $12.00 for admission and $16.00 for the banquet Saturday night. There will be a flyer coming out as soon as Spud can confirm some last-minute details.
There will also be a performance evaluation flight during this summers Ottawa fly-in. There is no fee for this flight and no awards. The purpose of this event is to have a good time and get some numbers on how our planes are performing. The course will consist of 125nm triangular route starting and finishing at Ottawa. The plane that is anticipated to be the fastest will depart first followed by the slower planes in one-minute intervals. The flight will take place first thing Saturday morning - weather permitting. Each pilot will be asked to record key data throughout the flight. This data will be compiled and reported here in the newsletter. Alternate weather day will be Sunday morning.
Dear Jim, Tom and Jon
While at Sun 'N Fun I purchased a new Concord battery for the Q200. Friday, after returning home, a tornado removed the hangar, which the bird was resting under while waiting for the new juice box. Well, of the 10 planes damaged, 8 were totaled and fortunately the Q200 was the least damaged of the bunch. The canopy had a large vent hole so the passenger would not suffer the greenhouse effect, one wheel pant was about 12 inches shorter than the other and the right wingtip was a couple of inches shy of matching the left. At first I thought the asymmetrical look was kind of neat, and if Burt could do it ... No, No anyway, nearly all of the repairs are complete, a new canopy, longer wheel pant, wing tip extended, and a few other minor places. I'm block (spline) sanding the entire plane getting ready for paint. It really is amazing how well the composite stood up to the tornado, the 8 totaled planes were of the metal variety.
While the bird is down, I'm installing a remote oil filter, thanks to the info in the back issues and the database that Larry Koutz put together, thanks again Larry.
Briefly, Q1 N1V now has a new fuselage and I hope to be building a new main wing after the Q200 is painted. I must go now and sand, sand, sand.
Bud Starnes, Mt. Vernon, IN
TIRE TIP
I noticed a short while back a discussion about tires; Barry Weber, former Q-200 builder and currently Flight Advisor for our EAA chapter, came to the rescue on this one: He found Cheng Shin tires, direct replacements for the Lambs, at a terrific price at a company down in Southern California. The Lamb tire was used in the large wheel option when Quickie decided to make that option available, and Terry Crouch has a nice set of Lambs on his prize-winning Quickie. The only problem is that Michael Lamb has skipped town and no longer makes them, but the mold used was picked up by Cheng Shin, and they now make the same tire, but with their name on it. These are 11x4-5 in size, and you can get them for $14.99 INCLUDING (yes, INCLDUING) the tube. They are 8 ply, so plenty beefy for hairy landings. The company is Green Ball Co. at (213- 636-2364. Ask for Craig, and tell him that Barry Weber and Alan Thayer sent you! At this price, you can afford to have a few on hand! Don't make the mistake of ordering advertised Lamb tires from Aircraft Spruce at $27.99 plus $7.99 for tubes. I did, and in the mail came Cheng Shin's! I screamed enough that I finally got my money back from Aircraft Spruce and then ordered 4 of them from Green Ball and still had money left over!
Alan Thayer, Castro Valley, CA
Rudi Brandenberger (England) test cycles his belly board.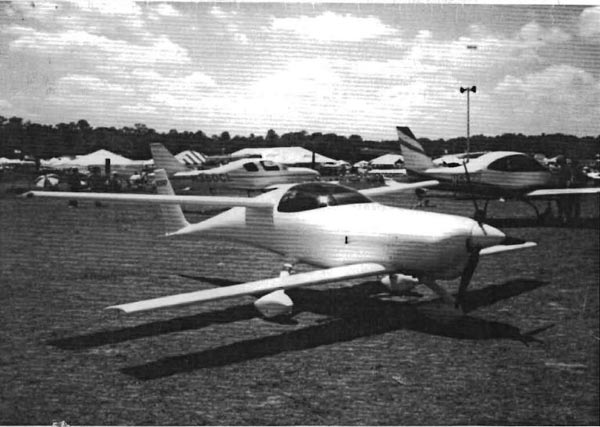 Doug Brablec has one fine bird
---
You can order a PDF or printed copy of Q-talk #63 by using the Q-talk Back Issue Order Page.