Q-talk 51 - LETTERS
Details

Category: Q-Talk Articles
Published: Sunday, 30 April 1995 07:11
Written by Tom Moore
Hits: 2419
Jim
14TC started as kit #541 in 1984. The learning curve wasn't much of an excuse because of previous Long Eze building 800 + hrs? and a Vari Eze. After building most of a Long Eze's structural parts for friends, airplane widow wife (what she calls herself) was starting to get more vocal about how I should spend more time at home. About the same time Eze builder Steve Beert calls my house and leaves a message with Debbie about a great buy on a Quickie kit. I really wasn't looking for a project at the time although I had been following the Quickies since their first year at Oshkosh. Debbie apparently came to the conclusion that if I bought this kit, at least I would be hanging around here most of the time building it and began lobbying to that end.
I'm sitting around kind of not believing what my wife is saying, but she keeps saying, buying this airplane kit, and I really would kind of like to have one anyway and the rest is history.
Two interesting things to note, she will claim she had nothing to do with its purchase and she saw one at a fly-in breakfast one time a year or two before and told me I had better not ever go flying in something that looked like that. I guess that remark made 14TC destiny.
Construction of 14TC was made infinitely easier with the help from QBA. I may not agree with someone's solution to a problem, but at least you are alerted to a possible construction problem to solve it your way. Because of QBA, construction was easier and I ended up with a safer and better quality airplane. I also met a lot of nice people. Those new to the organization, probably the best money you can spend on your project is getting all the back newsletters.
My airplane being the product of 13 years of QBA newsletters has been remarkably trouble free up to the 68-hour mark. The only changes from the original are a LS-1 canard with large tires and wheels, toe brakes, modified axles and brakes, big tailwheel, steel tailwheel spring and my own tailwheel design and a reflexor.
Canard comments, the per plans incidence seems to work fine.
The airplane will fly slightly slower then a 152, full flaps and stall buffet (53 mph indicated with no pitch buck until slower).
The elevator down deflection (nose up) should probably be 15? instead of 23?. You will have to do your own flight-testing here but pay attention. My airplane will depart from controlled flight at 23? with very large pitch oscillations.
Tuft test of the canard to the fuselage shows disturbed air by the elevator and wheel pants are good except for the rear outboard area of the pant (wheel tufts are really spinning).
Rain, the big questions, in light to moderate rain I couldn't tell any noticeable difference in flight characteristics. Pitch buck speed indicated was maybe 2-3 mph faster at its worst. After pitch buck test, water drops covered the top of the canard and elevator, then a slight pitch trim adjustment was necessary. T&L in the rain seemed normal. Also T&L with so many bugs that the leading edges were black, didn't change the flight characteristics. Remember big tires and wheels require a .090 4130 axles to have the same design strength as the original.
Onan engines, you can most definitely get carb ice if certain conditions are right. Have your carb heat working and check to see that you get a good air temp increase. Certified engines have to have at least 100? F temp increase over ambient for certification. My airplane goes 80? F over ambient, but seems to melt the ice real fast.
These engines are also run harder than their design specs 80% hp continuous operation. Most Quickie Onan installations have oil temps way over design specs. On my airplane 220? F is redline and on warm days it runs around 220? F all the time. If I shut off the air flow to the finned oil sump (modified) the oil temp runs 25? - 30? F hotter.
Mixture, main adjustment, make sure this is approximately 1/3 turn richer then peak RPM before flying. Based on my experience, the engine ran cooler and turned more RPM after this change on the 2nd flight.
Make max. effort on baffle installation. My guess is that most of these installations are marginal at best. On my engine I finally changed the piston to cylinder wall clearance to .008, this is .002 greater than Onan max. spec. Now the engine also has an oil filter, which I think is mandatory on this installation to last a lot of hours.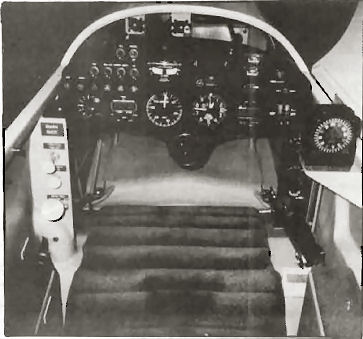 Terry's Quickie is meticulous on the inside too!
On my engine, if you shut it down in flight and stop it from wind-milling (about 65 mph on my airplane and prop, 42x27), it will restart at about 130 mph.
EGT changes 25? F from 1,500 - 5,500 feet. Kind of useless data because a lot of variables could change this. The only conclusion I drew from this is that I am not working on a mixture control.
I still have a lot of things I want to try or at least understand better. After this upcoming summer I will probably have more to report. I initially wanted to start with a more or less stock installation and see how things went.
Terry Crouch, Bettendorf, IA
Dear Jim,
Sorry to be late re-upping for the year. The Q-200 project continues at good speed. The airplane is now essentially finished as far as airframe and systems go. All electric's done, firewall forward complete, all controls done, the interior is finished, etc. The airplane has been contoured and leveled with West micro to the level of 36 grit sandpaper and all of the fillets are built. Now what remains is hi-build primer and paint. I finally got my hangar just before Christmas (after a 3 + year wait - typical for this area) and plan to move the airplane there in the next few weeks. First order of business is a preliminary weight and balance so that the battery can be located permanently, then the prep for painting. I now fully expect to be taxiing by summer. Oshkosh is unlikely, but Ottawa might be a possibility if there are no major problems in test. Incidentally, my new hangar mate is Alan Thayer, who has just picked up a Quickie project and will be starting to work on it in the next few weeks. He is planning on a Rotax of some sort, probably around 40 hp.
My building partner Jim Ham is at about the same place with his Q-200. Jim has recently designed and has begun to sell a microprocessor device, which allows a handheld GPS to provide a guidance signal to an autopilot such as the homebuilders Nav-Aid. It allows the autopilot to track a course provided by the GPS. Initial results in a Long-EZ in our EAA chapter indicates great results. It has been tested with Magellan, Garmin and Apollo so far. It looks so useful that I am building in the necessary mounts and hookups for the Nav-Aid in my ship now.
We have built the split rudder cable systems with toe brakes which we described earlier. If things look as good during high speed taxi tests as they do on paper one of us will provide more description for the newsletter.
Jim and I are struggling with trying to design a good compact air filtration system for the engine induction air. We have the screen which the plans call for, but we are a bit uncomfortable without a better filter to protect the engine, particularly on the ground.
Incidentally, hope you are enjoying your Piper Colt. You may remember that Jim Ham and I flew our PA-22/20 Pacer to Oshkosh a couple of years ago. I saw your picture and letter in the SWPC newsletter. Jim and I got the Pacer both to have something to fly while we build and also to stay in practice for twitchy taildraggers. We have enjoyed the airplane a lot. I have always considered the short wings to be the best deal around. Our reg. number is N3170Z and it is a '59 model with 150 hp.
All for now. The QBA letter is a great source of info and encouragement and I appreciate the effort you put into it. See you at Oshkosh with or without my "Q".
Regards,
Bob Farnam, Pleasanton, CA
Ed. Note: Very interesting about Jim Ham's gizmo. I hope to hear more about that.
Jim,
It was good to finally meet you and some of the QBAers at Oshkosh this past summer. It really helps to put faces to names you see in the newsletters and to see the flying examples of their work. The weekend in Ottawa, KS, though, helped me clarify many of the directions I want to go with the building process. While I didn't get a chance to fly in a Q200, Mark Snow took me, and later my wife, up in his Dragonfly. I can't tell you enough how inspiring that was for us. I think it reset the counter on my personal sanding limit back to zero. The visibility was fabulous. Mark let me take the controls for a few minutes. As you know, it was pretty gray that weekend, so the horizon was not very clear. The roll rate and yaw responded as expected. The pitch axis was another thing. I was trying to hold the plane level but I noticed Mark was giving the stick gentle nudges to compensate for my porpoising. Good thing the videographer didn't catch me doing that. It wasn't long, though, before we were flying level without Mark's help.
The push-pull tube controls are very positive and once I caught on, I really liked the feel. The next time I flew when we returned was in one of the Cessna's I trained in. I couldn't get over the amount of slop I felt in the controls versus the DFly. The pitch axis on the Cessna felt like the classic truck that requires 10? left and right turns of the wheel to average out as straight. No wonder I looked like Flipper. I have the plans for the Dragonfly, as well, so I checked out the length of the arm on the elevator control to compare it with the Q2's. The Dragonfly's arm is 25% shorter than the Q2. I better understand Duane Swing's comments about placing the switches and radios as far left as possible. I'm setting up my instrument panel so I can reach the majority of the switches and cables with my left hand without having to reach across my body to the right.
Here are a couple of tips I picked up from different places that might help.
1) SuperFil from Alexander's works out real well to fill weave. It is very light and sands well. It is an A/B epoxy with the consistency of Kraft Marshmallow Cream. It will sag just a little on vertical application when it's laid on heavy. The best thing, no pin holes.
2) Harry Burns from my EAA chapter is building a KR-2 with a Great Plains VW type 1 engine. He had the same problem getting the dipstick out without cutting an access hole and installing a door in the cowl. He took a dipstick and cut it off about an inch and a half below the little cap that closes off the top of the dipstick hole. He riveted a piece of 1/4-inch nylon cable tie of the right length between the two halves of the shortened dipstick. He ended up with a flexible dipstick he can get in and out easily.
3) Harry also found his silicon baffling material was chafing the inside of his cowl. He made his own baffling material from 3-layer BID and clear silicon that he laid out on a sheet of glass that he first applied with some wax release. He used the silicon that comes in the caulking gun format that goes up to 400?.
Dave Richardson, Stow, OH
Ed. Note: Whoa, Nellie. A courtesy flight in one of these birds may do a lot of things for you, but set your personal sanding limit back to zero? I don't think so. Perhaps you haven't done enough yet to realize the full scope of this phenomenon. Get back out of it and try again.
DISCOUNT OIL
(This was taken out of a publication called "The Lake Flyer")
As a consumer of about four cases of aviation oil annually, I was shocked on a recent visit to our most popular discount warehouse, Sam's Club. There, on the main aisle, was a display of Aeroshell W100 for $16 a case ($1.33 a quart).
After immediately loading two cases onto my cart, I asked an employee how this specialized item got into their warehouse, she said, "All our airboat customers demanded it. They were offended by airport prices." After seeing the difference in prices, I was too. The company's SWS code is 7168 for a 12 quart case.
Now there is news you can use!!
Jim,
Q2 - 0
Babies = 3
Maybe this year
Maybe not .....
Wife is talking sell
Guess I better go to work!!!
Rand Kriech, Concord, CA
Jim,
My airplane is long since completed (1986), but I'm not flying it too often. I have Vortex Gens. on the wings, it cost me 2 mph and lowered the stall speed 8 mph.
Jack Harvey, Ponce Deleon, FL
Hi Jim,
It's been a while since I last talked to you ... Oshkosh 93, so I'll bring you up to date on the adventures and misadventures of Q2 124AT and I.
After Oshkosh we flew to Lansing, Michigan to the Waco factory (great tour) and demoed their biplane, it's a work of art but, flies like a truck compared to the Q2. I'm just spoiled I guess. The trip back to the SF Bay area was great, but when we landed at home base I noticed extra oil leaking from the engine ... cracked Revmaster case!
Well it took the better part of a year to rebuild it but, I think I've got a better engine now. Here's a quick list of what I did: New Revmaster case of better alloy and rounded all the sharp machining edges inside, dynamically balanced the crank/ring gear/prop flange assembly to race specs, new cylinders, pistons, Total Seal rings, and had the cylinders honed to give proper piston clearance for an aircraft engine, rods and pistons balanced, reground the camshaft and faced the lifters, new bearings and rod cap nuts, new heads that have accessible lower sparkplugs, and probably the most important part I added spacers under the cylinders to lower the compression.
An odd thing that I found was one of the rod nuts was made with only half its threads. It had distorted the threads on the rod stud a little bit. I hate to think what would have happened if it had stripped in flight.
The oil cooler developed a leak. I found out that the stacked plate type of cooler is not repairable, but they are guaranteed for life. I called Revmaster and they were going to sell me one until I told them about the warranty so they sent me a new one for free.
I've noticed over the years it's been hard to keep the spinner in line with the cowling. During this rebuild I noticed that the firewall had distorted almost a 1/4". There were no internal reinforcement webs in the Q2 plans, the engine just hangs on that glass over 1/4" ply. I thought of installing some webs but they would have interfered with the rudder pedals or fuel system so I designed new engine mounts that incorporate the old mounts but spread the loads to the top and bottom of the firewall I used thin Cro-moly bar stock and had them plated before installation. Now the engine is sitting on its design lines and the spinner and cowling fit like I originally built them and they have stayed that way. Also, before when I would do high G maneuvers, I could feel a roughness that turned out to be the engine flexing against the cowling. The new mounts fixed that.
Dave Smith's better mousetrap - his new engine mount
And now for a propeller story. On the way to Oshkosh a prop bolt broke under the nut and the nut hit the propeller and cracked it. We were able to repair it with 5-Minute epoxy and keep going (pull the prop at every annual and check it carefully). I tried an Ivoprop at the meet, but it didn't perform nearly as good as the old kit prop so the old one got us home. I had always wanted a Warnke prop, I gave myself a lot of lead-time and ordered one, and it still was 2 months late. The prop was beautiful, installed a new spinner to wrap it nice. It performed better, but was rougher than the old prop. I did an angle of attack measurement on both blades and found them to be 1 1/2 degrees different!! That's one blade trying to pull 3" more than the other blade per turn. I sent it back saying that I thought it wasn't repairable, but Bernie re-planed the hub to set the blades straight and sent it back. I installed it, checked blade angles and tracking ... fine, but when I ran it without the spinner on, the whole hub was wobbling.
The bolt pattern was at right angles to the original hub face so now it wasn't. It was flyable so I called Bernie to try to get a new prop before sending the old one back but after several months nothing was happening and so I sent it back saying either make me a new one in two weeks or give me my money back. He said, "well how much should I charge you for the use of the propeller?" I said, "I can't believe you said that. If I did business like that I would be out of work," so he hung up on me. I called back and got his machine and said that what I really want was a good Warnke prop and not my money back (the new spinner is fitted just for that prop) and tried to smooth things out. As of now he says a new blank will be there in a day or two and he'll get to it as soon as he can. I hope I see it this year and I'm not kidding. If you know anybody who's thinking of getting one of his props they may want to reconsider. He's got me spooked now. It's been eleven months since I first called him.
We've had some fun with 4AT. My son and I went to the Tahoe Truckie and Arlington air shows, out to the San Juan Islands, over the crater on Mt. St. Helens volcano, featured on Entertainment Tonight and Front Runners TV shows, have been having fun with barrel rolls and loops, and lots of rides.
I just recently added an aileron reflexer and a single sparrow strainer on the right elevator. I wish I had done this a long time ago. I have the reflexer controlled by a "T" handle push/pull cable mounted in the panel on the left for quick adjustments. It's a really powerful control; I'm still exploring its potential. I can do 3-point full stall landings with just me in it now, I would always have to wheel land it before. Adding the sparrow strainer to the old canard now makes the plane pitch positive in its entire speed range. She'll fly hands off now at cruise with little touches on the rudder to keep her level. It's almost like having a new plane, which is neat after flying her for almost ten years!
Well I've probably said too much. I hope to see you at Oshkosh this year.
Sincerely,
Dave Smith, San Rafael, CA
Ed. Note: You can never say too much for us, Dave. Thanks for the valuable info. But why only ONE sparrow strainer??? Sounds like its working though, eh?
Hi Jim:
My Q2 still lies in the hangar with the broken canard, and I dread the thought of losing the skin off my hands from epoxy. Trusting the work to another person fills me with some apprehension. As you can see, I'm caught in a bind. I'll probably wind up selling it.
Perhaps by relating my story of this mishap, others might be forewarned.
I determined early that the pitch of the original prop was too fine, however the plane sat for two summers on the paved surface of the tarmac, being flown only occasionally before I finally got a new prop. I took the old prop off, and the following summer I installed the coarser one. Static tests indicated RPM's were in the correct range.
On takeoff it climbed like a loon after a long run. When straight and level, with higher than normal RPM's the stick indicated a strong desire to return to terra firma. The approach to the runway at 80 mph seemed steeper than usual for a near windless day, but the exciting part was to come.
I eased back on the stick at about 30 ft. but there was no back stick left. I gunned the engine to bring up the nose and landed short, hard and very fast. The canard broke on the second bounce.
Recalling the hot summers on the tarmac the angle of incidence became suspect. Indeed it had altered between 1 and 2 degrees, but this didn't explain the sudden deterioration in the performance. It was some time later when I dismantled the engine and took the damage prop home. On comparing the props the new one was found to be considerably heavier and, of course, right up front.
Moral of the story: Always be particularly conscious of C.G. in tiny aircraft.
Yours sincerely,
Tom Van Tuyl, Dunrobin, Ontario, Canada
Ed. Note: Amen!, Tom.
Q-Birdmen:
I suppose it's time the story of the Rotax 583 powered Quickie gets told. Since I've always considered myself a Dragonfly kind of guy I've not subscribed to Q-TALK, however, I have tried to help out other Q-1 drivers. Jim got me to sign-up and write this because subscribing is the cheapest way to run an ad.
I won't go much into my birds 503 history. I used the Jinx/Brock plans and cowling to convert from an Onan. This also works on the 583 with minor cowling changes. After I had run the 503 I installed the 583 in a manner that the 503 could go right back on. I even put the 583 flywheel and starter onto my 503 so the CDI box and coils would be common and made a custom pipe for the 503 that was similar to the 583's.
My airframe was built in 1981 by two other gentlemen, with excellent workmanship and per plans. I obtained it in 1990 while buying Dragonfly parts. Luckily it was built straight and strong. It has the big wheels, removable tailcone and instruments on the canopy rail. I have put on a Dragonfly tailspring, revised the lower rudder bearing, and revised the elevator linkage. This was done to bring it to a 150+ mph, grass strip operating, rugged and safer configuration. The empty weight is now at 350 lbs including coolant and the tail weight, which is incorporated into a fin to fuselage fairing.
I fly at a gross weight of 650 lbs. (210 lb pilot, 30 lb baggage, 8 gals. gas and oil mix). The C.G. is still at the same location as the stock Quickie. Climb at gross is good enough for 10,000 ft in seven minutes. I still respect the 150 mph redline, but have seen 160+. It'll easily go 150 mph with a 52 dia. x 54 pitch, 2.24-1 (6 bolt type B) gearbox and 7000 rpm. My pipe has been changed to fit over the canard and has been lengthened about three inches at the front to bring the rpm (it is hard to get over 7200 rpm now, which is OK).
How does it fly? Well sort of like an open class moto-cross bike with wings. The Quickie is very good on grass. The tail slides sideways if a very quick stop is needed. I did not increase the fin or rudder area and have plenty of rudder authority even at a full throttle pitch-buck climbout. Some of you may have seen it do a 70-degree knife-edge at the fly-in. (Don't try this long with float bowl carbs). I guess instead of a Quickie-Plus, the 583 version ought to be called a Quickie-Supreme. Of course, somebody is going to put a 617 on someday with the snowmobile rotary valve and cylinder ports.
The engine installation went fairly easy. I got the radiator from Leaf and made the rest. It runs cool and trouble-free cooling wise. I mix Pennzoil 50-1 with 93 octane Chevron or 100LL on cross-country flights.
The engine was purchased used from Airscreen Performance. It needed two new pistons and rings. One of the new pistons was 17 grams heavier than the other one, but instead of listening to Bombardier and running it that way, I ground material from inside the heavy piston. Eventually a chunk of that piston skirt broke off and got between the piston and the case during the downward stroke. This caused the connecting rod to snap in half from the increased stress. The piston and upper half of the broken rod than sat at the top part of the cylinder while the bottom half of the rod, still being attached to a 7000 rpm crankshaft, started to swing outward like a weed-whacker. It cut the case in half 360 degrees in what I would guess was a 3-5 turns of the prop while the engine spooled down. This happened at 5000 ft over my home field so I glided in for an uneventful landing figuring it had seized. As the engine was more than seized I put the 503 back on, but first had to make a new mount.
This incident really tested the Jinx/Brock setup. The mount did bend/crack, but held up to what had to be a lot of energy. The rear cylinder was the one that went. The two rear mounting bolts are in-line with the rod and they were knocked out. My new mount is one notch thicker in wall thickness and I've relocated the diagonal braces to clear the rear float bowl.
It didn't take long for me to get fed-up with my 503 bogging down. (It turns out that I should not have messed with the cylinder port height.) I traded it in on a new 583. Then I got laid off.
After 1 1/2 years my new 583 is still on order. (Here is where the ad comes in.) I am going to let someone else have the single-seat distraction after 176 hrs flying, maybe 1000 T/O's and landings and three years of not working on my fly. It has been a fun plane to strap on and is mostly fully developed except to put a hinge on the outboard edge of the ailerons (you guys may have already done this) and add gap seals to the controls. I'll install and tune the new 583 and prop, and even touch up the paint and annual the bird.
By the way - back in 1992 the world record for climb was 13 minutes to 10,000 ft. for a 660 lbs. I'll also include the paperwork for a N.A.A. sanction.
Chris Barber, Toney, AL
Jim,
Here are my dues for 1995. I enjoy the newsletter immensely and appreciate the fact that you keep it going each year. Attending Ottawa was great this year. Now I can show the video to my wife and say, "See it does fly". She wants the garage back.
Thanks again!
Dave Thompson, Wichita, KS
(I am now at 50% according to the Q2 plans.)
---
You can order a PDF or printed copy of Q-talk #51 by using the Q-talk Back Issue Order Page.