Q-talk 149 - 2011 Field of Dreams Fly-in - Marion, Illinois
Details

Category: Q-Talk Articles
Published: Tuesday, 11 October 2011 20:07
Written by JIM MASAL
Hits: 1937
by Jim Masal
photos by Sam Hoskins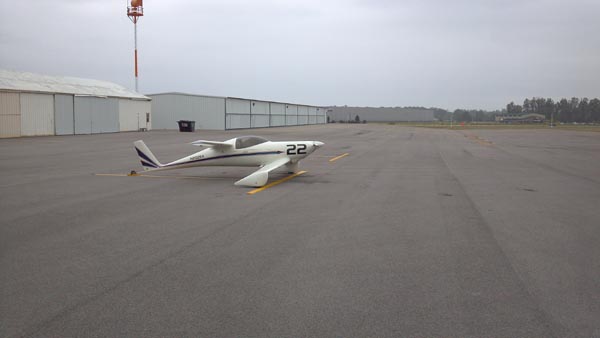 It was a very dismal day in St. Louis when Sam Kittle picked me up at the airport. The skies were leaden, low and with light sprinkles as he pointed the car south down the interstate toward Marion, Illinois... bad omens. Will it be THAT kind of weekend, I thought, will it be a bust? Next bad omen: emerging like a ghost out of the low mist ahead appeared a short wing Piper smack over the northbound highway at 200 feet. I'm sure he was anxiously looking for the cornfield airstrip we'd passed a few miles back. A lot of us have been in that fix, I thought. Pray for no wires.
We presently arrived at the Marion Airport Inn just after lunch. We were greeted by early-arrival Thayer and Sam Hoskins... but ONLY those two. Another bad omen?
I don't think Sam Hoskins was having happy thoughts about all his planning. Both weather and attendance looked grim.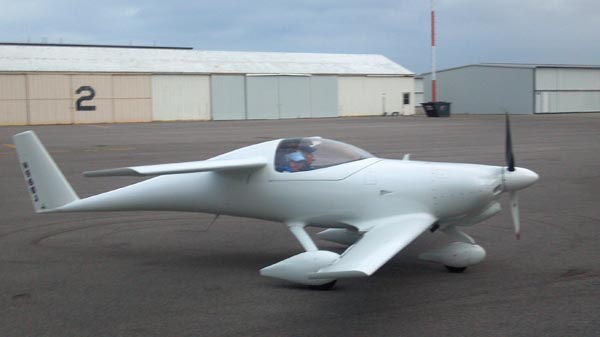 Having nothing to do at the airport, we left Hoskins to pace the concrete and hope while 3 of us meandered off to Southern Illinois University and the Student Center. I have a collection of university sweatshirts and I at least didn't want to get skunked on that score.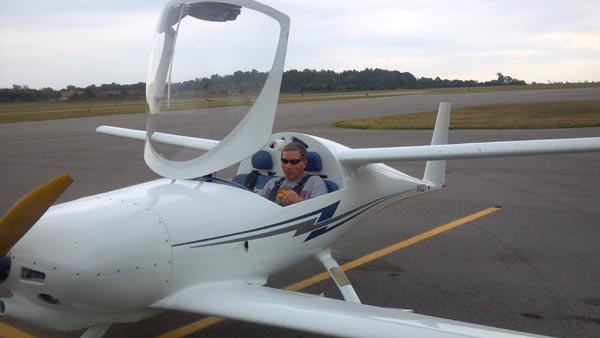 Meanwhile back at the airport, sneaking in from the west were Bruce and Joanne Crain (TQ) from Enid, OK, Lynn French (TQ) from Broken Bow, NE and Jay Scheeval (Cherokee) (Skeevil if you haven't been pronouncing it right) from NE and Sanjay Dhall and Jerry Brinkerhuff in by 4 wheeler. Things were looking up except the wx was only a teensy bit better. I think we had 12 at the Mexican dinner table that night.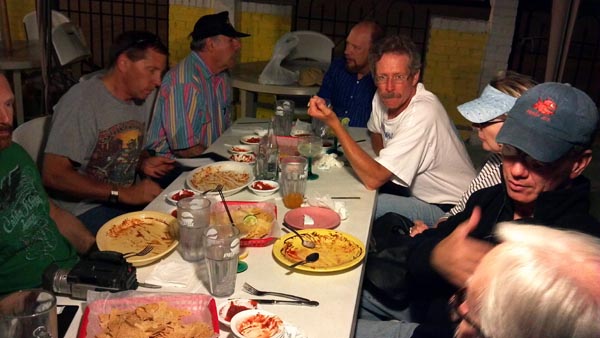 Saturday morning looked crummy again early, but by breakfast at 9am the ceiling was rising and Marstall's TQ and his buddy Ed's RV-6 were on the ramp.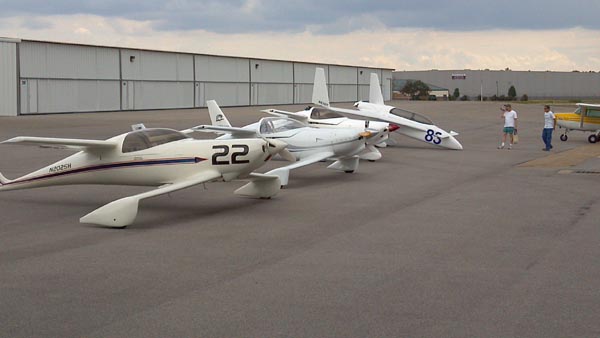 The SIU Saluki aviation gang put on an outstanding breakfast (they are very practiced). Pancakes, Belgian waffles, sausage, ham, bacon, OJ, coffee were offered. Besides us, some of the local EAAers added to the breakfast party atmosphere in the huge hangar.
About 10am we were corralled for the first education session. Charley Rodriguez an SIU prof gave us chapter and verse on carburetor design and function. All of us with years of college backgrounds have lots of experience with "teachers" good and bad. Charley is among the best. Starting with a simple diagram of a kitchen fat separator he slowly added layer upon layer of complication until the pressures and orfices inside a float carb became simple and understandable. WOW.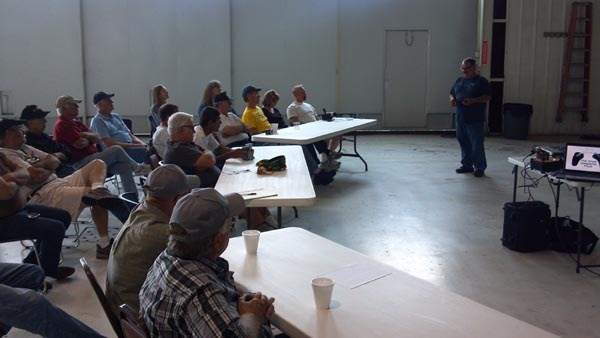 A short break was followed by the Cozy Girls, Chrissy and Randi. Another WOW!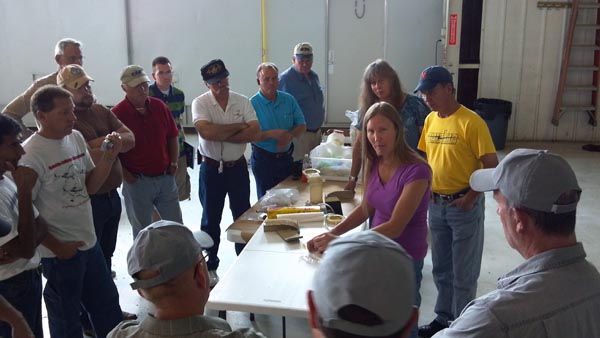 These two girls are building a Cozy. They must've played a lot with mud pies in their youth because they are VERY savvy about making epoxy and cloth do their bidding. The subject was vacuum bagging BUT... very low cost and using very low suction. The most exotic equipment was peel-ply. They used Glad wrap, paper towels and a small pump similar to (but not!) an aquarium pump to make some nicely finished complex shapes. They said they could bag meter square items and more. They were barraged with questions which they were thoroughly answering even thru most of the afternoon. [Editor's Note: For more information on the Cozy Girl'd LOVAC system check out there website here: http://www.cozygirrrl.com/lovac.htm ]
Somebody should write their technique up for the newsletter. I KNOW there were plenty of photos taken.
Turns out that in the Cozy construction process the girls needed some hard-to-get metal parts. They set up a shop to make them and now supply other Cozy builders.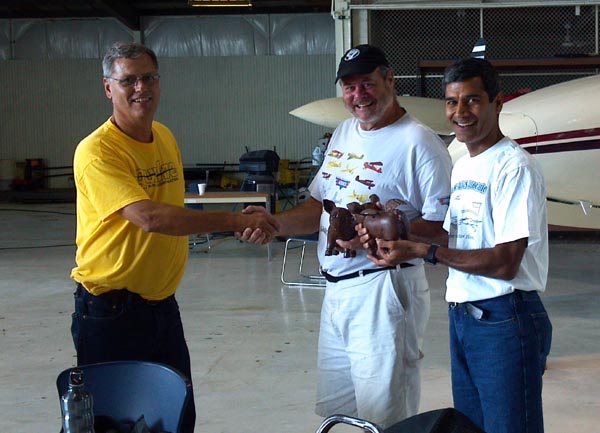 Next we pulled the tables into the round for a late lunch during which Kevin Boddicker (TQ, IA) and Paul Fisher (Std, IL) arrived. Crouch was on the ground in his canardless but more weatherproof C-152. We did introductions of about 20 folks and had some flying pig and other awards. It was a hoot, as usual. All this was followed by "cowls off' and the expected animated conversations spiced by lots of pointing.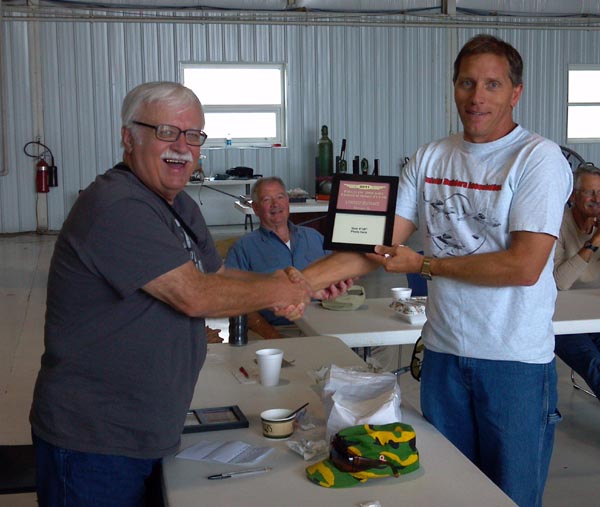 Some data: (these are not precision numbers, but estimates of the pilots)
| | | | | | | | |
| --- | --- | --- | --- | --- | --- | --- | --- |
| Pilot | State | Type | N-no. |  TT | EWt | Cruz | Time to build |
| Crain | OK | TQ-200 | N968BJ | 650 | 760 | 160 | 7yrs |
| French | NE | TQ-200 | N14LF | 430 | 760 | 175 | 13yrs |
| Marstall | NC | TQ-200 | N25JM | 508 | 800 | 145k | 14yrs |
| Boddicker | IA | TQ-200 | N7868B | 218 | 747 | 140 | 5yrs |
| Hoskins | IL |  Q-200 | N202SH | 1791 | 690 | 170 | 4.5yrs |
| Fisher | IL |  Q-200 | N17PF | 1400 | 727 | 165 | 7.3yrs |
Planeless (recent) Pilots:
| | | | | | | | |
| --- | --- | --- | --- | --- | --- | --- | --- |
| Pilot | State | Type | N-no. |  TT |  EWt | Cruz | Time to build |
| Sanjay Dhall | MI |  Q-200 | N102SD | 14 | 686 | 160 | 2.5yrs |
| Brinkerhuff | MI |  Q-200 | N2935R | 0.3 | 692 | ? | 5yrs |
Saturday night we all went to a good BBQ joint where we nearly closed the place down with all our chattering. Then most of  us adjourned to the Airport Inn lobby where we had a raucous time needling each other and recalling sometimes hilarious history during these many tandem-wing gatherings. We were also waiting for the 10pm news to see what the channel 3 cameraman captured on film during his mid-afternoon visit. French and I got 4 seconds and Hoskins got 20 seconds toward our 15 minutes of fame.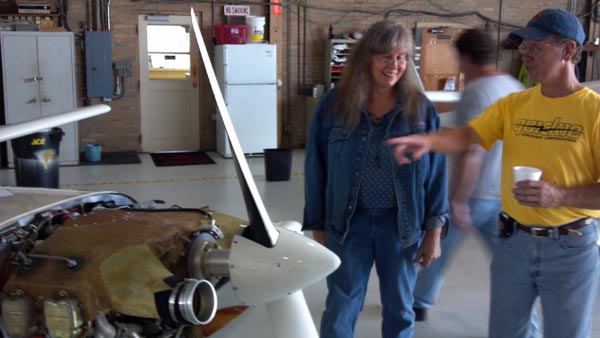 The facilities and support of Midwest Aviation was without equal. I especially appreciated Ben who took my ribbing and was Johnny-on-the-spot when I needed a tall ladder to take a group airplane shot... and probably any time someone needed gas although the weather dampened enthusiasm for giving rides.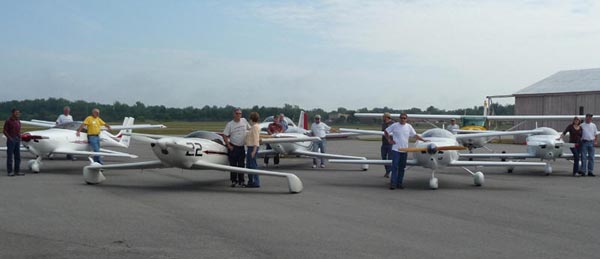 Finally there was the typical Sunday morning let down as everyone departed in singles and pairs. *Sigh*
I liked the summation that Bruce Crain did in his post-travel email:
"Total for the round trip of about 1000 miles was 7.3hrs. Driving would have been 1220 miles for a 20 hour drive. It was great to see our extended family of Q-Bees! Special folks with special talents. Jerry is right about the round table discussions and ribbing. When we finally adjourned from the hotel (lobby) I was still wanting more of the comradry. The quick personalities are tough to keep up with but loved every minute of it. Everyone had something to add with their own personality. Paul and Kevin make a great straight guy/fall guy routine. Won't say who filled which part cause it changes back and forth. Joanne will try to find some more Oncology questions for you Kevin.
Thanks to the 'west coast guys' for showing up. Hopefully in the future we can fly out to their Livermore fly-in again... A great big thank you to Sammy for hosting this wonderful event. Charley and the 'Cozy Giirrrls' added a sweet flavor to the weekend. Great to see Sandy also. She is a sweetheart! Nice pick Sammy! I believe the logistics of Williams County airport were just about perfect! The hotel, the close and quality eating places, and the airport were perfect.
A special thanks to all the Q flyers for making 'valiant efforts' to attend with those unique lil birds!"
'Nuff said.